'Today, the actor calls the shots.'
'That's why content is coming to an end. Our films are flopping.'
'In the south, the producers and directors still have the same respect. They call the director 'Sir'. That's why content still sells there.'
Julie 2 producer Pahlaj Nihalani makes some interesting observations.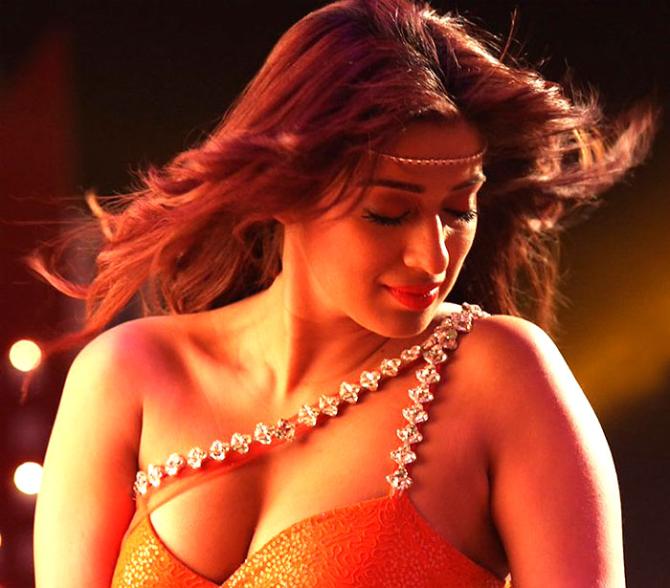 IMAGE: Raai Laxmi in Julie 2
Pahlaj Nihalani is in the mood to talk.
The former Censor Board chief is ready with his new production, Julie 2, which features the bold and beautiful Raai Laxmi.
After spending his term censoring films, and being heavily criticised for it, Julie 2 seems to be a U-turn from his 'sanskari' ways. Of course, it's not like he was always 'sanskari'.
Nihalani doesn't hold back as he makes sensational statements about his days at the CBFC and his interactions with the film industry.
In fact, he has many one-liners in his quiver, like 'Industry mein aaj kal aadat ho gayi hai. Jo chor log hote hai, woh shor bahut machate hain (The industry has become used to the fact that those who are thieves make the loudest noise).'
Jahnavi Patel/Rediff.com listens in.
How much has movie-making changed over the years?
Things are suffering nowadays.
Before, the producer was funded by the underworld so their influence was there.
Hindi cinema was a director's medium first. Then, it became a producer's medium.
They went hand-in-hand; the producer was called the 'annadata (the one who provided the finance)' but the director was dominant because of his mind. He was the one who helmed the project.
Aaj director aur producer chaprasi ho gaye hai (Today, directors and producers have become peons). They are part of a courier service.
It's the actor who calls the shots.
That's why content is coming to an end. Our films are flopping.
In the south, the producers and directors still have the same respect. They call the director 'Sir'. That's why content still sells there.
Hindi cinema is running away from Hindustani content, while the people in the south are still sticking to it.
Films that have the Hindustani feeling -- like Dangal, Sultan or Baahubali -- work.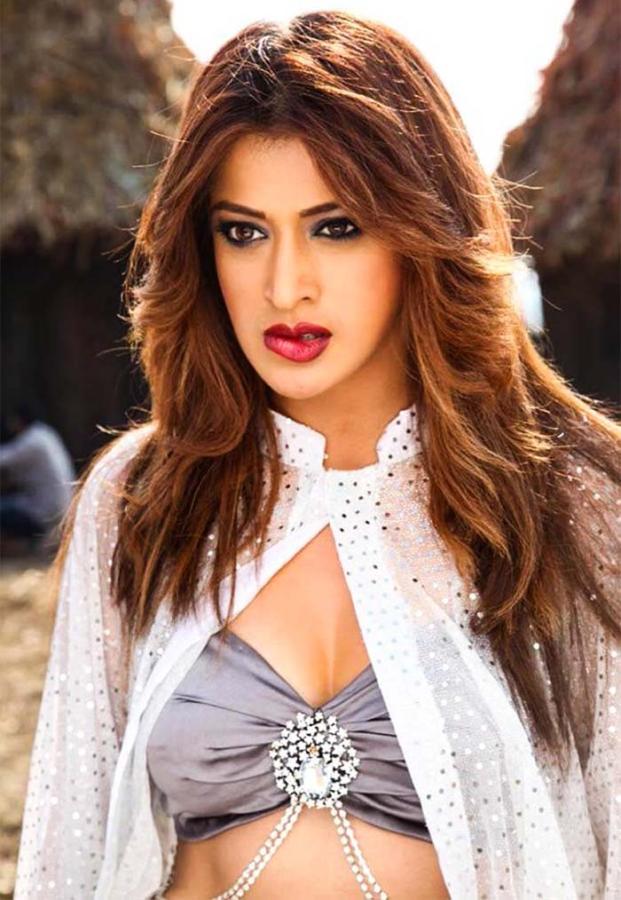 IMAGE: Raai Laxmi in Julie 2
Do you think the corporatisation of the film-making process is to be blamed for this?
You require emotions in a film.
A person's individuality reflects somewhere. Like Yashji (Yash Chopra) was more interested in romantic movies. B R Chopra was more interested in social issues and characters who reflected real lives.
Even the music director would know what you like and would give something around that, keeping the content and situation in mind. The final selection would be made by the director or an involved producer.
Today's (music) directors like Pritam or A R Rahman... they will give you a song. Ab aap unko khuda maan lete ho, jo aapko de de woh aapki taqdeer hai, accha de ya bura de (You treat the people who give you music like Gods and you have to accept what they create, irrespective of whether it is good or bad) because you have no voice to discuss the music with them.
They believe that the actor is the backbone of the film.
Ab unki bhi guarantee nahi rahi hai. Buddhe ghode kab tak chalenge? Wrinkles toh aayenge hi na. Romantic kab tak karoge, bhai? Naye talent ko lao (Even the actors cannot guarantee a successful film now. They have become old. They have wrinkles now. How long will they do romantic movies? Bring in new talent).
Julie 2 is based on new talent. Work should be based on talent.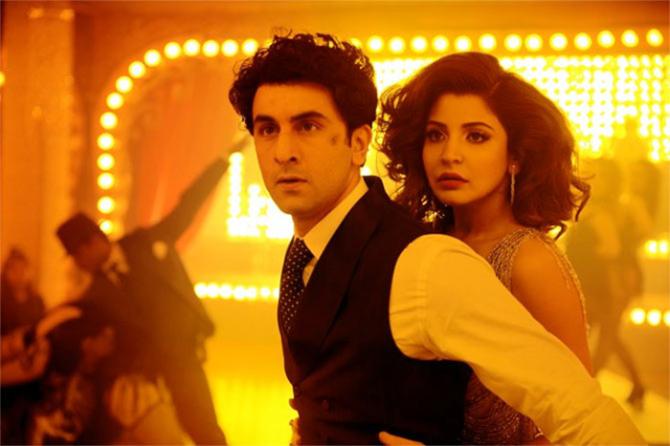 IMAGE: Ranbir Kapoor and Anushka Sharma in Bombay Velvet.
Smriiti Irani, you said, was to blame for your getting sacked as the censor board chief.
I wasn't asked before getting appointed. I wasn't asked when I was removed.
Pehle bhi guideline ko follow karke maine logon ki gaaliyan suni (I was abused for following the guidelines).
When I got it (the position), there was corruption. Then, it became corruption free.
The certification was getting delayed, it wasn't online... there were a lot of issues. I made it online and then there was transparency.
First, like a one-man army, instead of CBFC, they used to say, 'Sanskaari Pahlaj Nihalani has given the cuts.'
Today, the same cuts are happening and they are saying ,'CBFC has given these cuts.'
The producers are happy now. They are saying they will definitely work within the guidelines. So you know the difference between me and what's happening now.
Joshiji (Prasoon Joshi, the present CBFC chief) is a nice guy.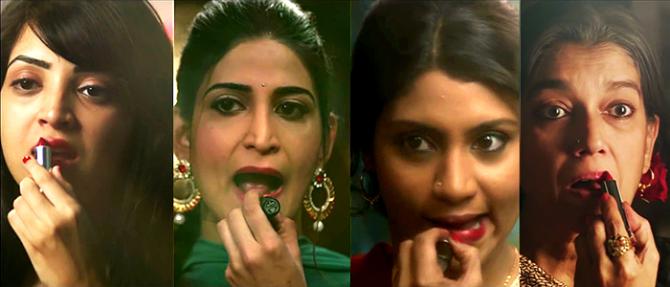 IMAGE: Plabita Borthakur, Aahana Kumra, Konkona Sen Sharma and Ratna Pathak Shah in Lipstick Under My Burkha.
You had said that the entire box office collection of Lipstick Under My Burkha was because of the controversy.
Nobody would have asked about it, that's why they did it.
When they showed us the movie, they knew the decision would be against them.
The amount the director was shouting... she had told me, 'We know this will not be cleared.' So they were aware.
Jinhone shor machaya tha, unki picturon ka record dekhiye (Look at the record of the films whose filmmakers have created a ruckus).
Sony (Pictures) had sent me a letter, saying they were grateful that James Bond was passed with a U/A certificate for the first time with the kiss.
In 2006 and 2011, when the first two James Bond movies had released, they had an 'A' certificate and the kiss was cut. Nobody watched that.
(The makers of) Bombay Velvet wanted a 'U/A' certificate, not 'A,' else they said they would not release the film.
So Anurag Kashyap, genius of the industry, made a lot of noise regarding the name 'Bombay'.
In Wasseypur (Gangs of Wasseypur), he had to change 'Bombay' to 'Mumbai'.
Since Bombay Velvet was based in the 1960s and the rule (to rename Bombay as Mumbai) came in 1995, he felt his film would not be passed. We passed the film (with an 'A' certificate) because it was set in the 1960s.
But he wanted a 'U/A' certificate.
He showed the movie to us on the Monday of the week it was to be released.
I cooperated with him and we cut the kisses to make it 'U/A'.
He didn't say anything at the time because he said he was a big fan of mine. He told me, 'I have grown up watching your films and have become a director'.
It's a thankless job and we are used to it.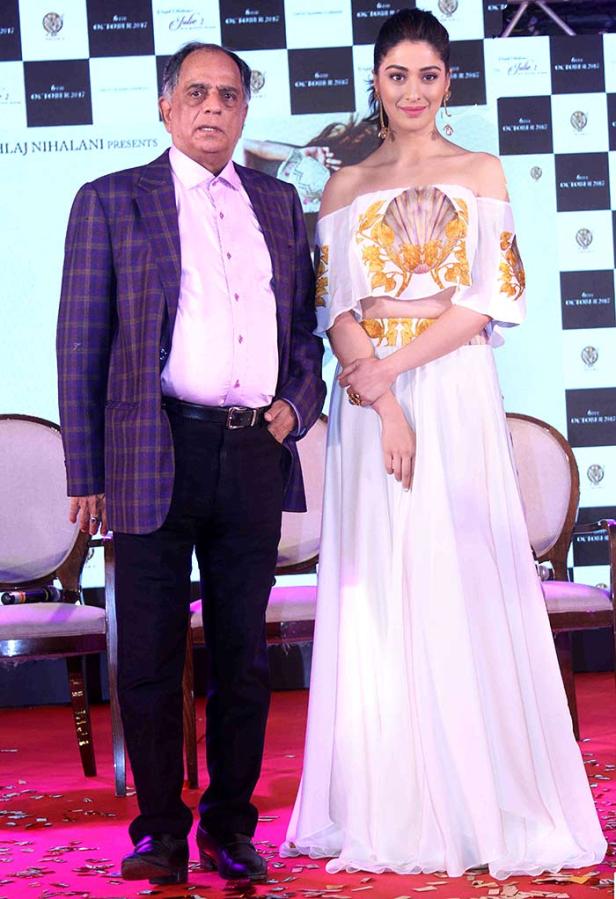 IMAGE: Pahjal Nihalani and Raai Laxmi during the trailer launch of Julie 2. Photograph: Pradeep Bandekar
Are you satisfied with your tenure?
I am very satisfied. I have worked a lot for the (film) industry and society. Not only did I take on a moral responsibility, as part of the Censor Board, I even took up social causes -- be it shows for policemen or natural calamities.
Where I could contribute, I have.
I have three sons, I am a grandfather. I am the most satisfied person in the family.