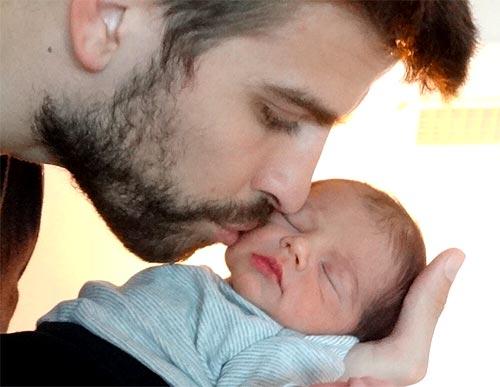 Shakira, who gave birth to son Milan Pique Mebarak on January 22, shared the picture of her newborn son and beau Gerard Pique on microblogging site Twitter.
Two weeks after welcoming the tot, the Colombian singer-songwriter debuted the first look of the baby boy, reported Aceshowbiz.
"Meet our baby boy Milan," Shakira wrote in a caption of the picture which sees Pique kissing Milan.
Before unveiling the baby's pic, the 36-year-old artist asked her fans to make donation to UNICEF. angels & help underprivileged babiesshe tweeted.
Shakira gave birth to her and Pique's first son, Milan Pique Mebarak, in Barcelona, Spain.
She explained the meaning of the name in a statement posted on her website. "The name Milan (pronounced MEE-lahn), means dear, loving and gracious in Slavic; in Ancient Roman, eager and laborious; and in Sanskrit, unification."

Photograph: Shakira/Twitter