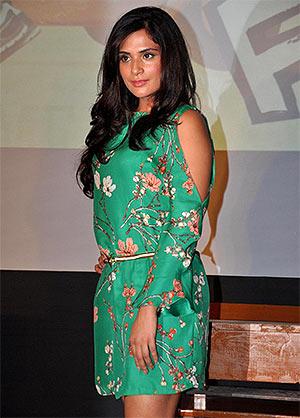 A look at the top tweets from your favourite Bollywood celebrities.
Several celebrities took to Twitter to condemn the terrorist attack on the offices of French magazine Charlie Hebdo in Paris. Here's what they said:

Mandira Bedi: Horrible what happened in #Paris. Do we now live in a world where freedom of expression is not just dying, but being attacked and murdered?

Javed Akhtar: The medieval irrationality and modern weaponry are a terrible combination and the ultimate danger to the very existence of human race. Is Paris burning? I thought this will never be asked again after the end of the Nazi era. The world should unite again against the terrorism.

Richa Chadda (pictured here): Fanatic Muslims damage the image of Islam far more than any cartoon (or Press at large) ever could. #CharleHebdo

Madhur Bhandarkar: We have entered a phase in human evolution where sense of humor will now be weighed alongside sense of danger. RIP Humanity!

Shraddha Kapoor: Exercise your rights having respect for all faiths, live & let live, but no reason is good enough to kill. Prayers for lives lost in Paris.

Chetan Bhagat: Those who killed the cartoonists yesterday did not protect Islam, they only tainted it further. They are the real blasphemists.

Shatrughan Sinha: Terror has no religion, #ParisShooting incident is an ghastly attack on humanity. Its a wake up call for everyone.

Virr Das: If you support Paris today and go back to threatening people tomorrow for their joke about your leader/religion/community, it means nothing!
Manish Paul to play Farooque Sheikh's in Katha's remake

Actor Manish Paul, who made his Bollywood debut with Mickey Virus, has started shooting for his next film. Directed by Khalid Mohamed, the film will be a remake of Sai Paranjpye's 1983 cult classic Katha.

'All set to start my new film today KATHA...nervous,excited,happy!!!too many feelings and thoughts!!! first day on the set is always like that,' Paul tweeted.


Guneet Monga clears the air about her new film

Filmmaker Guneet Monga, who is all set to produce Vasan Bala's next film Side Hero, tweeted: 'To put rumors to rest, NO ONE has been cast for Side Hero directed by @Vasan_Bala as yet. As soon as we do, we'll be the 1st to announce it.'
The film's script was selected for Sundance Screenwriters Lab last year. Side Hero revolves around a Kung-fu movie fan, who must find his own way when he discovers that he may never get to be the hero.


Amy, Shankar takes I to Kochi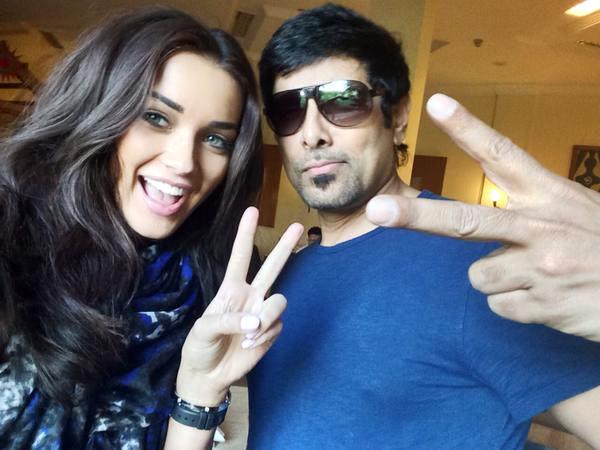 Image: Amy Jackson and Vikram
British actress Amy Jackson and National award-winning actor Vikram have started touring the country to promote their next Tamil film I.

Amy shared a picture of them together (above) and tweeted: 'i Man & i Girl @ Kochi Promotions!!'

The romantic thriller film will release on January 14.


Sunny Leone goes on a vacation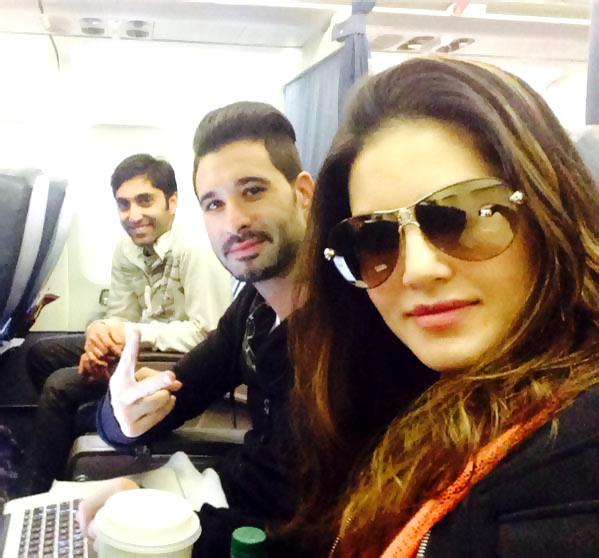 Image: Sunny Leone with husband Daniel Webber
Sunny Leone is currently vacationing with her family in US. She shared a picture of herself with husband (centre) and brother and tweeted: 'In our seats and ready to finally start our vacation!!'

Leone has four releases this year: Tina and Lolo, Mastizaade, Leela, and Kuch Kuch Locha Hai.