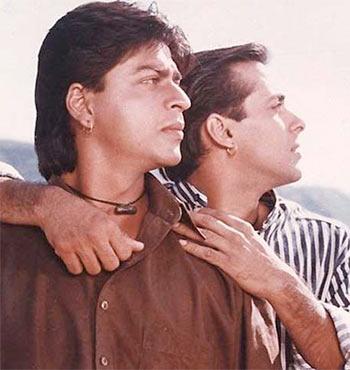 Bollywood has told many tales about 'Brothers' over the years.
Whether separated at birth, contending for the same girl, wrangling over Maa!!!! or taking down a common enemy, Hindi film brothers are something else.
The dramatic possibilities around them are relentless.
No wonder they formed the focus of SO MANY stories.
In Brothers, an official remake of the 2011 Hollywood sports drama Warrior, Akshay Kumar and Sidharth Malhotra play estranged siblings forced to face-off under compelling circumstances.
Perfect occasion we thought to recall Bollywood's BEST depictions of brotherly love.


Deewar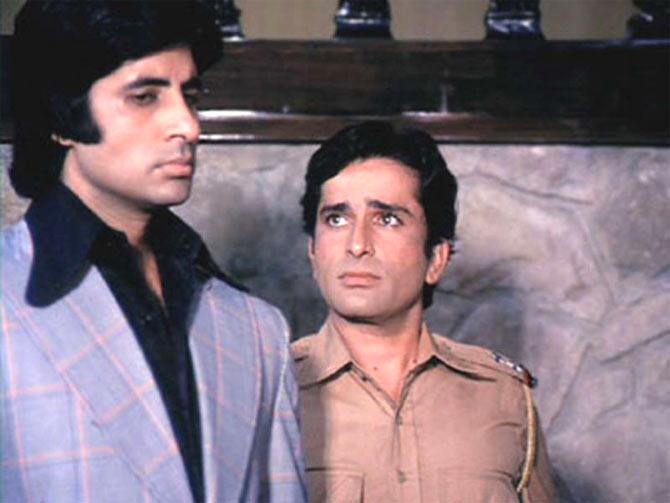 IMAGE: Amitabh Bachchan and Shashi Kapoor in Deewar.
Amitabh Bachchan and Shashi Kapoor go from close to cross when faced by the classic 'cop versus crook' dilemma in Yash Chopra's gripping 1975 classic, Deewar.
Writer duo Salim-Javed do a great job of bringing out the conflict that strains ties between the bhais through crackling dialogues including the iconic, 'Mere paas Maa hai.'
Chalti Ka Naam Gaadi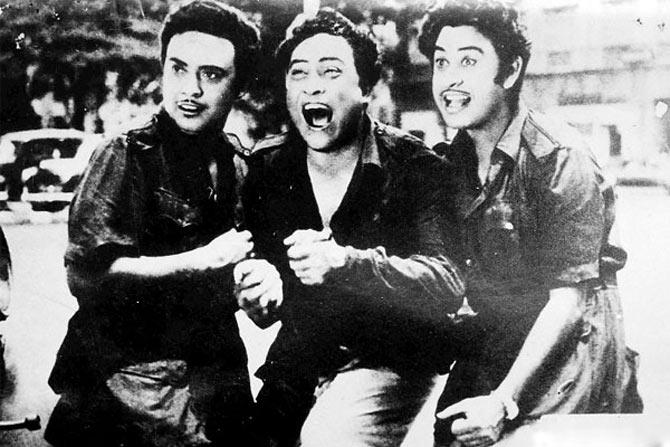 IMAGE: Anoop Kumar, Ashok Kumar and Kishore Kumar in Chalti Ka Naam Gaadi.
Chalti Ka Naam Gaadi -- about a stern big brother, bumbling second and playful kid brother running a rickety garage and a moody jalopy -- is an exercise in infectious whimsy and fun.
The brothers are played by the real life Ganguly siblings.
Of course, it takes the sheer gorgeousness of Madhubala to crumble their 'keep away from women' motto.
What ensues is a rollicking adventure that both tests and strengthens the brotherhood.
Waqt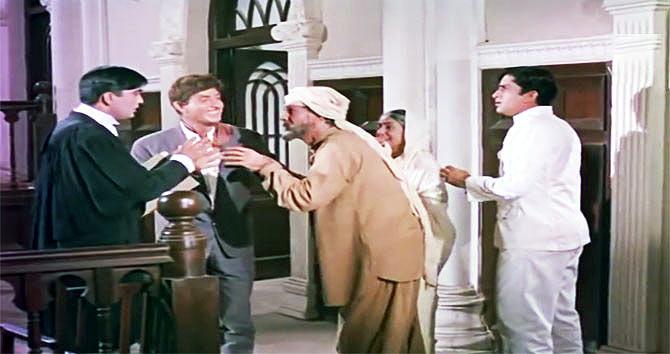 IMAGE: Sunil Dutt, Raaj Kumar and Shashi Kapoor in Waqt.
Directed for his brother B R Chopra's banner, Yash Chopra's Waqt introduced Bollywood to the concept of lost and found dramas in a manner most glamourized and star-studded.
Separated during a natural disaster, Raaj Kumar, Sunil Dutt and Shashi Kapoor are brothers who grow up to be a criminal, lawyer and a chauffeur respectively in different corners till they are united in a dramatic courtroom climax.
Ganga Jumna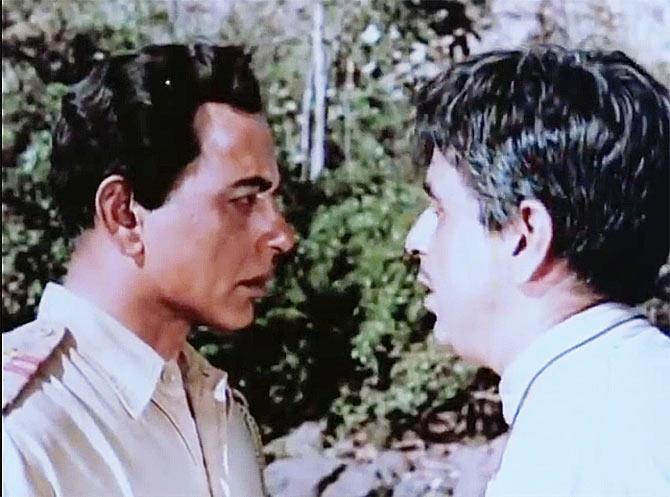 IMAGE: Nasir Khan and Dilip Kumar in Ganga Jumna.
Real life brothers Dilip Kumar and Nasir Khan played reel brothers on either side of the law in the 1961 blockbuster, which served as inspiration to AB and Shashi Kapoor's confrontation in Deewar.
In one of his most acclaimed performances, Dilip Kumar's Ganga embraces crime to provide for his younger brother Jumna's education in the city.
As it happens, the latter becomes a police officer and looking to put Ganga behind bars
Yaadon Ki Baarat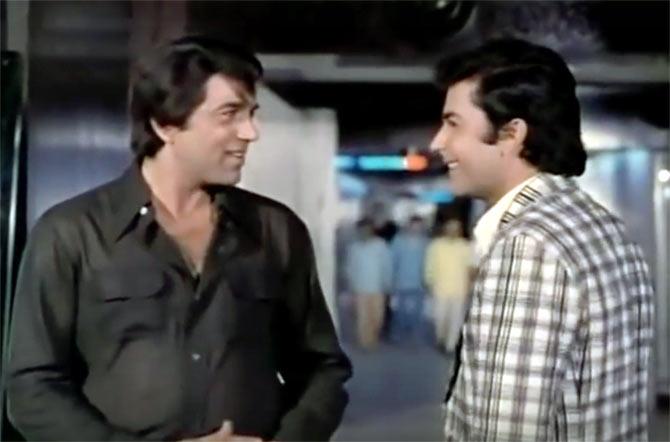 IMAGE: Dharmendra and Vijay Arora in Yaadon Ki Baarat.
In the Nasir Hussain musical, the brutal massacre of their parents at a young age results in three brothers getting separated and growing up in different places.
Along the lines of Waqt, Dharmendra grows up to be a smuggler, Tariq strums the guitar in a restaurant band and Vijay Arora is an heir to a wealthy benefactor.
What eventually reunites them is a precious family song -- Rahul Dev Burman's melodious title ditty.
Satte Pe Satta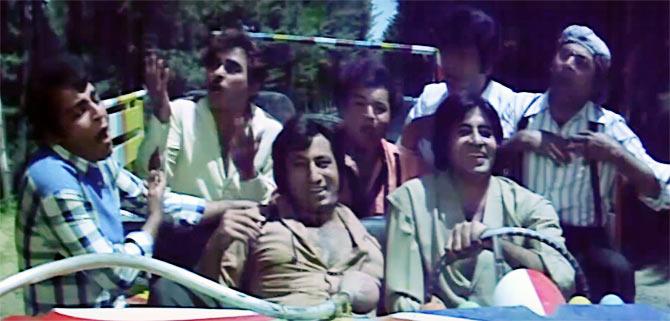 IMAGE: A scene from Satte Pe Satta.
A reworking of Seven Brides for Seven Brothers meets Snow White and the Seven Dwarfs, Satte Pe Satte chronicles the adventures of a sibling septet raised on a farm without any elderly supervision.
How they reform their wild, wayward ways to accommodate eldest brother's (Amitabh Bachchan) new bride (Hema Malini) as well as find favour in the girls they dote against the subplot of an evil lookalike forms the crux of its endearing plot.
Parinda
IMAGE: Anil Kapoor and Jackie Shroff in Parinda.
Vidhu Vinod Chopra's intense tone and nuanced script unravels the tale of two close brothers in Parinda.
Jackie Shroff, the elder one, works for the mafia. Complications arise when Anil Kapoor discovers his brother's real identity. He enters the same line of work in a bid to settle scores with those responsible for his cop friend's demise.
What follows is both unsettling and heart breaking.
Naam
IMAGE: Sanjay Dutt and Kumar Gaurav in Naam
Kumar Gaurav, Sanjay Dutt's brother-in-law in real life, essays his brother in Mahesh Bhatt's well-received Naam.
Other than showcasing Dutt's histrionic potential, it is a poignant tale of how the black sheep of a family ventures overseas for better prospects backed by his supportive, sacrificing brother only to find himself unwillingly embroiled in deeper degrees of crime.
Amar Akbar Anthony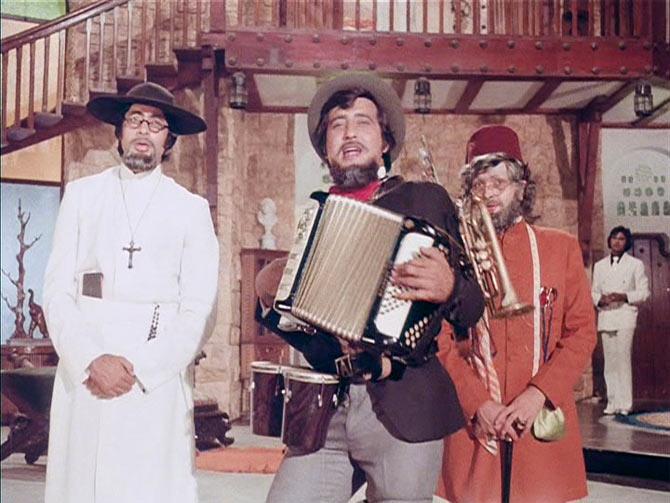 IMAGE: Amitabh Bachchan, Vinod Khanna and Rishi Kapoor in Amar Akbar Anthony.
Amitabh Bachchan, Rishi Kapoor and Vinod Khanna play blood brothers raised in Catholic, Muslim and Hindu households respectively, crossing each other's path oblivious to the reality of their relationship.
Under Manmohan Desai's signature treatment, this madcap story of lost and found is filled with moments of genuine albeit bizarre imagination that raises a toast to religious harmony and gives birth to Farah Khan's favourite masala genre.
Ram Aur Shyam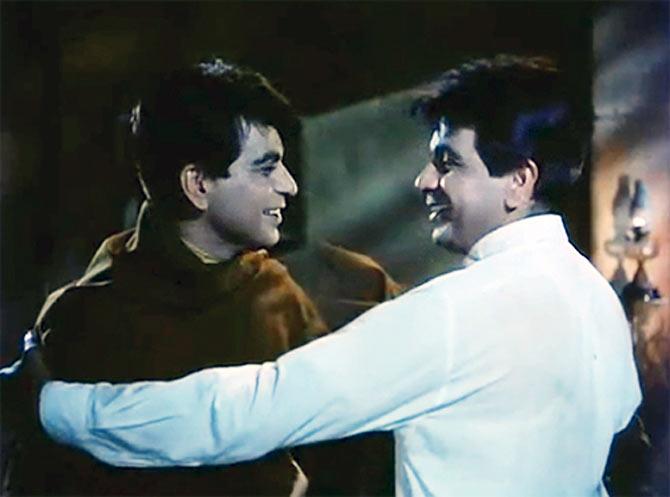 IMAGE: Dilip Kumar plays a double role in Ram Aur Shyam.
Twins separated at birth. If one grows up to be wickedly defiant, the other is painfully docile.
Dilip Kumar plays out both contrasts convincingly in yet another landmark display of his talents in and as Ram Aur Shyam.
The incessant comedy, which uses its confusion to tackle Pran's tyrant, was employed successfully in similar scripts as Seeta Aur Geeta, Kishen Kanhaiya and Chaalbaaz.
Ram Lakhan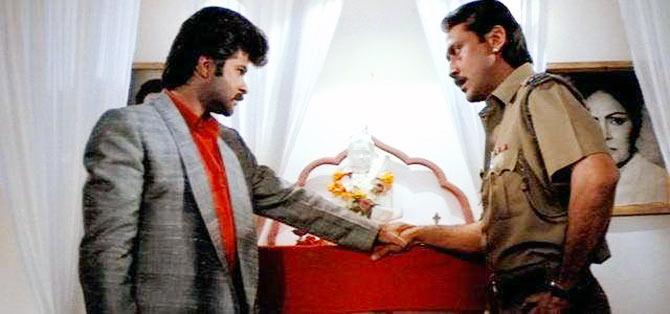 IMAGE: Anil Kapoor and Jackie Shroff in Ram Lakhan.
As the title of Subhash Ghai's Ram Lakhan suggests, it's all about sibling camaraderie, and saw roaring success in 1989.
Once again, it is Jackie Shroff and Anil Kapoor's effortless chemistry, pitching in as the sober, restrained bada and naughty, flamboyant chhota bhai, using diametrically opposite methods to hammer their vile relatives.
Karan Arjun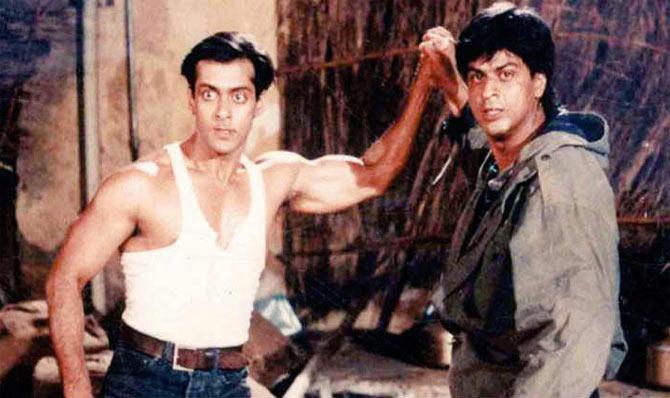 IMAGE: Salman Khan and Shah Rukh Khan in Karan Arjun.
In Rakesh Roshan's money-spinning masala, it's not lovers but a pair of brothers who are reincarnated, 20 years after their slaying, to exact revenge from the killer and restore their raving mother's faith.
Salman Khan and Shah Rukh Khan are suitably charismatic in the titular avatars of this cheesy entertainer that has made its place in history courtesy Raakhee's indelible belief -- 'Mere Karan Arjun aayenge.'
Jo Jeeta Wohi Sikandar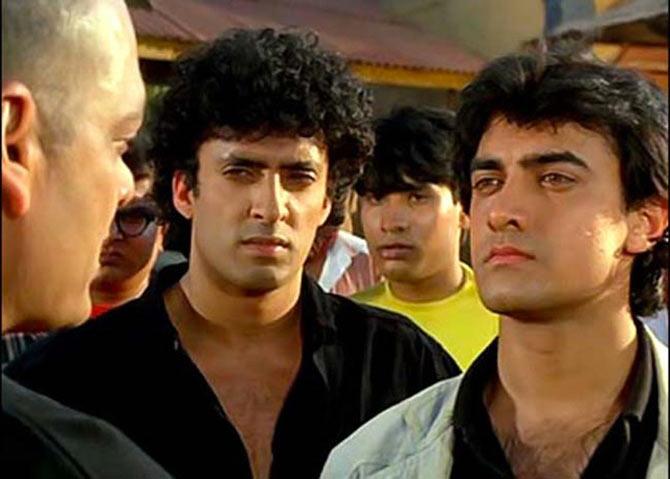 IMAGE: Mamik Singh and Aamir Khan in Jo Jeeta Wohi Sikandar.
In a more heartfelt take on the matter, Mansoor Khan demonstrates both harmless sibling rivalry and brotherly bonds around a bunch of teenagers in the spunky sports drama, Jo Jeeta Wohi Sikandar.
Mamik Singh and Aamir Khan play the Lal brothers, Ratan and Sanju. If one is the toast of Model College at the annual cycling race, his baby brother is a continuous disgrace.
Their bantering equation changes its course for the better when Ratan's accident inspires Sanju to take his place in the competition and win it.
Kaminey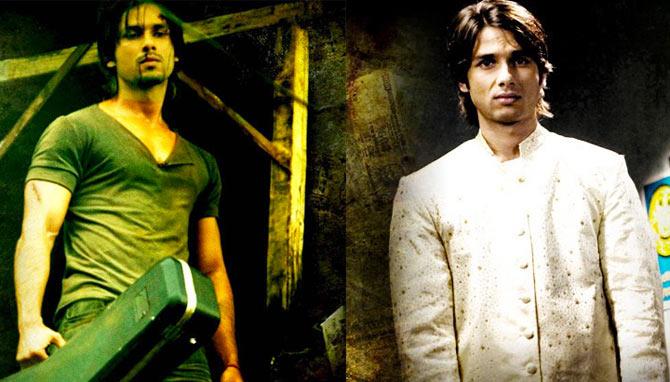 IMAGE: Shahid Kapoor plays a double role in Kaminey.
Bollywood has made a lot of films around twins, but none as unique as Vishal Bhardwaj's dark, droll crime caper.
Shahid Kapoor doubles up a panicky guy jittery about his girlfriend's pregnancy as well as a grimy thug dreaming up the big bucks.
What lends the sparring brothers distinction is a speech defect: one stutters, the other lisps.
Hum Saath Saath Hain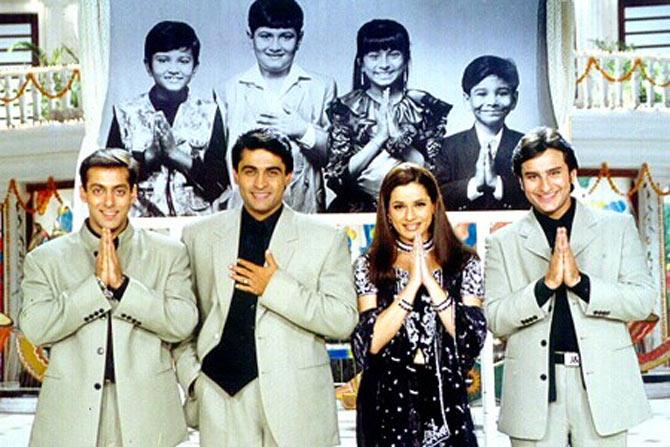 IMAGE: Salman Khan, Monish Bahl, Neelam and Saif Ali Khan in& >Hum Saath-Saath Hain.
Sooraj R Barjatya's old-fashioned filmmaking doffs its hat at old school values and virtue in the joint family drama about brothers (Monish Bahl) and stepbrothers (Salman Khan, Saif Ali Khan.)
Despite the tension caused by the latter's mom Reema Lagoo in a Kaikeyi-Rama-Bharat inspired storyline, the brothers refuse to let misunderstandings give way and live up to its melodramatic movie title.