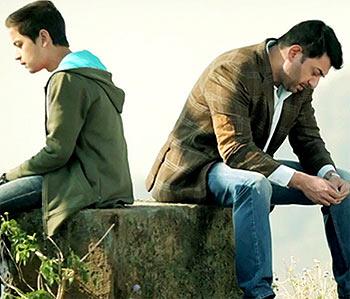 ...Dear Dad is disappointingly skin deep, feels Sukanya Verma.
Long drives and uncomfortable silences don't bode well. Especially when a father is trying to make conversation with his 14-year old son who's too immersed playing Clash of Clans on his Nintendo or texting his pals to notice.
There's more to this purported small talk that skims through cricket and cheat codes and finds things of amusement in the generation difference.
In Dear Dad, Tanuj Bhramar's directorial debut, a father opens up to his son about a secret he can no longer keep and the repercussions to follow within its 90 minutes duration.
The initial scenes of their scenic road trip from Delhi to Musoorie, where he plans to drop off his hostel-bound son (Himanshu Sharma), reveal the father's struggle to muster courage, to find the right words to break it to him. We observe this as much as their reliance on GPS and gaming and internet-driven nostalgia.
Perhaps Bhramar means to inquire if we are as advanced in our mindset as we are in our eagerness to subscribe to the most recent available technology. It's an evasively introduced idea but, nonetheless, credible as is this film if only in what it's trying to accomplish. But Bhramar seems to be in a tearing hurry to get past the complications. As a result, Dear Dad is disappointingly skin deep and simplistic.
For a while though, we take the bait.
Seen after a long gap, Arvind Swamy's soothing presence as the aforementioned father lends the proceedings a freshness that's only rivaled by Dear Dad's picturesque frames capturing mountainous landscapes and its many snake like pathways.
Though elegant composed and filled with warm possibilities, Dear Dad stays awfully impersonal communicating only from a distance to tread a tediously linear path. Its all-important disclosure isn't hard to guess what with Bhramar giving away ample signs along the way.
While the formal nature of the stiff father-son relationships and a frustrating resistance to engage in beyond the visible suffocates its own cause of reconciling to difficult realizations. Moreover, Bhramar's necessity to address prejudices isn't unwarranted but contrived because of how hastily he wants to cover so much ground.
Insert a needless comedy track and Dear Dad loses any scope to recover. Its juvenile nature is understandable considering it's a bunch of pubescent kids at work. What's questionable is the plausibility of it considering a young man is undergoing the extent of mental duress Himanshu Sharma's character following his 'Appa's' revelation.
The lightly mustached Himanshu plays out this shift from shock to anger to confused to proud with low-key wisdom and warmth. His on screen daddy Arvind Swamy provides rock steady support in a role that falls short of depth and empathy.
Now here's an actor so incredibly self-assured and collected in his impact, it would be a crime not to see more of him. Preferably in something better defined than Dear Dad.
Rediff Rating: