While Salman Khan is gearing up for the release of his much-awaited film Sultan, he has been in the news lately for a not-so-good reason. The star is involved in yet another controversy, this time with the very talented Arijit Singh.
The Tum hi ho singer recently posted an apology letter addressed to the star on Facebook but later deleted it.
Arijit and Salman had a fallout two years ago after the former poked fun at the superstar at an awards show.
Arijit is desperate to mend fences with Bhai as he doesn't want his song to be chopped off from Sultan. Sadly, Salman hasn't reacted to his apology yet, making us believe he is in no mood for a patch-up.
We revisit some of the other controversies which saw Khan's name splashed in the headlines.
Salman Khan -- Vivek Oberoi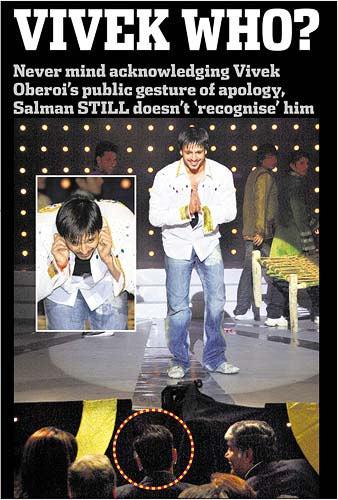 IMAGE: Salman was not moved by Vivek Oberoi's very public apology. Photograph: Pradeep Bandekar
Nobody knows better than Mr Oberoi that taking pangas with Salman shouldn't be on anybody's priority list.
In 2003, when Vivek was dating the Being Human superstar's ex-girlfriend Aishwarya Rai (now Bachchan), he took on Khan and called a press conference to announce that an inebriated Salman had threatened and abused him in 41 phone calls in one night.
Like Arijit, Vivek had publicly apologised to Salman but his effort went in vain. The rest, as they say, is history.
Salman Khan -- Shah Rukh Khan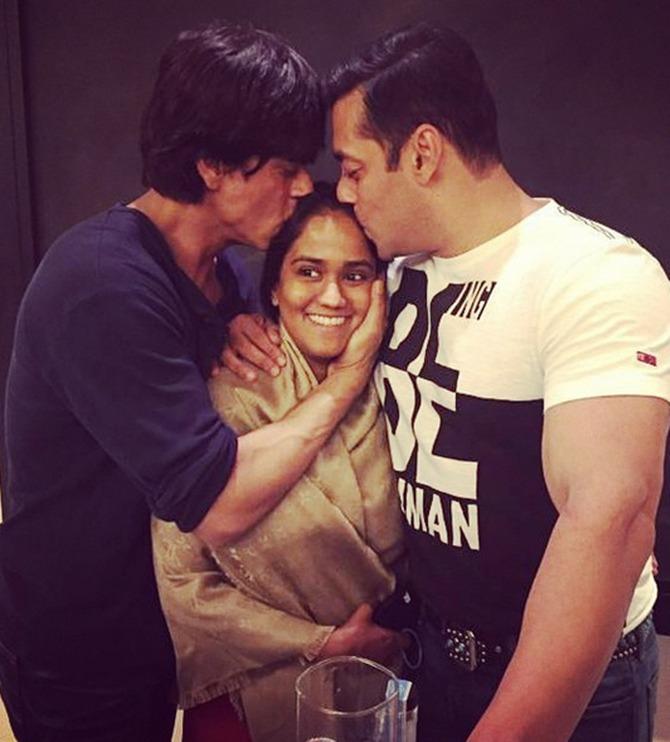 IMAGE: Shah Rukh Khan, Arpita Khan Sharma and Salman Khan. Photograph: Salman Khan/Twitter
The two Khans were involved in a cold war that seemed to have no end. After a much-publicised brawl in 2008, Salman and SRK's friendship went kaput and how!
The two would time their entries and exits for events and award ceremonies so that they didn't bump into each other. And when they met face-to-face at Baba Siddiqui's Iftar party in 2013, they shared a hug but continued to maintain their distance.
They met again at Siddiqui's Iftar party in 2014, but that did nothing to shake the statusquo.
A few months later, however, much to everyone's surprise, the Karan Arjun co-stars patched up for real. This happened during Salman's youngest sister, Arpita wedding. Shah Rukh later appeared on the Bigg Boss show to promote Dilwale.
The Khans have remained buddies since; a happy state of affairs that we hope will continue.
Salman Khan -- A R Rahman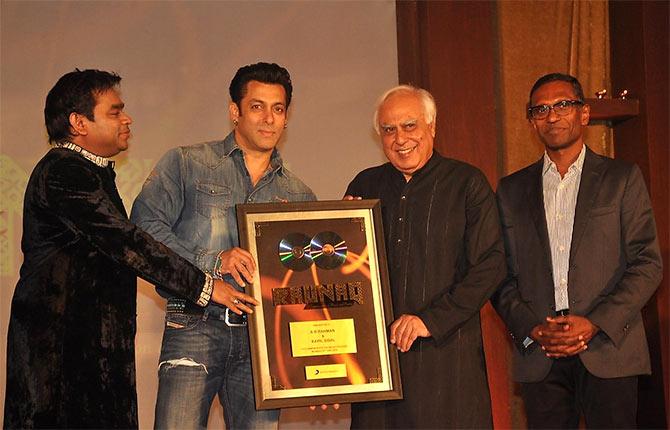 IMAGE: A R Rahman, Salman Khan and Kabil Sibal at the launch of Raunaq.
At the launch of A R Rahman's music album Raunaq, Salman said something unflattering about the former -- he labelled Rahman's music 'average' -- which soon snowballed into a controversy.
Though the Sultan hero later declared it was a joke, his remarks hurt many Rahman fans across the globe.
The two were already involved in a legal tussle. The Oscar winning composer had sent a legal notice to Salman and his brother, Sohail, for using the title Jai Ho as he had already trademarked the phrase.
Salman Khan -- Hrithik Roshan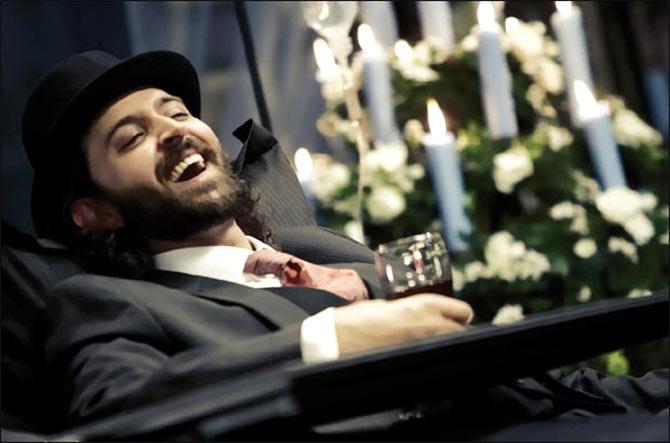 IMAGE: Hrithik Roshan in Guzaarish.
In 2010, when Sanjay Leela Bhansali's Guzaarish starring Hrithik Roshan and Aishwarya failed to get cash registers jingling, Salman was quick to take a dig at the film which obviously didn't go down well with Roshan Junior.
When Salman made the snide remark, 'Ek kutta bhi dekhne nahi gaya (even a dog did not watch the film)', Hrithik reacted in a dignified manner
He tweeted, 'A hero never gloats. When you are super successful, it should, in fact, make you more loving.'
Salman Khan -- Aishwarya Rai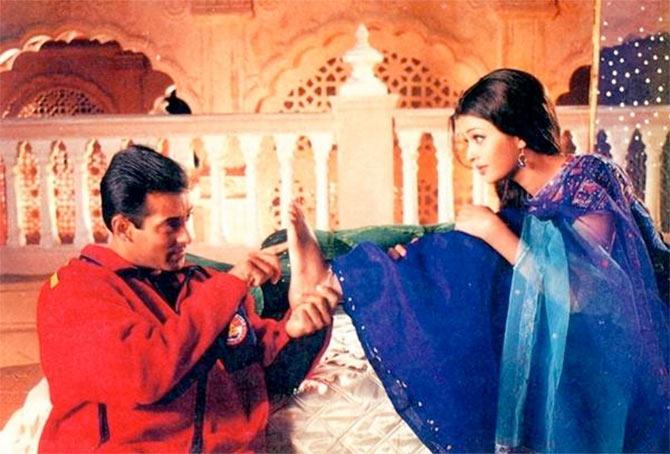 IMAGE: Aishwarya Rai and Salman Khan in Hum Dil De Chuke Sanam.
This list would be incomplete if we didn't mention Salman and Ash's torrid affair.
The Hum Dil De Chuke Sanam co-stars were together for two years before calling it quits. Their break-up is still talked about, courtesy the drama it involved.
Reportedly, Salman went too far as the obsessive boyfriend which ultimately led to his break-up with the former Miss World.
From physical abuse to landing up unannounced at his girlfriend's doorstep and film shoots, Salman did it all and everything became even more public once this love story ended.
Salman Khan -- Himesh Reshammiya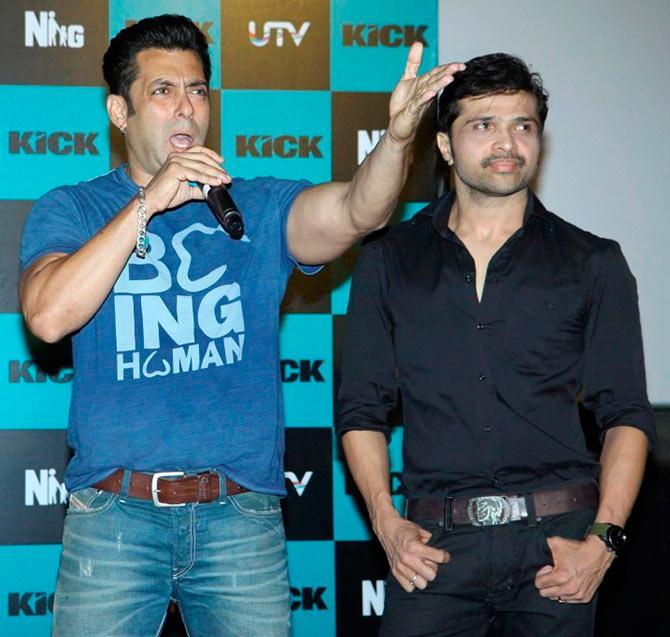 IMAGE: Salman Khan and Himesh Reshammiya. Photograph: Abhijit Mhamunkar
Though the music composer-turned-actor is Salman's protege, the two were at loggerheads at one point.
Around 2006, after Himesh became a household name, differences cropped up between the two and the Bodyguard actor stopped working with the former.
Salman never left any opportunity to poke fun at the singer. In fact, he even insulted Himesh on the television show, Sa Re Ga Ma Pa Challenge 2007.
In 2009, the two finally patched up and have since worked together in quite a few films.