There is Robert Downey Jr. And Reese Witherspoon. And Steve Carell. And Bill Murray. And Al Pacino. And, of course, Priyanka Chopra.
Arthur J Pais, who has covered the Toronto International Film Festival for Rediff.com for 13 years, glances at the buzz-worthy movies at TIFF 2014.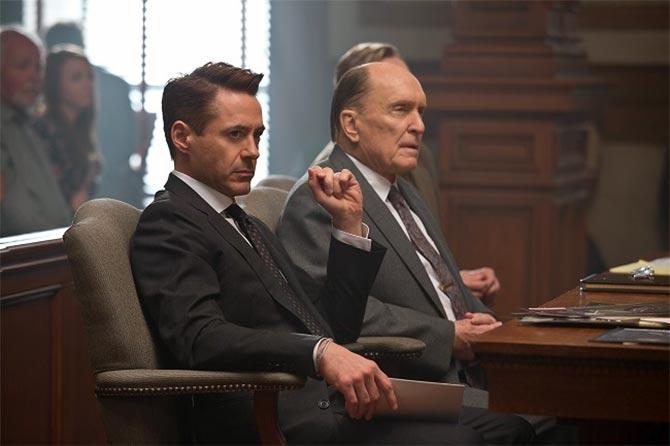 Image: Robert Downey Jr and Robert Duvall in The Judge.
Robert Downey Jr as a lawyer whose father is accused of murder.

Reese Witherspoon as a desolate woman who embarks on a 1,800-kilometre solo journey across the American wilderness.

Bill Murray as a retiree in New York who forges a life-affirming friendship with a 12-year-old neighbour.

Steve Carell, best known as a comedian, as a lonely multi-millionaire who has developed a toxic relationship with two Olympic medal-winning wrestler brothers.

The annual Toronto International Film Festival kicks off September 4 with a bunch of Hollywood films eager to create Oscar buzz and other, smaller films gunning for not just Oscar buzz, but also for American distributors.

Considered by many as the world's most popular film festival, TIFF has, over the last 15 years, either launched movies directly into Oscar buzz or, in the case of films shown elsewhere first, improved their prospects, such as Slumdog Millionaire, Gravity, 12 Years a Slave, Argo, and American Beauty.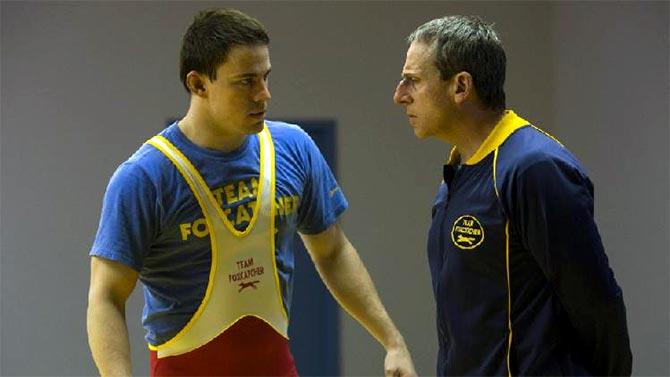 Image: Channing Tatum and Steve Carell in Foxcatcher.
This year, TIFF is set to screen over 285 features films from about 60 countries, including half-a-dozen films and shorts from India including Omung Kumar's Priyanka Chopra starrer Mary Kom.

In addition, some 150 feature length documentaries and short films are also slated to be screened -- of which Monsoon shot entirely in India is one of the most anticipated.

'Directors, actors and film companies bring their movies to Toronto because they know it's an informed audience,' Artistic Director Cameron Bailey said in a recent interview, 'an audience that loves movies and isn't snobbish about movies. If a movie plays well here, that is a good sign for future success, both in terms of awards or box office earnings.'
Bennett Miller's Foxcatcher premiered to rave reviews at Cannes last year and created Oscar buzz for Carell's career-changing performance, alongside Channing Tatum and Mark Ruffalo.

Jean-Marc Vallee's Wild, based on Cheryl Strayed's memoir -- a bestseller for over 18 months in America -- is yet another potential winner for Witherspoon.

And St Vincent -- a world premiere -- is being spoken about as one of Murray's most engaging performances.

David Dobkin's The Judge (TIFF's opening film), starring Downey Jr as a lawyer and Robert Duvall as his father not only promises to be a story of a troubled family, but also a riveting legal thriller.
Other potential Academy award contenders include Whiplash, starring Miles Teller as an aspiring jazz drummer and J K Simmons as his instructor, and 99 Homes, featuring Andrew Garfield as a father whose family is evicted (with Ashok Amritraj as one of the producers.)
In addition, there are over a dozen mainstream films featuring new talent.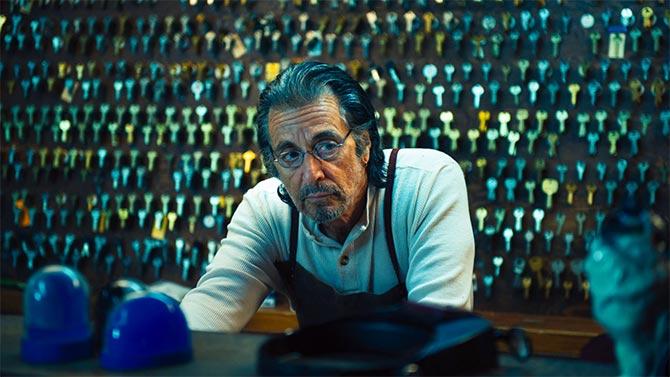 Image: Al Pacino in Manglehorn.
Al Pacino stars in two films that will be screened at TIFF -- Manglehorn and The Humbling, as will Witherspoon, who also stars in The Good Lie, Philippe Falardeau's American drama about a defiant and enterprising woman who wants to help young Sudanese refugees.

The fest also features a strong slate of biopics, including the Cold War drama Pawn Sacrifice, starring Tobey Maguire as chess legend Bobby Fischer; The Theory of Everything, in which Eddie Redmayne plays famed physicist Stephen Hawking; and Mike Leigh's Mr Turner, for which Timothy Spall won the Best Actor nod at Cannes, as the eccentric and legendary British painter.
Denzel Washington and director Antoine Fuqua have come together on The Equalizer, their first collaboration since the Academy Award-winning Training Day.
At TIFF, many films consolidate their reputation or create a fresh buzz, others arrive with high hopes but are deflated quickly for lack of critical acclaim and audiences' interest. It happened recently in the case of Justin Chadwick's Mandela: Long Walk to Freedom as well as Deepa Mehta's Midnight's Children.
On the other hand, though Lunchbox was not nominated for an Oscar, it created solid buzz at the press screenings and became an audience favourite. A few months later, it began a very profitable run in North America, ending with a handsome $4.2 million earnings.
Despite Toronto's reputation as an Oscar buzz creator, Bailey says it's too early to say which films will join Oscar contention this year.

There are always surprises.

'A few years ago, when we announced a film called Slumdog Millionaire, or another film called The Artist, you might not have pointed those out as awards contenders,' he added.