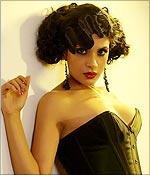 Actress Richa Chadda has done a fabulous job in last week's release, Anurag Kashyap's Gangs Of Wasseypur.
The actress, who plays Manoj Bajpaiyee's wife in the film, ages up to 50 years -- from a young bride to a mother of adult boys.
Richa started her career in a bit role in Oye Lucky! Lucky Oye!, and hopes to carve out an acting career even in the absence of a godfather in the industry.
Now, you can chat with Richa and discuss Kashyap's brilliant GOW. 
Chat with Richa Chadda on Rediff ZaraBol Chat at 4 pm on Tuesday, June 26.

Also read: Will She Be The Next Big Actress in Bollywood?
Review: The boring Gangs Of Wasseypur

(Due to circumstances beyond our control, date and time of chat may change)