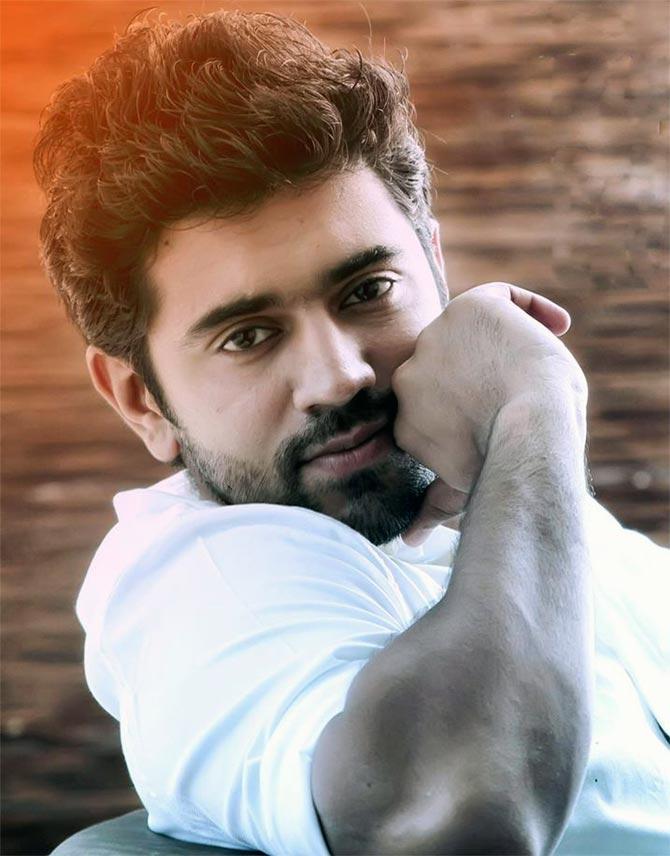 'There were certain groups who were trying to plant negative reports against the film on social media, right after the first show.'
Nivin Pauly opens up about the hate campaign against his film Action Hero Biju.
Expectations have been sky high form Prenam actor Nivin Pauly, one of the top Malayalam actors of 2015.
His latest film Action Hero Biju sees him as a sub inspector named Biju Paulose, and he plays it very realistically.
Unfortunately, the film was subject to a hate campaign during the initial days.
In this exclusive chat with Rediff.com contributor Vijay George, the young hero explains how opinions changed in a matter of days and Action Hero Biju earned acceptance from the viewers.
How is the response to Action Hero Biju?
There were certain groups, who were trying to plant negative reports against the film on social media, right after the first show.
They managed to create an impact against the film in the first two days.
I don't know who is doing this but most of the comments had a particular format and a similarity in their tone.
We did try to trace their profiles but they were newly created. It has to be intentional but we are not aware about their actual intentions.
But the viewers have realised this and the response is now absolutely heartening.
The Kerala Police has given positive feedback to the film.
We are so overwhelmed by all that feedback and they are still pouring in. Our effort has been to show the police department in a positive and realistic manner, considering the hard work they do.
After Premam, you had to live up to huge expectations.
Yes. We deliberately made the trailer in a lighter mood to give the viewers a taste of what to expect from the film.
Of course, we can't blame the viewers if they have certain expectations after such a popular film like Premam.
How did you feel playing a realistic cop in the film?
(Smiles) The efforts that I have put in have been received well by the viewers. I have met so many police officers. We have been to several police stations and watched the happenings in real.
Our attempt was to show what is happening in a police station in a realistic manner.
Suraj Venjarammoodu's performance and the song Muthe Ponne Pinangalle, sung by actor V Suresh Thampanoor, has also been appreciated..
We were hesitant to approach Suraj Venjarammoodu as the role was not a lengthy one. But he was terrific and we are thrilled by the acceptance received for his performance.
Suresh, who played the drunkard, is actually a head load worker. He is so talented, his song has become quite a rage. In fact, we went to the houses of most of the newcomers in the film and the appreciation they are receiving is amazing.
The shooting lasted was quite long, and several months. Why was that?
The film had to be shot like that. We were aware about the days of shooting right from the beginning. We had to create the feel of being inside a police station and it was never going to be easy.
Shooting under sync sound also took time. I don't regret the fact that we took so much time shooting for the film.
You turned producer with Action Hero Biju. Was it tough?
It's not easy being an actor and producer but it was a great learning experience.
I will continue producing films in the future.
What is your next film, Vineeth Sreenivasan's Jacobinte Swargarajyam, about?
Jacobinte Swargarajyam is an intense, serious film about family and relationships.
What next?
I will start shooting for my friend Althaf's debut venture next.