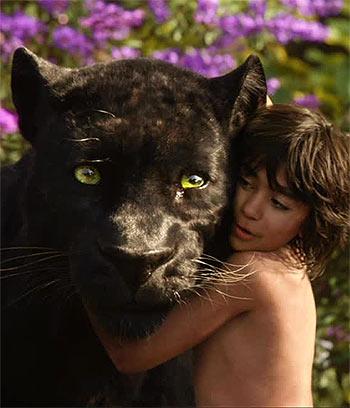 Disney's The Jungle Book has taken the box office by storm.
The Indian box office, usually dependent on the Khans and the Kapoors of Bollywood for revenues, saw a new trend in the first half of 2016.
The box office collections of the top five Bollywood films fell from Rs 513 crore in 2015, to Rs 473 crore this year.
Hollywood, in comparison, saw growth in collections. Part of the reason being that the number of Hollywood films released in the first half of 2016 was more than double that of last year's.
Disney's The Jungle Book took the box office by storm, raking in Rs 187 crore. This was the highest box office collection for any film in the country in 2016.
Other winners at the box office were Captain America: Civil War, X-Men: Apocalypse and Kung Fu Panda 3.
Films like The Jungle Bookand Neerja have shown what targeted marketing and word-of-mouth can do, said a studio executive.
Amrita Pandey, vice-president of studios, Disney India, said, "There are some very encouraging trends that have emerged in the first half of the year. While content-driven cinema has been finding a toehold at the box office for a while, the survival of movies at the cinemas seems to have amplified."
"We had got into this trend of the first weekend being the money maker, while the film's lifetime (the number of weeks it runs at movie halls) was shortened. There were, of course, exceptions like PK, but very few and far in between. This year, the willingness to go to theatres seems to have increased."
Exhibitors said footfalls at cinemas have increased, and a large part of the credit should go to regional and Hollywood fare.
Studio heads and analysts said while Bollywood might seem to be muted in terms of collections, films have opened new territories in terms of exhibition.
"In case of Baaghi, the highest collecting territories were from Bihar and Uttar Pradesh, and not the usual Mumbai, Pune and Delhi. This is encouraging. It means there is potential beyond the traditionally high-grossing territories for Bollywood, provided we churn out the relevant content," said Pandey.
Profitability remained a cause of concern. Both the biggies in the top five -- Shah Rukh Khan's Fan (Rs 85 crore) and multi-starrer Housefull 3 (Rs 110 crore) -- have not broken even at the box office, and are heavily dependent on international collections and ancillary revenues to turn profitable.
Vijay Singh, CEO, Fox Star Studios, said, "2015 was a learning curve for us. We didn't have much to rejoice in the start, but towards the end, we had the biggest blockbuster of the year with Salman Khan's Prem Ratan Dhan Payo. The first half of 2016 has been good for both Bollywood and Hollywood (for us) and both genres have seen underlying growth. More importantly, audiences have reinforced their mandate for fresh, differentiated content."
Suniel Wadhwa, independent distributor and box office analyst, said, "With the first half of the 2016 box office year coming to a close, it's amply clear Akshay Kumar's Airlift (Rs 125 crore) is the biggest grosser of the first half of 2016, which is significantly lower than last year's biggest grosser Tanu Weds Manu Returns (Rs 151 crore) for the same period. This year saw an overall drop of eight per cent for first six months at box office, compared to last year."
The first half of 2015 had already seen a drop of 30 per cent over H12014, he added.
Among the regional films, a standout performance was delivered by Marathi movie Sairat, which is still running at cinemas across Maharashtra and some neighbouring states, having collected Rs 90 crore so far.
Last year, the most prolific regional language film was, of course, S S Rajamouli's Baahubali (Rs 225 crore, net). But it was released in the second half of the year.
Among studios, Disney and Fox Star have dominated the charts. The Pandey-led studio had The Jungle Book, Baaghi, Captain America: Civil War and Finding Dory to rejoice, while Singh's Fox Star Studios scored with Neerja, Kapoor & Sons, Kung Fu Panda 3, Deadpool (the highest grossing R-rated film globally), X-Men: Apocalypse and Independence Day: Resurgence.
Going into the second half, one sees a lineup of big films, starting with Salman Khan-Anushka Sharma-starrer Sultan. It will be followed by films like Mohenjo Daro, Ae Dil Hai Mushkil and, of course, Dangal.
These are titles already mounted on a very large scale. To add to costs would run the risk of denying the project profitability, added a studio executive.