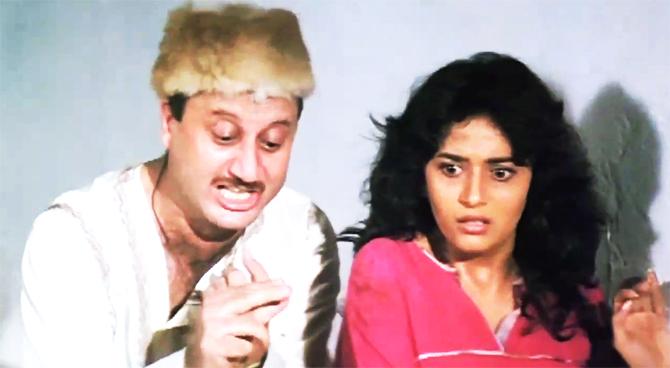 Meet B-town's truly horrific fathers.
Kamal Haasan transforms into an aged nanny to spend time with his little princess in Chachi 420.
Anupam Kher celebrates his son's failure in college by popping champagne in Dilwale Dulhania Le Jayenge.
Amitabh Bachchan writes loving lullabies as a tribute to his darling daughter in Kabhi Kabhie.
But not all dads are brimming with affection and care on celluloid.
Here's a look at some of the MOST horrible daddies of Bollywood that get no love on Father's Day.
Shah Rukh Khan, Kabhi Alvida Naa Kehna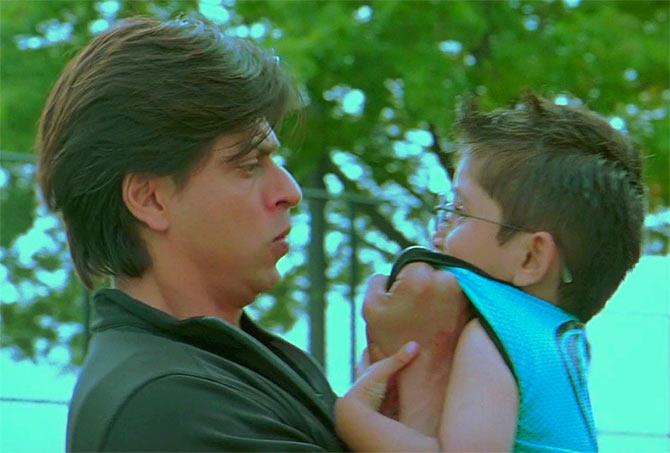 Image: Shah Rukh Khan and Ahsaas Channa in Kabhi Alvida Naa Kehna
In Karan Johar's Kuch Kuch Hota Hai, Shah Rukh Khan's single parent is so concerned about his little girl (Sana Saeed), he rushes all the way to summer camp because he heard her sneeze on the answering machine.
In the same movie, he joins her on the stage when she breaks down on being asked to speak about mothers.
Obviously, it's quite a blow to watch him rebuke his son (Ahsaas Channa) continuously for preferring music over sports in K Jo's Kabhi Alvida Naa Kehna. That's not all, he eventually dumps him and his mother to pursue a romantic liaison with another woman leaving a measly 'try not to hate me' for consolation.
Amitabh Bachchan, Nishabd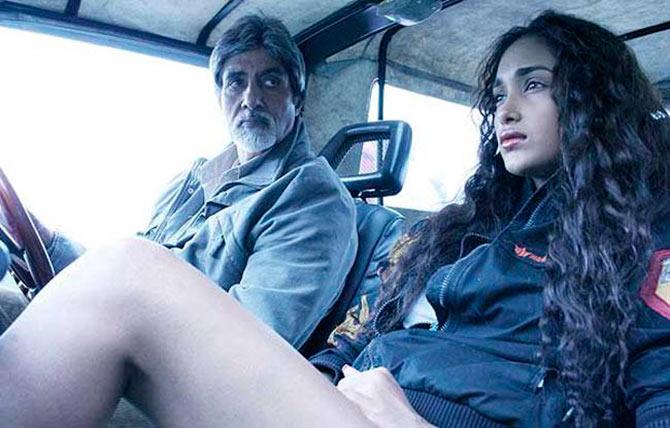 Image: Amitabh Bachchan in Nishabd
Catching one's dad red-handed with one's teenage best friend is anyone's worst nightmare.
Shraddha Arya's comes true when her middle-aged dad, played by Amitabh Bachchan, refuses to put his infatuation to rest and single-handedly shatters their picture-perfect family in Ram Gopal Varma's Nishabd.
Ronit Roy, Udaan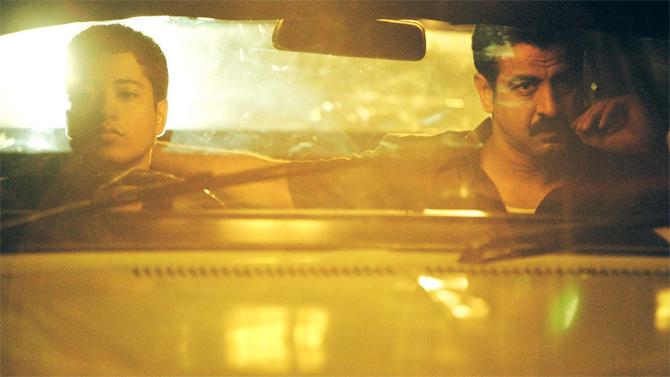 Image: Rajat Barmecha and Ronit Roy in Udaan
Ronit Roy is the face of cruel parenting in Vikramaditya Motwane's Udaan.
The man is unbelievably hard on his two kids (Rajat Barmecha, Aayan Boradia) from two different wives, treats them like minions and puts his own selfish needs and expectations before anything.
If his acerbic insults and thoughtless actions like decision to remarry the third time without consulting how they'd feel isn't enough, Roy resorts to physical beating too.
Anupam Kher, Tezaab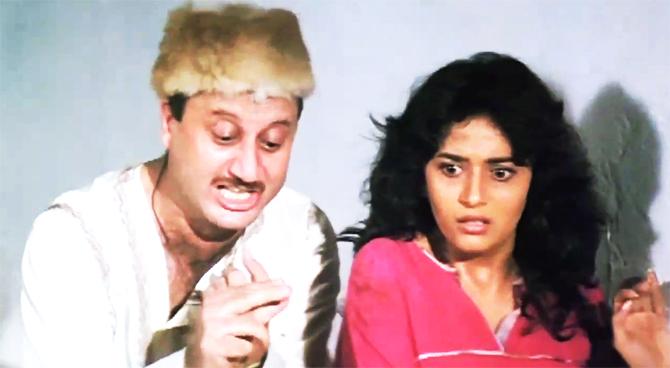 Image: Anupam Kher and Madhuri Dixit in Tezaab
What sort of a father forces her daughter to dance in front of lecherous crowds for money or threatens to hurl acid on her face if she goes against his wishes or tortures her with false albeit graphic descriptions of her boyfriend's death?
Anupam Kher portrays one such beastly baap to Madhuri Dixit's long-suffering daughter in the N Chandra blockbuster, Tezaab.
Boman Irani, Ek Main Aur Ekk Tu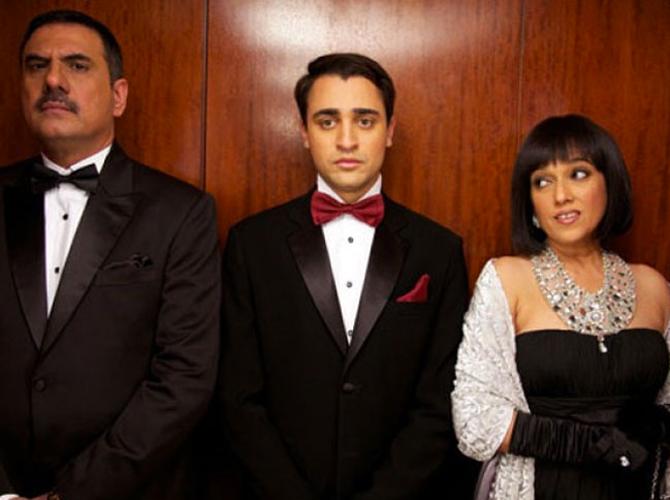 Image: Boman Irani, Imran Khan and Ratna Pathak Shah in Ek Main Aur Ekk Tu
Dad wants me to play golf. Play golf.
Dad wants me to win gold medal. Win gold medal.
Dad wants me to become an architect. Become an architect.
Dad wants me to join family construction business. Phew.
Poor Imran Khan has one heck of a dictating, dissatisfied bully for a father in Boman Irani. Doesn't even have the freedom to wear a tie of his choice.
Vipin Sharma, Taare Zameen Par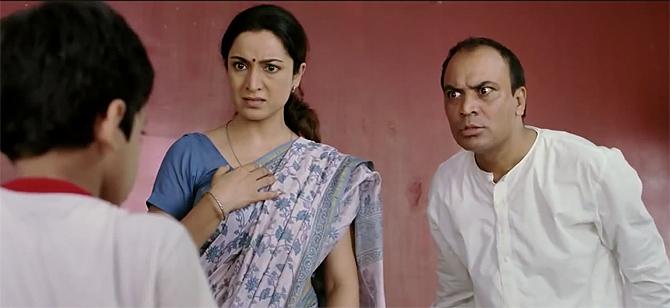 Image: Tisca Chopra and Vipin Sharma in Taare Zameen Par
Vipin Sharma invites instant hate for punishing, scolding, discouraging and striking at his playful, artistic eight-year-old son, played by Darsheel Safary, in the acclaimed Taare Zameen Par.
Instead of trying to be more sympathetic and investigating his child's dyslexia, he's punitive and alienates him by sending off to every child's most dreaded destination -- boarding school.
Pran, Bobby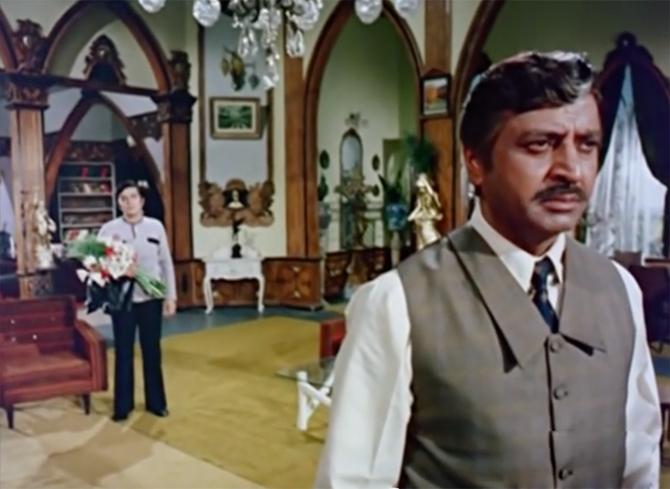 Image: Rishi Kapoor and Pran in Bobby
Too busy riding the high horse of power and money, Pran's completely out of touch with his fatherly instincts in Raj Kapoor's Bobby. Given the zero rapport with his fresh-out-of-boarding school son (Rishi Kapoor), it's only a matter of time before things go really awry.
The well-heeled stuck-up first humiliates Kapoor's girlfriend and promptly accepts a crazy but wealthy girl's marriage proposal for her son to boost his business.
Pran's snooty character does come around at the tail end of Bobby but the harm's already done.
Sanjeev Kumar, Trishul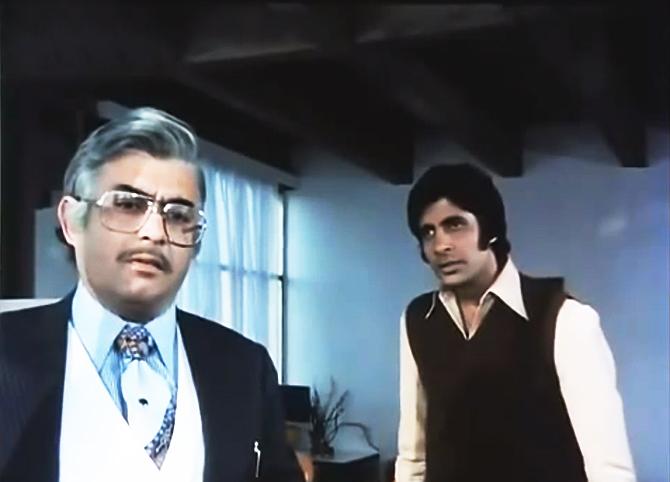 Image: Sanjeev Kumar and Amitabh Bachchan in Trishul
Sanjeev Kumar's R K Gupta is a master exploiter.
First, he dumps his pregnant girlfriend to marry a rich heiress.
Then, he ignores his parenting duties to build a richer empire.
And if he wasn't already the worst father ever for making Amitabh Bachchan's childhood a living hell, his rancour against Poonam Dhillon and Shashi Kapoor for letting their hearts rule the head is the final nail in the coffin.
Goga Kapoor, Qayamat Se Qayamat Tak

Image: Goga Kapoor and Juhi Chawla Qayamat Se Qayamat Tak
Goga Kapoor's regressive, ruthless daddy to Juhi Chawla in Qayamat Se Qayamat Tak is willing to sacrifice her happiness to serve his own pride.
The sneaky rascal tricks his poor daughter into believing he's truly accepted her relationship with the enemy clan's son (Aamir Khan) while all this time he's sent out goons to bump him off.
What ensues, as you all know, is most tragic.
Tarun Bose, Anupama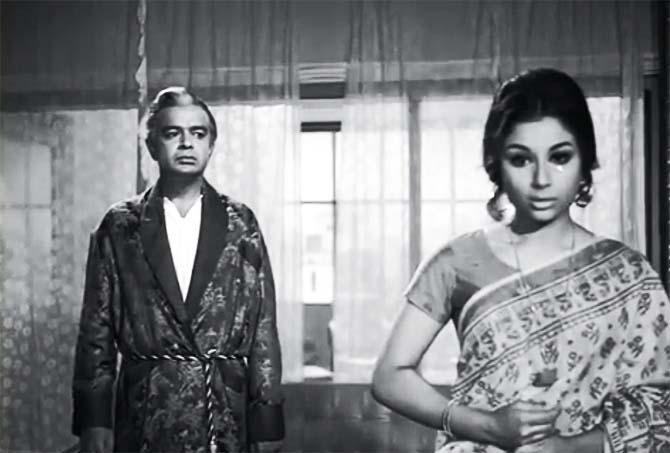 Image: Tarun Bose and Sharmila Tagore in Anupama
In Hrishikesh Mukerji's sensitively told black-and-white drama, Sharmila Tagore plays the criminally neglected daughter of a resentful widower Tarun Bose.
Blaming her for the death of his wife during childbirth, Bose refuses to acknowledge her presence, forget having any conversation, resulting in Tagore harbouring serious amounts of guilt in her reticent, socially awkward behaviour.