Happy 60th Birthday, Bruce Willis.
It's hard to believe Bruce Willis is 60.
Sure, he occasionally looks older, but there is that twinkle in his eye -- that twinkle we remember from Moonlighting and the twinkle he flashed scene-stealingly in his Ocean's Twelve cameo -- that youthfully glosses over the numbers.
Sitting down to list his 10 best films, I was stunned by the variety of roles, the willingness to experiment and the unpredictability with which he embraced the memorable. Talking babies may not feature on my top 10, but Willis made so many things work that should never have gotten off the ground.
Here, then, is the very best of Bruce Willis.
Yippee ki-yay.


10. Planet Terror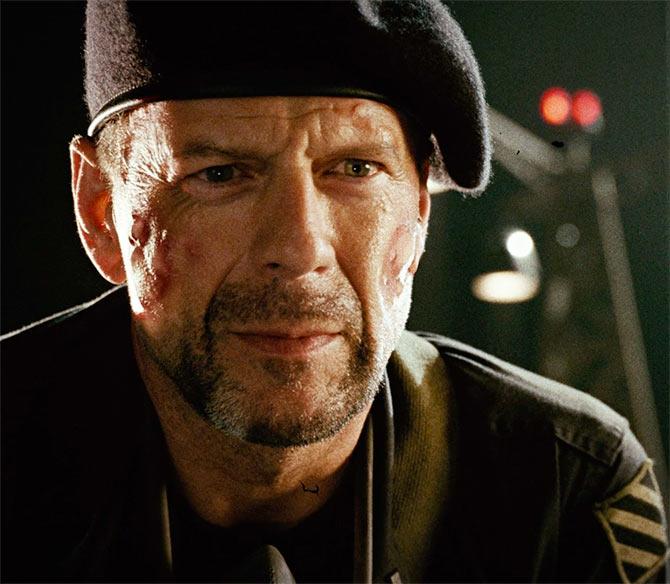 Image: Bruce Willis in Planet Terror
In Robert Rodriguez's intentionally tacky gross-out horror film, Willis plays a ridiculously loony US military man called Lieutenant Muldoon -- the kind of freak who brags about killing Osama Bin Laden.
'I put two in his heart and one in his computer,' Muldoon boasts.


9. Looper
Image: Bruce Willis in Looper
Joseph Gordon-Levitt plays the younger Bruce Willis in this crackling Rian Johnson thriller.
The cleverly cast (and prosthetically aided) pair of actors do well to play time-travelling versions of themselves out for survival, and it is the way Johnson plays off Willis's inherent badassery that makes him a potent antagonist.


8. Moonrise Kingdom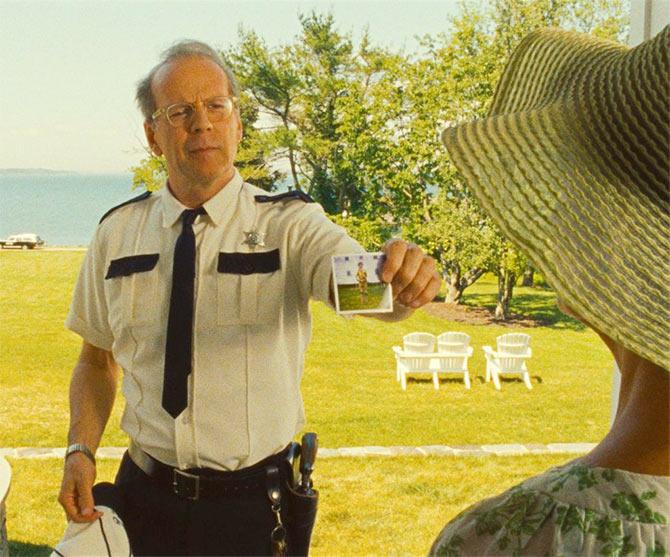 Image: Bruce Willis in Moonrise Kingdom
In this Wes Anderson gem, Willis is the Police Captain on a tiny New England island, a soft-spoken man called Duffy Sharp.
He happens to be in love with a married woman -- Frances McDormand's eternally exasperated Laura Bishop -- and Sharp goes through all the film's chaos with quiet nearly-existential resignation, eventually saving the day.


7. 12 Monkeys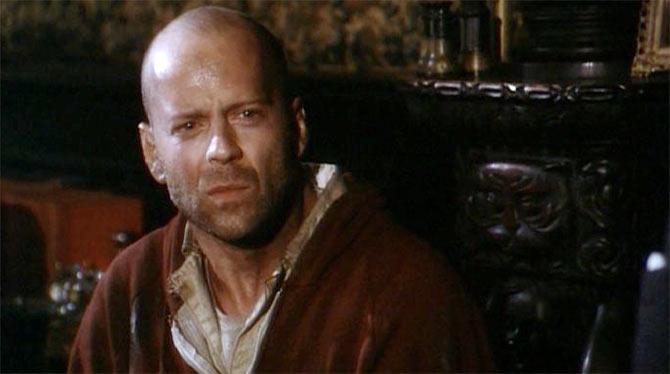 Image: Bruce Willis in 12 Monkeys
In this dystopic Terry Gilliam chiller, Willis is jailed, thrown into a mental asylum, sent back and forth in time, and essentially put through a bleak, unlikely hell in his quest for the answers.
As James Cole, the actor provides a strongly consistent and credible performance -- not to mention a tragically overlooked one.


6. Death Becomes Her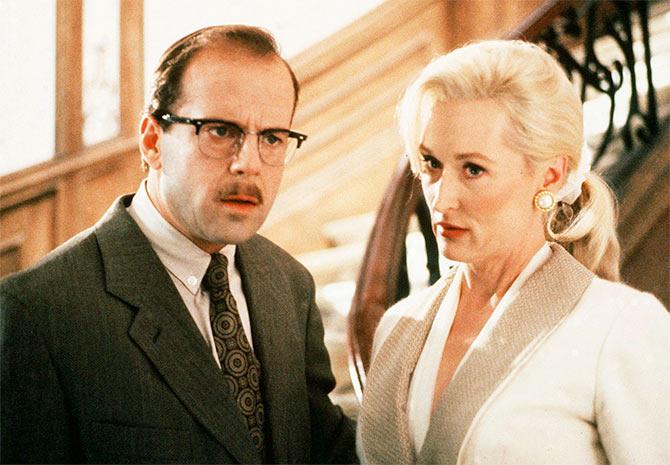 Image: Bruce Willis and Meryl Streep in Death Becomes Her
One of Bruce's funniest ever performances came in this nutty Robert Zemeckis comedy that sees him caught between two catty women (Meryl Streep and Goldie Hawn) fighting over eternal youth.
As the easily tempted plastic surgeon Ernest Melville, Willis hides behind an alarmingly high hairline and big glasses, playing the blundering dork to perfection.


5. In Country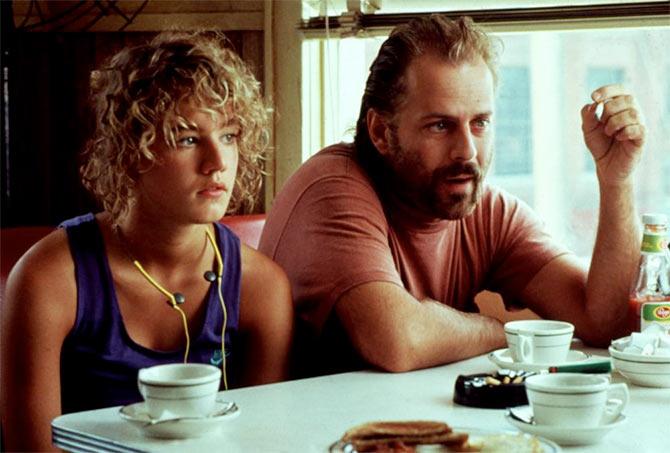 Image: Emily Llyod and Bruce Willis in In Country
This sensitive Norman Jewison drama, coming early in Willis's career, saw him play a Vietnam veteran suffering from Post Traumatic Stress Disorder.
Willis brings nuance and fragility to the part.
The role is one where a lesser actor may well have gone overboard but where the 34-year-old Willis proves impressively restrained.


4. Unbreakable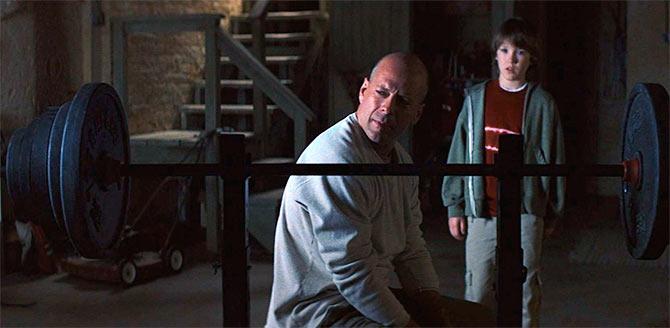 Image: Bruce Willis and Spencer Treat Clark in Unbreakable
In M Night Shyamalan's beautiful superhero drama, Willis plays David Dunn, a man who discovers he can't be injured.
Realising the extent of his powers in a trainwreck where everyone dies but him, Dunn is wracked by guilt and reluctance to accept his powers.
Willis fleshes out the character very well, playing him softly, nobly and believably.


3. Bonfire Of The Vanities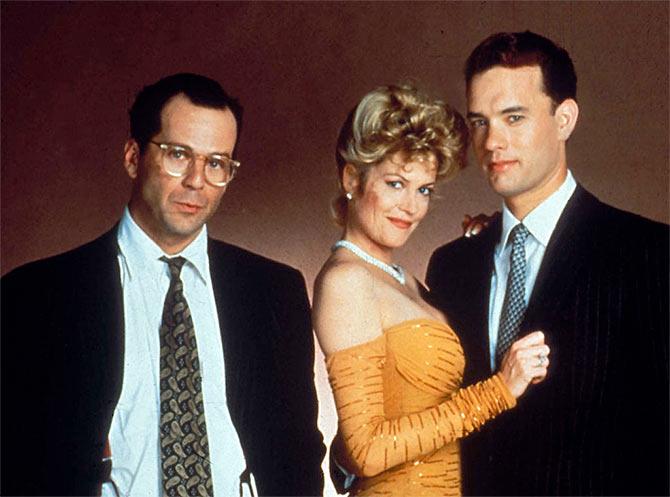 Image: Bruce Willis, Melanie Griffith and Tom Hanks in Bonfire Of The Vanities
In Brian De Palma's smashing adaptation of Tom Wolfe's novel of the same name -- one of the finest adaptations of any book ever, incidentally -- Willis plays Peter Fallow, a supremely sozzled journalist low on morals and high on opportunism.
His comic timing is spot-on, and he knocks the biting dialogue out of the part.
'If you're going to live in a w****house there's only one thing to do,' he says with an all-justifying magnanimity. 'Be the best damn w**** around.'


2. Die Hard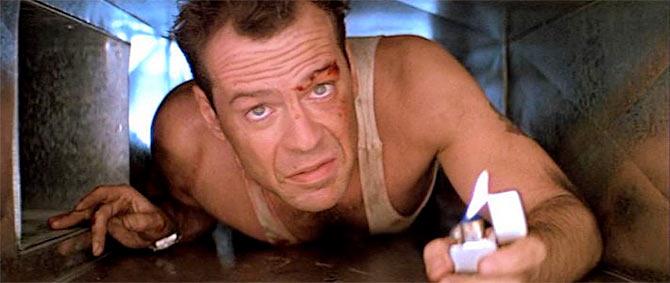 Image: Bruce Willis in Die Hard
What? Die Hard is at #2?
The most iconic Bruce Willis performance in all of moviedom, the performance that lifted the John McTiernan film to unforgettable heights, the character John McClane who could make any action hero change his trousers, is at #2?
Yes.
It is one of the finest, tightest action movies and it deserves many, many triumphant repeat viewings and McClane is the truest of American heroes.
So what can beat Die hard? It must be the modern Citizen Kane, correct?


1. Pulp Fiction
Image: Bruce Willis in Pulp Fiction
Correct.
Quentin Tarantino's 1994 masterpiece might not feature sleds and newspapermen, but it does have Bruce Willis playing a fatally-strong boxer who looks good with both katanas in hand and chopper-motorcycles under him.
His Butch Coolidge -- despite a lethal love for Pop Tarts -- remains a character for the ages, a true motion picture immortal, a man who fires out Tarantino's words like well-chosen bullets.
A man, in short, who deserves the watch his dad left him.