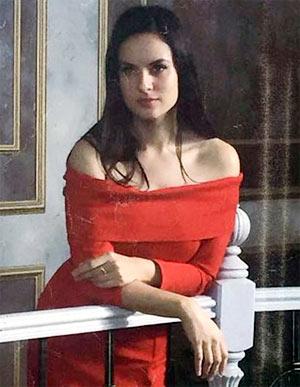 Russian-German actress Elena Kazan, who entered the Bigg Boss house last week as a challenger makes an early exit. She entered the house with oodles of confidence to challenge one of the nominated contestants and replace them. She spent most of her time in the challenger room with Jason, Bani and Rahul.
Owing to her calm and composed nature, she shared a cordial relationship with all the contestants.
During Elena's stay inside the house, she failed to make an impression after she under performed in the dome task alongside Nitibha. She was only able to survive for a few hours in the constricted environment and gave up sooner than expected.
Even in the luxury budget task --Jab Tak Paer Chalenge -- she gave a decent performance and pedalled the bicycle for a considerable amount of time. But things did not work in Elena's favour, resulting in her eviction.
Elena debuted in cinema with a Bengali movie Clerk and went on to do movies like Agent Vinod, Gandhi to Hitler, Prague and Aasma, among other projects.
Elena spoke to Rediff.com contributor Rajul Hegde.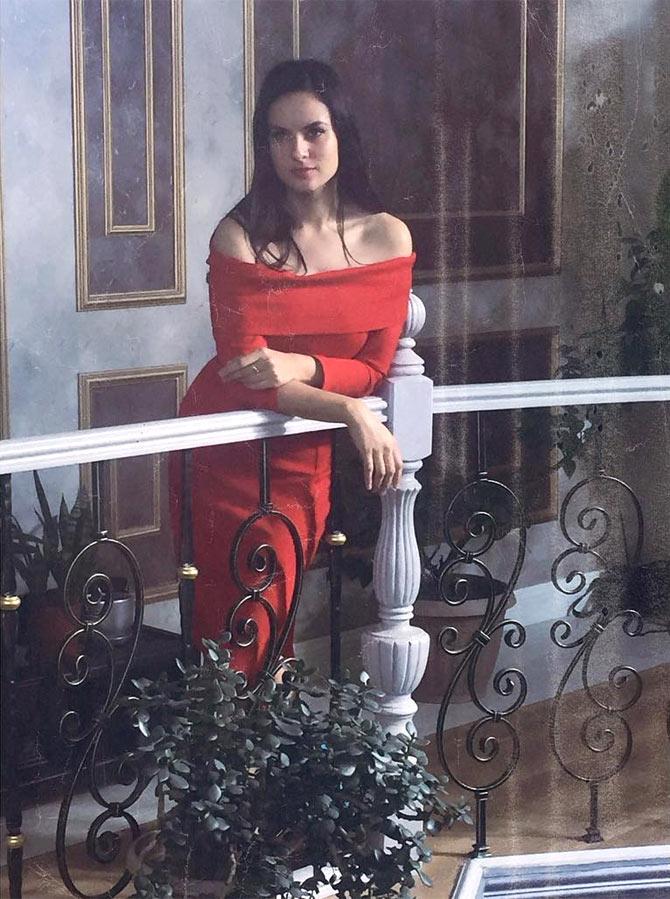 Was it disheartening to be evicted in just a week?
No, I am happy that I am eliminated from the reality show.
You are the first housemate to say so.
It's a difficult environment because it's dirty and messy. Kitchen stinks as people don't wash dishes. They cook something and then it stays there for 5 days. They would eat stuff, throw things around and would tell each other to clean the kitchen.
It's not a little dirty but completely dirty. Some of them were saying rats come at night because of the food and it keeps them awake. It's quite unhealthy and lights have to be kept on for a very long time in the night due to this.
Also, there is a lot of time in which you have nothing to do. For us (they were in a jail) it was more difficult as we had no food. We had to depend on other housemates to make food for us. Some people would make and some do it at their convenience or give excuses. I didn't expect people to be like that.
So you didn't like your short stay in the house?
It was an interesting experience, but it definitely felt longer than a week. You are deprived of freedom. There was no clock and we wouldn't know what time was it. There were so many things happening inside, most of which were extreme. When we were busy doing tasks, there was this gong making a loud sound.
Do you think since you guys (wild card contestants) were in the jail, you were hardly noticed by the viewers?
The makers should have put us in the house for the first few days and then in the jail. Then we would have got the chance to mingle and interact with the housemates. By being in jail right from the start, we were completely isolated and didn't get the chance to generate any impression in the minds of the audience.
You were aware of the format of the show. What were you expecting?
I don't watch Bigg Boss. Now I am watching online the episodes of days I have spent inside the house. One thing I have realised that whatever is shown, does not necessarily reflect what happens inside. You can't show everything that happens in 24 hours, it's compressed.
Even if I had watched it before going to the house, it wouldn't have made a difference because watching and experiencing are two different things.
Swami Omji is shown as a yelling maniac but he was quite nice with us. Whenever we would ask him to get some food, he would never say no. When I was washing dishes in the kitchen, he quietly came and started helping me. I agree Swamiji does crazy things, but at times, people are just picking on him even when he is not wrong.
He was sitting quietly when Lopa Mudra (Raut) came and troubled him unnecessarily regarding food. People were disrespectful towards him.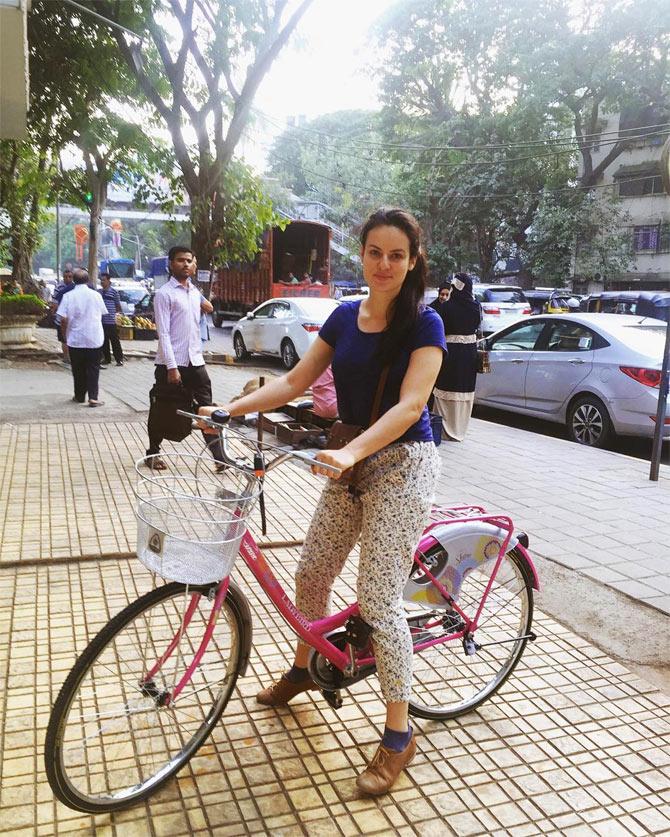 Did you like the tasks?
I liked the captaincy task of painting the canvas and the cycling task.
In Dome task (she was partnered with Nitibha, Elena gave up and came out when Nitibha decided to pee while inside the dome.) who is going to pee first should not have been the condition. It was not my thing to pee inside the dome, and I would have never done so on national television.
You said you didn't watch Bigg Boss then what made you take part in the show?
I like the concept and it's challenging to be locked inside.
Even now when I watch Bigg Boss, I feel they could have done much better with footage. They have 24 hours and have such an interesting stuff. I would have shown different Sides of Omji. There is no point in showing nasty fights; people will also get bored of it. Instead show people what makes them to behave in such a manner; they are not bad people in real life. That is my opinion but I must say it's a fascinating and an intelligent concept.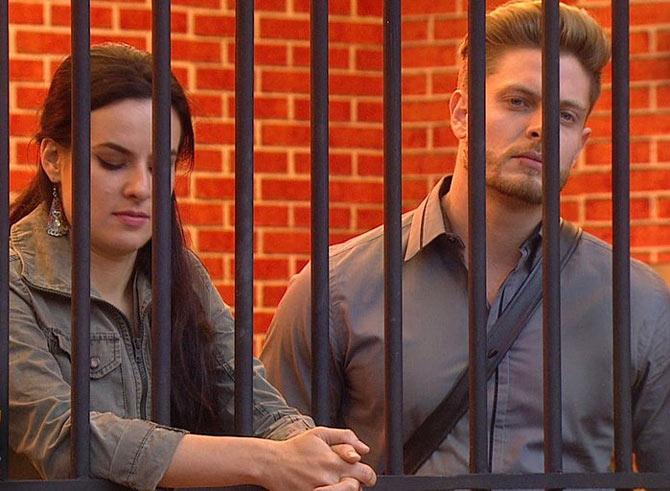 You had issues with Lopa?
We were continuously peddling and Lopa was trying to tell us that she's working very hard just because she had to make food for us. Where is the comparison between cooking and peddling throughout the day? Who would want to stay in a house like that? I was really upset with Lopa.
But you were comfortable with Bani J?
I really like Bani. She is really strong and kind. She has a good sense of humour. Jason is levelled headed, honest and intelligent. I had most of the fun with Bani and Jason. We kind of have the same sense of humour so we would joke around.
Gaurav Chopra and Rahul Dev too were calm and nice. I know Gaurav as I have worked with him in film. But it's different when you are shooting and living with a same person in the Bigg Boss house.
Bani, Jason, Gaurav and I are planning to meet outside.
Was it your first meeting with actor and host Salman Khan during Bigg Boss?
Yes. I have never met him before the show and even in the show, our interaction was limited. I like the way he gave advice to Bani (in the last episode). It is true that Bani gets emotional and that comes in her way unnecessarily. I though it was a sound advice.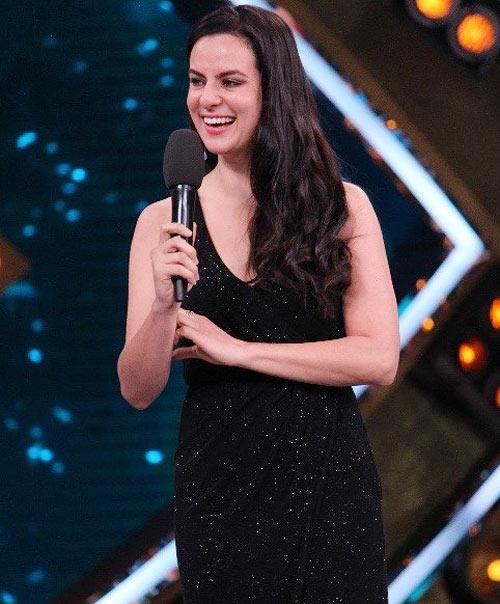 You speak Hindi fluently, how and when did you learn it?
I learnt Hindi when I was in a college in the United States. I used to watch a lot of old movies and songs because our library had lots of stuff. I would watch old films likeMughal-e-Azam, Pakeezah and Pyaasa.
I had friends from India, Pakistan and Bangladesh, so I would interact with them. But I became much more fluent after coming to India. I love learning languages. I have learnt Spanish, French and German. I went to Ramakrishna Mission Institute in Kolkata to learn writing Devanagari script.
Now I can read and write Hindi, though I don't get to write much on daily basis, it is handy to know the language. I would love to learn Marathi also.
Which are your upcoming projects?
I have just finished a Bengali film and a Marathi film and I'm shooting for one Hindi film with Gaurav Chopra.
Photographs: Elena Kazan/Instagram.