Garlic and used waxing strips dominate Day 59.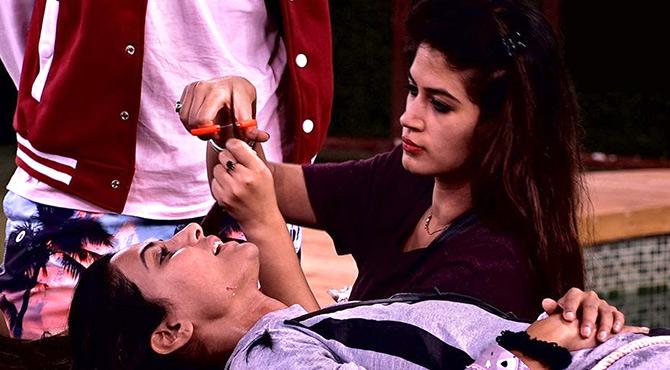 Day 59 starts with Hiten Tejwani's newly waxed legs, and it's difficult to take our eyes off them!
It's torture time for him, of course, as Akash Dadlani and Luv Tyagi wax him, while the others have a good laugh.
The luxury task continues. Bandagi Kalra, Puneesh Sharma, Shilpa Shinde and Hiten have to torture Hina Khan, Arshi Khan, Akash and Luv.
Priyank Sharma and Vikas Gupta are the moderators.
Priyank and Luv hide Hiten's and Puneesh's trimmers, but it's not easy to fool them -- they figure it out quite easily.
Day 59 sees an aggressive side of Bandagi as she throws Hina's make-up for no reason at all.
The first contestant to lie down on the Bed of Torture is Arshi.
She gives up after five minutes when Bandagi threatens to cut her hair off.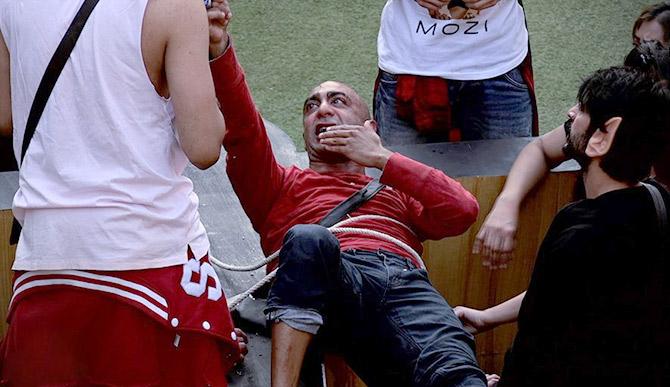 The second contender is Akash.
The opposite team plays cheap and sticks used waxing strips (Yes, the ones used to wax Hiten's legs!) on his bald forehead and face.
Later, Shilpa and Bandagi force him to eat garlic which later spreads all over his face.
His face breaks into a rash, and he calls Shilpa 'the worst woman in India'.
Hats off to Akash for hanging in there till the buzzer rings.
Later, he explains that he really wants the captaincy which he feels he deserves.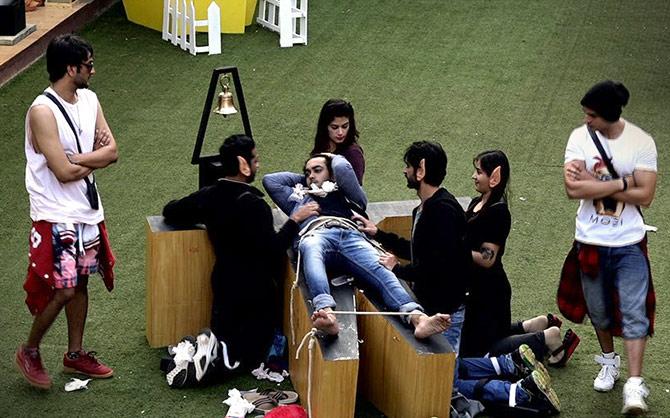 It's Luv's turn next.
Puneesh tries to trim his hair off, which he partially manages to.
Bandgi once again uses the used waxing strips on him. He plays hard and doesn't give up.
When its Hina's turn, Bandgi cuts her hair off.
Shilpa covers her face with the used waxing strips. Hina proves that she is 'daddy's strong girl' and stays till the buzzer rings.
The score is 3-3.
The winner is decided by checking the time taken by the contenders to complete the task.
Since Bandagi hung in for a long time, her team wins.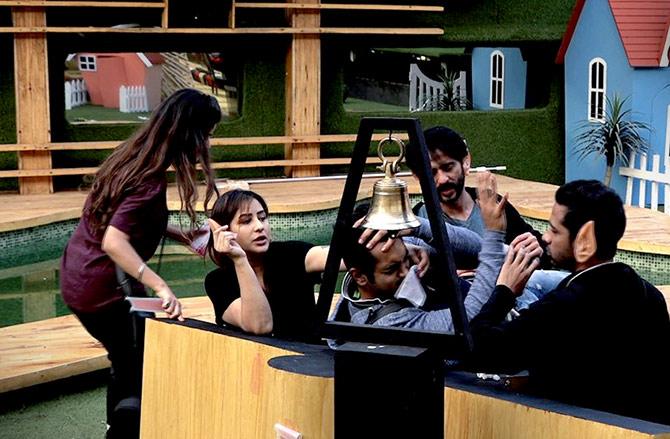 Don't you think Puneesh's team played really low?
True, they were victims of chilli powder and what not, but they evened that out by using garlic and used waxing strips.
If you see someone's face swelling up because of garlic, why would you force him to eat more?
The waxing strips were very unhygienic.
Wasn't Shilpa supposed to be more understanding here?
Didn't Bandagi overdo it, just for some footage?
Couldn't Vikas stand up for Akash, Luv and Hina?