'Arshi never crossed her boundary.'
'Initially, Akash was entertaining, but slowly, he's become irritating; he changes groups without being loyal to anyone.'
Hiten Tejwani discusses the contestants on Bigg Boss 11, and reserves the worst for Hina Khan.
IMAGE: Hiten Tejwani, left, and Priyank Sharma on Bigg Boss 11.
For the first time in Bigg Boss history, the contestants decided the fate of a nominated housemate.
And it came as a shock to many that Hiten Tejwani -- one of the strongest contestants in the house -- was voted out.
Hiten has been quite popular with his housemates. He was respected for his maturity, positivity and his clean image.
While Arshi Khan flirted with him, he did not encourage her, claiming he was a happily married man.
He tells Rajul Hegde that his eviction came as a big shock.
Your eviction comes as a big surprise.
Yes, I am shocked!
I can't believe that I am evicted.
I certainly did not deserve to get evicted before Akash Dadlani, Luv Tyagi and Puneesh Sharma.
I respected everybody and did not indulge in back-biting, so I thought my honest approach was being appreciated.
Puneesh favoured me, but Hina Khan and Luv wanted Priyank Sharma to stay, which was expected.
Shilpa Shinde was the major deciding factor in my elimination.
She saved Priyank, not me.
That was shocking, as I have always seen her as a friend. I have always supported her.
I thought we shared a bond.
But she thought I was a threat to her as I was one of the strongest contestants in the house.
It's a game and the strongest ones have to go to give others a chance. That was her strategy.
After the show ends, will you ask Shilpa why she chose Priyank over you?
Yes, I would like to know that.
Competition is good, but one should compete with those on the same level.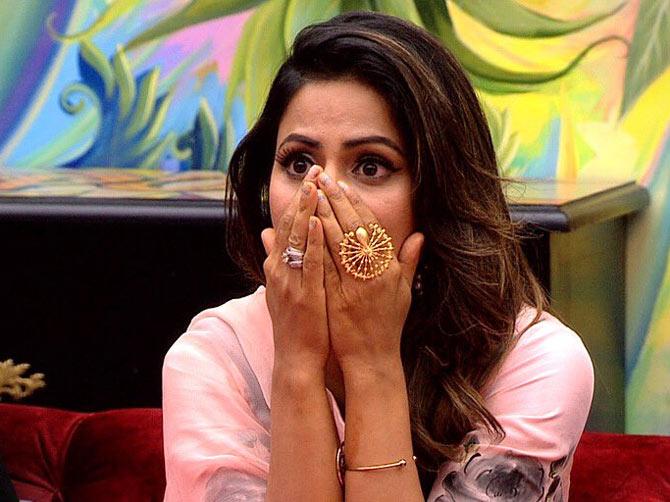 IMAGE: Hina Khan.
Hina called you 'spineless' during a task and projected you as Vikas Gupta's puppet because she felt you followed his game plan blindly.
There is no truth to what she says. It just happened that both of us would agree to a certain point mutually. We weren't imposing our thoughts on each other.
Also, we respect each other. There were times Vikas listened to me.
If you are referring to the pram task, I wanted to support Vikas because he would have done the same for me.
What's wrong in that?
I did not react when she dragged my wife Gauri into the issue, when she lost out on her captaincy because of my action, which was in favour of Vikas and finally, Arshi.
Most of the contestants don't have anything nice to say about Hina.
Hina says one thing and does exactly the opposite behind your back.
She doesn't practice what she preaches. She is a fake.
Initially, Akash was entertaining, but slowly, he's become irritating because he changes groups without being loyal to anyone.
Who are the fake people in the house?
There are many, but the person who surprises me the most is Hina.
I didn't realise she was not talking well about me.
Priyank and Luv are also fake people. They are faking their friendship as well.
Arshi Khan and you had a nice chemistry, thanks to her flirting with you.
Initially, I got irritated. But after sometime, I would find her funny.
I think it was her game plan, but she never crossed her boundary.
She is an intelligent girl.
Being in the same industry, I am sure we will keep bumping into each other at parties and events.
How was your experience in Bigg Boss?
I was away from everyone who mattered to me, cut off from normal life and locked away with 18 strangers with different mindsets.
Though it was a wonderful life-changing experience, I wouldn't like a repeat.
I am glad that I came out as the same person who had walked into the house.
I remained unscathed from whatever happened in the game. And that this is my biggest reward.
My sanity is intact. I have become more patient and calm.
This house couldn't change me despite so much back-biting and fights.
I learnt a lot of household chores as well.
What did you miss most during your stay in the house?
I missed my family, my phone and my workouts.
Now, I will miss the morning wake up songs, the mike and Bigg Boss' voice.
Who do you think will win?
Shilpa is quite strong in terms of votes and popularity. She will give Vikas tough competition.
I want Vikas to win the show.