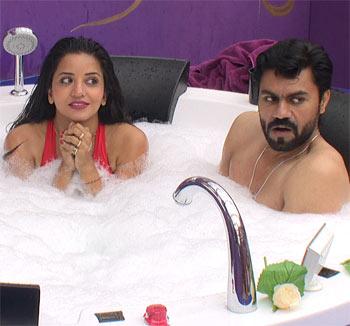 No rain, no Manu, but Mona knows how to make hay even when the sun is not in her favour, says Divya Nair.
Highlights
A new task for housemates.
Rahul is the new cook.
Mona and Gaurav sizzle in a jacuzzi.
Manu and Priyanka make decisions for housemates.
What's garam
Manu's entry in the secret room will change the equations in the house.
I've always said Manu is the Chanakya of the house.
Like Swami Om points out, he can convince even aggressive contestants like Priyanka Jagga to do his bidding.
While Priyanka knows how to drive TRPs, Manu is trying to play the good boy game. He managed to get her vote in his favour twice to save Lopa, obviously at the cost of drama.
The two mutually decide that Rahul, and not the Baba, will cook for the housemates and that Bani will not hit the gym until further notice.
All's well until he chooses Gaurav and Mona to share a jacuzzi for 30 minutes.
As the two spend time together, Manu goes pale and he tries to hide his emotions just like Gaurav acts innocent when he appears to be having fun ;)
It's okay Manu bhai, hota hai!
What's thanda
Gaurav makes things more difficult for Bani.
After making her the villain in the balloon task, he doesn't want to reconcile with her.
Very mean, Gaurav.
Once friends, Manu and Manveer have many misunderstandings to overcome to break the one-week distance.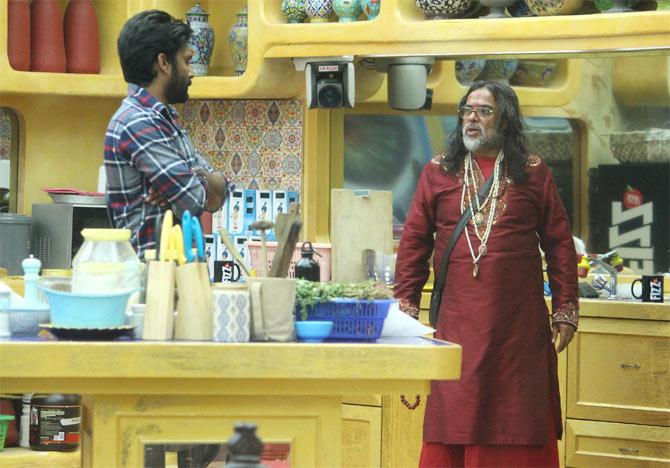 Mona is no longer part of the commoner group and spends more time with Shamitabh Gaurav, who seems to prefer her over lone warrior Bani.
Nitibha and Mona can't see each other eye to eye and Manveer does nothing to make peace with Mona.
In such troubled times, if Manu and Jagga unite, they can turn the tables in their favour.
Now, let's see if that's what's in store.