'...saying 'I love you'.'
'In none of the films has my character ever uttered 'I love you' or 'Main tumse mohabbat karta hoon'.'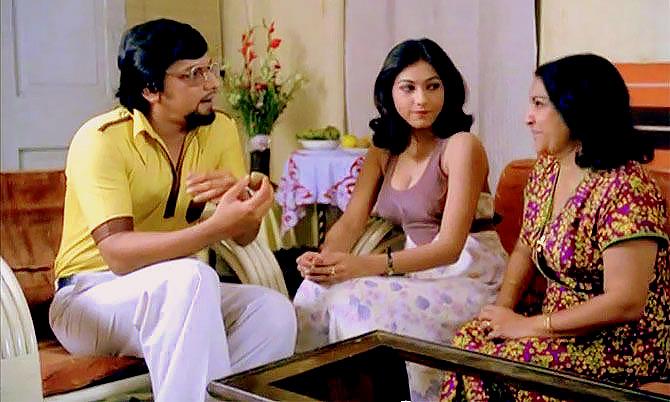 "I regret that the film industry did not give Basu Chatterjee his due," actor Amol Palekar tells Patcy N/Rediff.com in the concluding segment of a two-part interview.
How relevant are Basu Chatterjee's movies in today's times, where the common man has changed, the middle class has changed?
Yes, obviously, the middle class has changed. The entire social milieu has changed.
But I think his approach, his narrating the story of a common man, looking at their lives with his peculiar sense of humour, remains the same.
In most of our films are, the characters do no wrong. The hero never does anything wrong. He is the ideal person.
Basuda's film characters don't belong to that world.
He talks about the real world, around us, where you feel, I know this man, he stays in the next lane.
The audience identified with these things immediately and that was the reason for its success. If somebody can do that, it is still relevant.
For example, in Baton Baton Mein, the love story between Tina Munim and me starts in a local train. We are going to our offices and I sit down and sketch.
Now, the local train scenario has changed by leaps and bounds. You can't even sit properly. It's so crowded, the pace of life has changed.
So you cannot replicate the same scene.
But the situation of wanting to express, wanting to communicate, wanting to say I am interested in you, remains the same.
Today's young boy will do it through messaging through his mobile.
Communication has changed but that urge remains the same.
Basuda taught us how to express love without saying I love you.
In none of the films has my character ever uttered 'I love you' or 'Main tumse mohabbat karta hoon.'
Yet, I managed to convey utter-most love.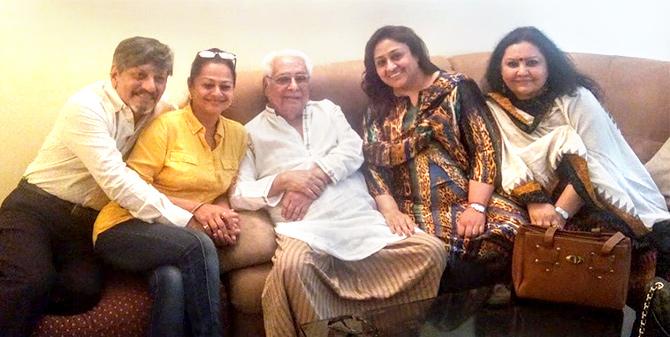 Basuda was a political cartoonist for 15 years at Blitz. You are a painter too.
Basuda was a very good illustrator.
In the initial stages, when we met during Rajnigandha at his Worli house (south central Mumbai) and later, when he shifted to Khar (north west Mumbai), he would sketch and show that I could do the same.
Our way of communication through paper and pencil was also different.
Did Basuda have any regrets? Do you think the film industry gave him his due?
Whatever humiliating experience, he would look at it with a tinge of humour and laugh at it.
He could laugh at himself.
He could laugh at that situation, and then the humiliation would not be that painful.
This is another learning I had from him.
So I don't know about his regrets.
I personally regret that the industry did not give him his due.
But that's understandable because he never followed the mainstream.
He chose to go his own way and succeed.
So that success was a kind of uncomfortable zone for the industry.
He didn't follow the norms.
He didn't follow the rules.
He didn't necessarily follow the star system.
He didn't follow any of that and yet, he continued to carry on consistently all these years, so the industry not acknowledging his contribution, is understandable.
But somewhere, I feel sorry that he remains such an unsung hero till his death. Even after his death, none of the big guns uttered a word about him.
So be it.