'As an actor, he gave me so much.'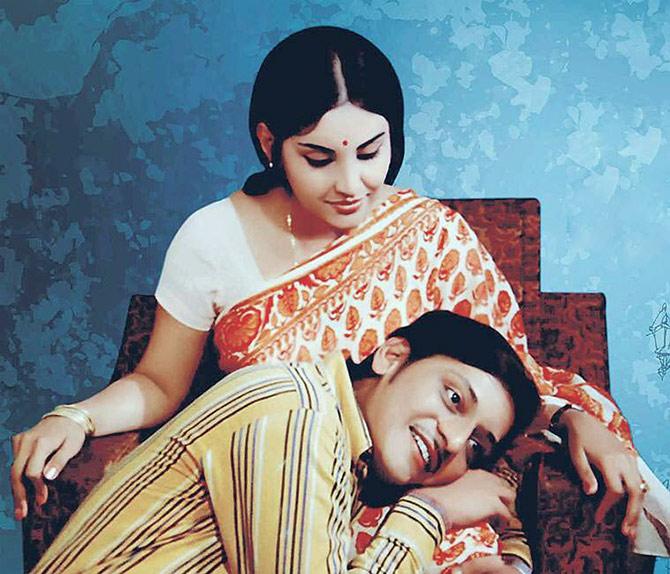 Basu Chatterjee was instrumental in making Amol Palekar the common man of the Hindi film industry.
Director and Actor worked together in Rajnigandha, Chhoti Si Baat, Chitchor, Baton Baton Mein, Do Ladke Dono Kadkeand Apne Paraye. Palekar made guest appearances in Chatterjee's Safed Jhooth and Jeena Yahan.
In a telephonic interview from his home in Pune, Palekar tells Patcy N/Rediff.com, "I was always amazed by the fact that the man who cannot narrate a simple story is so great when he narrates it on screen."
The first of an eloquent, two-part, interview:
Even before your first Hindi film Rajnigandha, you knew Basuda because of the Film Society movement and Film Forum where you were an active member.
I wasn't an active member. I was a regular member who would watch all those films.
I was a young man, just out of college, and all that exposure, which the Film Society movement gave us was tremendous. Till then, we were only exposed to films from Hollywood and Hindi and Marathi cinema.
It was the Film Society which opened the horizon.
Italian films, French films, Japanese films...I mean, we could see outstanding masterpieces.
We also realised that Hollywood's way of making films is not the only way.
There are so many other ways, much more effective ways.
Basuda was one of the most active members of Film Forum at that time. I used to bump into him quite often.
How was Rajnigandha offered to you?
Before Rajnigandha, he had offered me Piya Ka Ghar.
Basuda told me I must go and meet the producer, Tarachand Barjatya (founder of the Rajshri production company), and talk.
I promptly refused.
I said, 'If you have selected me as your leading man, you must take me there, introduce me in a dignified way. I don't want to go there and sit in the queue with so many aspirants.'
So naturally, it ended there.
He made Piya Ka Ghar with Anil Dhawan and Jaya Bachchan.
I was pleasantly surprised when he came back to me with Rajnigandha.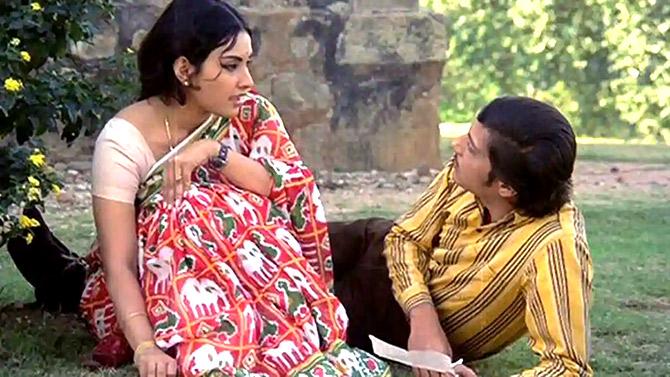 During the making of Rajnigandha, you had to do a workshop, which was not the industry norm then. Also, Basuda did not give you any narration.
That was Basu Chatterjee's stamp -- he could never narrate a story.
He had started narrating the story of Rajnigandha, but did not go beyond three sentences.
Then he gave me the story and said, 'Yeh Padhlo (read it).'
It was a short story by Manu Bhandari, a renowned writer in Hindi. The title of that story was Yeh He Sach Hai and it was a short story of just a page-and-a-half.
I read it quickly, and said 'Lovely story.'
I asked him, 'How will you make such a tiny story into a two-and-a-half hour film?' More so, because it had no dramatic moments, no twists and turns, nothing expected of a film that we had seen in Indian cinema.
He smiled and gave me the entire screenplay with dialogue.
That's how our journey continued through all the films I did with him.
He could never narrate a story, he would just give the complete screenplay and dialogue written by him.
I was always amazed by the fact that the man who cannot narrate a simple story is so great when he narrates it on screen.
The dexterity, the ease and the command over cinematic craft was such that he could narrate that simple story on screen in such a compelling and interesting manner.
That is something I learned from him -- what you convey on screen is most important, and how you convey it.
What kind of director was he?
Basu Chatterjee came across as the most unobtrusive director.
Not only on the sets, but even when you see his films, you don't see the director behind. That is one of the most difficult things to achieve.
Every director likes to put his stamp on his creation.
Look at his contemporaries.
Look at Manoj Kumar's films -- the angles and lenses he used. Everything became even more larger than life.
Or Vijay Anand's films. The fluidity of his song picturisations is so distinct that you know this is Vijay Anand's trademark.
In Basu Chatterjee's films, you don't find anything -- and that which is not seen and yet in firm control of the film is a hallmark of a great craftsman.
I tried to use it when I became a director.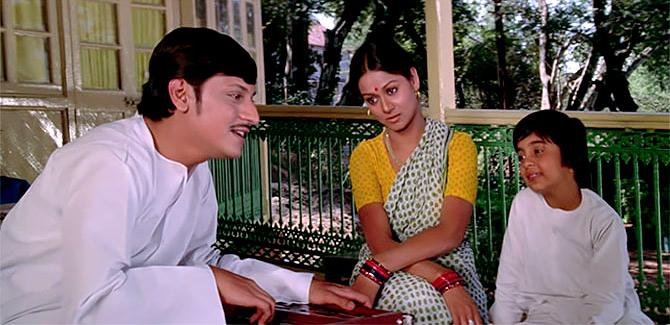 What attracted you to his work?
This aspect of being able to narrate a simple, short, story so beautifully and effectively on screen for about two-and-a-half hours.
It requires great skill.
Without shouting from rooftops, his characters don't even have any melodramatic scenes, there are no twists and turns in the plot.
Nothing.
It's a simple story and to be able to convey such a simple story, you will realise it's so damn difficult.
I used to sit there and watch him work, learn from him, discuss with him.
What kind of temperament did he have?
He was as simple as his films. He never lost his temper.
Never shouted at anybody.
Also, he could never tell the actor how to portray something.
There were a few directors who will show you how to do it.
Basuda never did.
Demonstrating something was out of the question.
He could never even go into details and discuss things.
He gave a lot of freedom to actors. At the same time, he was very clear about what he wanted.
If something happened that he did not wish, he would immediately cut the shot and say in a sharp tone: 'Kya ho raha ye? Kya kar rahe ho? Don't do that.'
I was fortunate that I never encountered a scolding from him.
That was probably the biggest compliment I got from him.
When he said got a shot, there was a satisfying smile on his face.
Beyond that, nothing. He was a man of very few words.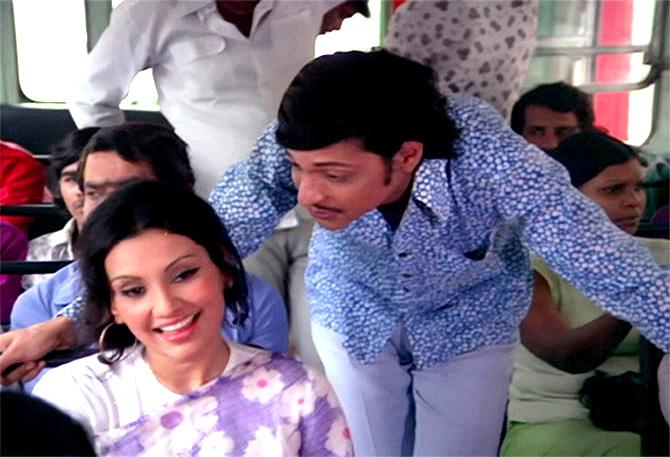 Every movie leaves one with learnings and memories. What did you learn from his films?
As an actor, he gave me so much. He gave me an opportunity to show the subtle differences between the characters I portrayed.
It's very easy to say he was a boy-next-door. Or that he represented the middle class, the common man.
But in that common man, the subtle shades that you see between different characters...
To give you an example, the character I played in Rajnigandha -- Sanjay -- is an extrovert.
In Basuda's words, he is a batooni -- batooni is a lovely Hindi word for a talkative person.
A person, who is always late even when he goes to meet his girlfriend. He can never keep time. And when he meets her, all he talks about is office politics.
Compare that with the character I played in Chhoti Si Baat, Arun. He is such an introvert; one can call him a timid person.
He likes this girl, and he follows her, but the moment she turns around, he crosses the road. He doesn't dare face her.
There is such a vast difference!
Both are simple, middle class, common young men, right? But extremes.
To offer such a wide variety, with confidence, so that we could explore these subtleties, nuances, without being over the top... that was a great thing that he gave me.
I was called Basuda's favourite hero though he acted with all the top heroes.