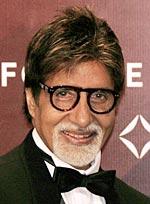 Baz Luhrmann's
The Great Gatsby
is Amitabh Bachchan's first Hollywood film, as well as his first 3D film. "Yes, the film is in 3D and is perhaps a first for many reasons, primarily because it's the first time that a mainstream drama from Hollywood is being done in 3D as opposed to the usual fantasy films like
Avatar,
" Amitabh said.
The Big B has no plans of doing more Hollywood films yet.
"No other offers have come my way from Hollywood before. Since Baz was very keen I do this, I went ahead," he continued. "It's nothing big, just a small appearance. Earlier, Mira Nair had come across with
Shantaram
, finalised dates and shared the script. But then she withdrew. The same happened with Deepa Mehta and
Kamagata Maru
. She came across very keenly, discussed and met several times, shared details and then suddenly withdrew."
Incidentally, Amtabh is not looking at
The Great Gatsby
as gateway to the West. In fact, according to a source close to him, he is doing the film free of cost, as a friendly gesture to the director, who's a great fan of Bachchan and Bollywood, in that order.
Though Amitabh cannot talk about the project yet because of contractual obligations, he does divulge that Luhrmann and he hit it off from the start. "Last year, Baz Luhrmann came to India on a private visit, and dropped by at my office to meet me. He presented some wonderful paintings to me, done by an artist he was accompanied with."
Then, last month, Luhrmann called Amitabh and wondered if he would do a role in The Great Gatsby.
"He asked me if I would do a small part in his film. It's just a small scene with Leonardo DiCaprio and Toby Macguire. (Amitabh's character) Meyer Wolfsheim is an iconic character of the time patterned on Arnold Rothstein, a very impressive and well known person of the New York underworld mafia," Amitabh said.
"I have agreed to do this as a friendly appearance and went across to Sydney late last month for rehearsals and hair make-up and costume tests," he added. "The reading workshop requires for the entire cast to assemble and get familiar with the script and do a read through."
The shooting will start mid-October.