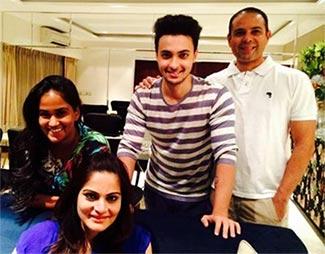 A look at the top tweets from your favourite Bollywood celebrities:

After a star-studded wedding in Hyderabad, followed by a Mumbai reception, Arpita Khan and Aayush Sharma have moved into their new apartment.

Atul Agnihotri, who is married to Salman's sister Alvita, tweeted a picture (left) and wrote: 'God bless your new home.. Wish the Rolls Royce story was true too. Love U2.'


Happy birthday Arjun Rampal!

Arjun Rampal, who turned a year older on November 26, took to Twitter to thank his well-wishers.

'Thank u all for your beautiful wishes.I know I have the most positive fans in the world. That's what we will always be.Group hug,' he tweeted.

He also remembered victims of the 26/11 Mumbai attack and wrote: 'Today as I say the prayers for my new year. I pray that the world overcomes terrorism and negativity and no one experiences a 26/11 again.'


Stars congratulate Riteish-Genelia

Bollywood congratulated Riteish Deshmukh and Genelia D'Souza, who became proud parents of a baby boy on November 25.

Lara Dutta Bhupathi: 'Heartiest congratulations to my dearest @Riteishd and new mama @geneliad!! Welcome to the best time in ur life!!! :-))'

Abhishek Bachchan: 'Congratulations @Riteishd and @geneliad on the arrival of the greatest gift ever. Welcome to the parents club!!'

Arbaaz Khan: 'Congratulations to @Riteishd and @geneliad who are blessed with a baby boy. Lots of hugs and kisses to the new born !!!'

Sridevi: 'Congratulations @Riteishd and @geneliad on the new addition to the family.'

Ashish Chowdhry: 'The best blessing friends could have,is havin babies the same time. @geneliad @Riteishd ,what a blast it'll be!! Another generation of luv!'

Amrita Arora: 'Congratulations @Riteishd and @geneliad on ur beautiful baby boy!'


Veena Malik: The 'stupidest' verdict

An anti-terrorism court in Pakistan has sentenced a 26-year jail term to actress Veena Malik and her husband Asad Bashir Khan for blasphemy.

Veena Malik reacted on Twitter, saying: 'The most stupidest verdict....Sentenced for 26 yrs on 26th but 8 is my lucky number.....!!!'



10 years of Koffee With Karan!

Popular talk show Koffee with Karan recently completed 10 years and its host Karan Johar got nostalgic.

'A decade finishes of #koffeewithkaran....' Karan tweeted.

Meanwhile, he cleared the air surrounding his next directorial venture and wrote: 'Am reading lots of speculations about my directorial next...please wait for the official announcement and do not believe the conjectures.'


It's a wrap for Dolly Ki Doli!

The shooting for Dolly Ki Doli is over.

Rajkummar Rao tweeted: 'Last Song done & it's a wrap for Dolly ki Doli. What an amazing journey it was. Can't wait for u guys to watch it now. Really Proud of it.'

Directed by debutante Abhishek Dogra and produced by Arbaaz Khan, the romantic-comedy film also features Sonam Kapoor and Pulkit Samrat.