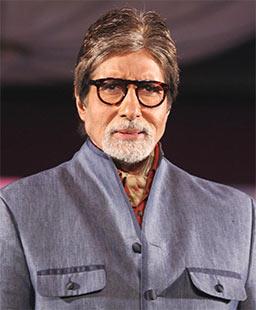 A look at the top 10 tweets from your favourite Bollywood celebrities:

Several Bollywood stars took to Twitter to wish their fans on the festival of Eid al-Adha today:
Arbaaz Khan: 'Eid Mubarak to everyone !!!'
Farhan Akhtar: 'Eid Mubarak to all.'
Shabana Azmi got homesick on the occasion: 'Sabko Eid mubarak. Missing family and home. No sheer qorma or biryani here in Leeds.will have 2 make do with Chocolates and Shepherds Pie.'
Amitabh Bachchan tweeted a message: 'EID MUBARAK .. !!! may the Almighty bring love togetherness and peace among us all ... Dushera .. Yom Kipur .. Eid .. all festivals falling at same time together .. THEN WHY CAN WE NOT ALL BE TOGETHER IN PEACE !!!'
Javed Akhtar slams Yesudas
Noted lyricist Javed Akhtar took to Twitter to slam singer K J Yesudas for his remarks against girls wearing jeans.
'I have always believed that vocal cords and neurones are independent of each other. Mr Yesudas has confirmed it beyond any doubt,' he tweeted.
Arjun shoots last leg of Roy
Arjun Rampal is currently in Malaysia shooting for his upcoming thriller Roy.
'The last day of filming in Malaysia for #Roy. It's been a wonderful experience,spurred by the warmth and love of the people here. Thank you,' he tweeted.
The film also stars Jacqueline Fernandez and Ranbir Kapoor.
Sonam Kapoor, Fawad Khan reunite
After the success of Khoobsurat, Sonam Kapoor and Fawad Khan will star together in Battle for Bittora, a political premise and passionate love story. It is an adaptation of Anuja Chauhan's novel of the same name.
Confirming the news, Anil Kapoor tweeted: 'Sonam Kapoor & Fawad Khan in adaptation of Battle For Bittora.'
Aamir: All stories on Satyamev Jayte affect me very deeply
Aamir Khan, who is back with the latest season of Satyamev Jayate, took some time off to answer fans' queries on Twitter.
'All stories of human suffering and injustice affect me very deeply, as do inspirational ones,' he tweeted to a fan, adding: 'I believe it's the most important work I have done till today, in the 25 years of my career.'
When another fan pointed out how Bollywood objectifies women with item numbers, he replied: 'You're right. In Bollywd there's a lot that we need to do to correct ourselves. Keep watching.'
Ayushmann gears up for Mitti Di Khushboo
Actor-singer Ayushmann Khurrana is all set to release his new single Mitti Di Khushboo on October 7.
'The teaser of Mitti Di Khushbu will be out on the 7th Oct. On 12th the song will out on radio and TV,' he tweeted.
The music video will feature actress Huma Qureshi.
Shah Rukh Khan honoured in London
Shah Rukh Khan was recently presented with the Global Diversity Award 2014 by Speaker of Britain's House of Commons, the Rt Hon John Bercow at a special ceremony held in the House of Commons.
Expressing his gratitude, SRK tweeted: 'Tnx Mr. Speaker Rt. Hon. John Bercow & my friend Mr. Keith Vaz for a wonderful ceremony for theGlobal Diversity Award.'