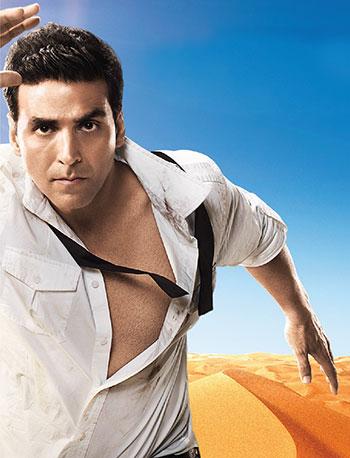 'Anyone who disagrees with this and says it depends on perspective is trying to hide their lust because it is socially unacceptable to think free.'
Candid talk with Akshay Kumar.
Akshay Kumar says it is in a man's DNA to stare at women and let his imagination run wild.
Perhaps that's why he decided to take up Basu Chatterjee's 1982 classic Shaukeen and give us his take on it.
The Shaukeens, releasing this Friday, has been produced by Akshay, and even sees him in a cameo. The film stars Anupam Kher, Annu Kapoor, Piyush Mishra and Lisa Haydon.
He tells Rajul Hegde why all men are 'lustful'.
As the co-producer of the film, what attracted you to The Shaukeens?
I found the original Shaukeen amazing. It's the story of three old lustful men.
Any man who laughs at the three lustful men is as lustful in his real life, but is just pretending to be good.
There is no man who isn't lustful.
When a man looks at a woman, his imagination is bound to run wild.
A male's DNA is composed such that he will stare at a woman. The catch is in how he behaves with the woman.
Anyone who disagrees with this and says it depends on perspective is again trying to hide their lust because it is socially unacceptable to think free.
The original film got an A certificate but our film has got U/A because the Censor Board saw the film and felt that the three old men are very cute and not lecherous.
The only desire the men have in the film is they want to see Lisa (Haydon) in a bikini.
When I watched the film, even I felt bad for these men. Hey bhagwan koi ladki toh dekh le inki taraf, koi bikini mein samne aa jaye inke (oh God, let some girl look at these men, let a bikini-clad girl come in front of them) is what I felt.
You'll pity those men.
In 1982, the film did wonders so I thought this subject will be just right in today's time.
But there are no similarities with the old Shaukeen.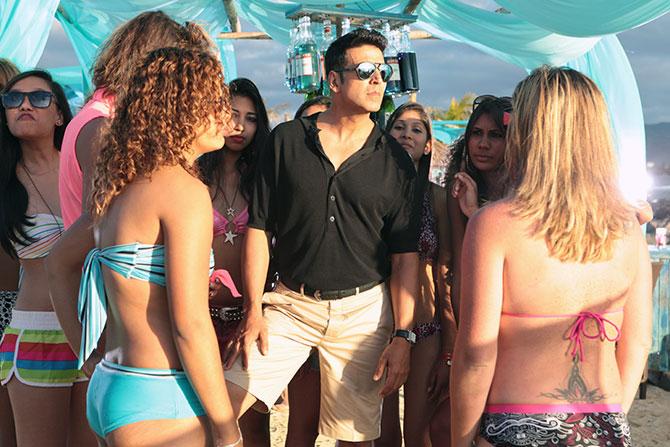 Image: Akshay Kumar in The Shaukeens
You play yourself -- superstar Akshay Kumar -- in the film, but he is an alcoholic unlike you in real life.
I am a teetotaller. I don't drink tea, coffee or smoke. If I portray that on screen, it will be very boring.
So writer Tigmanshu Dhulia and director Abhishek Sharma decided to make my character colourful and added the alcoholic and angry man traits.
I know some actors, who drink vodka with tender coconut water and orange juice.
You can see the change in their body language after some time, which is funny. So we decided to add that also.
Rajesh Khanna, your father-in-law, was the biggest superstar we have had. What aspect of his life do you identify with? Is there any superstar from Bollywood whom you admire?
According to my wife (Twinkle Khanna, Rajesh Khanna's daughter), I cannot reach there. I agree.
I cannot compare myself to him.
Hrithik Roshan and Salman Khan are the two superstars whom I admire in Bollywood.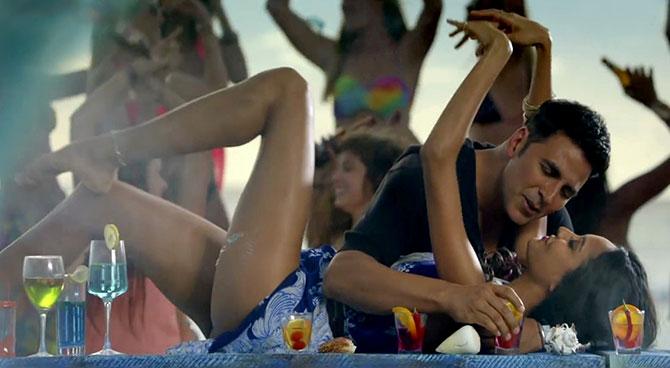 Image: Akshay Kumar and Lisa Haydon in The Shaukeens
What was it like working with Lisa Haydon?
I liked Lisa in Queen. I thought she fitted the bill for the role of Ahana as she is sexy, dusky and has a great body.
She is weak in Hindi but she learnt the dialogues and asked the meaning from her make-up man.
In Queen, she had a small role but it was one of the USPs of the film.
She understands the camera, may be because of her modelling background.
She actually talks to the camera and makes sure the camera does not move away from her.
What was it like playing yourself and making fun of yourself in the film?
To play yourself and make fun of yourself is a big job and fun too.
It is easier to poke fun at yourself to make the jokes funnier.
Nobody is interested in knowing what happened to a certain X Y or Z. But if you say the same joke about yourself, it will engage people better.
What is the funniest thing about you?
I didn't know that I have a funny bone till I met directors Priyadarshan and Raj Kumar Santoshi.
Initially, I was scared of comedy. They made me realise that I can do funny things.
I think that the action image makes an actor really funny. For example, Amitabh Bachchan had the angry young man image but suddenly, when he started doing comedy, people loved it.
Bruce Lee used to do comedy in a subtle way and people liked it. Jackie Chan always mixed comedy with action.
How do you deal with crazy fan/ stalkers in real life?
There have been many crazy fans. Like, a girl came from Lucknow and cut her wrist in front of my house. I took her to a nursing home and called her family. I gave her my secretary's number so she could meet me once or twice a year.
The best way to deal with them is to meet them and give them warmth.
What are you shaukeen about in real life?
I love sweets, which I eat in the day time so it gets digested well.
I love sports.
I love to travel in private jet planes.
Was it a deliberate decision to choose diverse films like Baby, Air lift, Gabbar, and Brothers for your future projects?
I don't want to do only hero kind of films. I don't look out for 100-200 crore club only.
Like, Singh Is Bling is a hero-centric film but I want to take on risky stuff too.
I was warned not to do Oh My God because it's on religion and may have faced a lot of problems.
Also, I want to do films that my son can enjoy. If he doesn't like my film, he tells me that he didn't understand the film at all.
Image: Akshay Kumar in The Shaukeens
How do you handle filmmakers who refused to work with you when you were going through a bad phase?
It's not their mistake that they didn't cast me when I was a flop artist. You should take it positively and work hard.
Not once or twice, but thrice the filmmakers have come back to me. Now when they come back, I shake hands, quote my price, and work with them.
Can you talk about your film Brothers?
I have lost about 10 kilos for the role. I am fighting with Siddharth Malhotra in the movie, who has gained 10 kilos.
He has bulked up and is looking fantastic. I am supposed to look weak in front of him.
For the last six years you have sponsored the lodging and boarding of kids who participate in a martial arts championship. How do you plan to take this further?
I have appealed to the government to make martial arts compulsory in the general school curriculum. Let's see what happens to that.
A few days ago, I was in Singapore where I met a person and asked him what the crime rate in Singapore was. He said it is 0.03 percent.
He said everybody has to go for a three-year self-defence and military training course in school. Then you have to sign a paper to agree to help in military during a war and be a solider if required.
After two years, you have to do seven days of military training again.
How can crime take place when everybody is a soldier?
So I keep telling the government that everybody should be trained in self-defence.