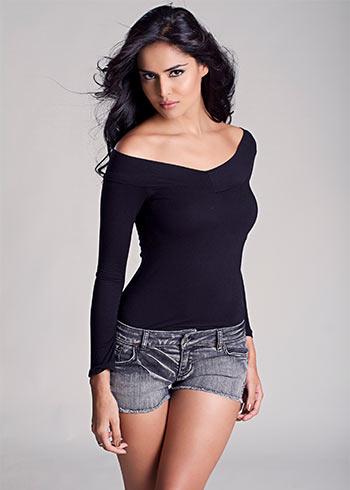 'Reality shows are not my cup of tea. I don't like being judged.'
Nathalia Kaur, who was eliminated from Khatron Ke Khiladi recently, talks about her stint on the show.
Model-actress Nathalia Kaur has been eliminated from the adventure reality show Khatron Ke Khiladi.
"I'm a nature-friendly person and the show gave me a chance to explore that side of myself. It made me realise that there is much more to life than worrying about small things," she said after her exit.
Even though she feels she was ousted too soon, she claims the elimination came at the right time because she was missing her family and home.
She had a great time performing the stunts and met some "beautiful people, some of them who I will always admire and carry in my heart."
One of the stunts required Nathalia to be in a box full of snakes. She hated snakes earlier but loves them after participating in the show.
"I couldn't bear the sight of snakes. I was petrified but I went ahead with the task where I had to deal with snakes. I realised they are so friendly. Now I'm no longer scared of them."
She is not a fan of reality shows, though.
"Reality shows are not my cup of tea. I don't like being judged. I am a loner and like being on my own. I don't consider Khatron a reality show because the situations were real," she says.
She found herself a Hindi tutor in co-contestant Rakesh Kumar, the kabaddi star.
"Rakesh is the strongest contestant mentally and physically. But everyone is strong, so hope the best person wins the show," says the leggy girl, who had performed an item number in Ram Gopal Varma's Department.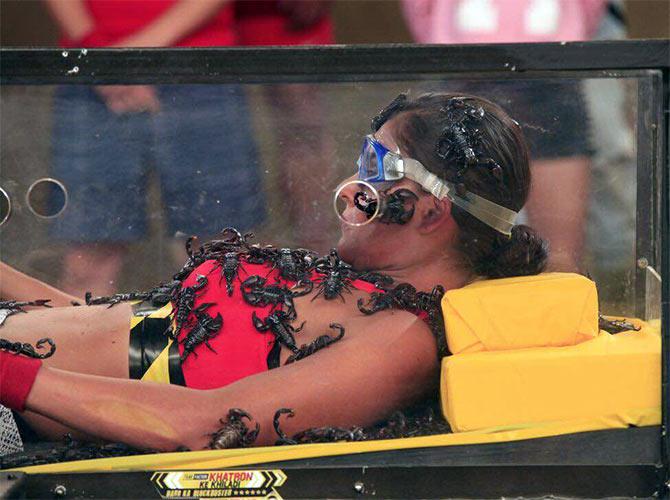 Image: Nathalia Kaur in a stunt on the show
Nathalia thinks Rohit Shetty is an excellent host. "He was friendly, and would calm us down and motivate us during the tasks."
Nathalia will be seen next in John Abraham's Rocky Handsome, which releases in October.
"We had a lot of fun shooting for the film. Working with John was an amazing experience. This is my first full-fledged Hindi movie and I had to improve my Hindi. I perform action sequences in the movie," she says.
Her other film, Guns of Benaras, is expected to release in June.