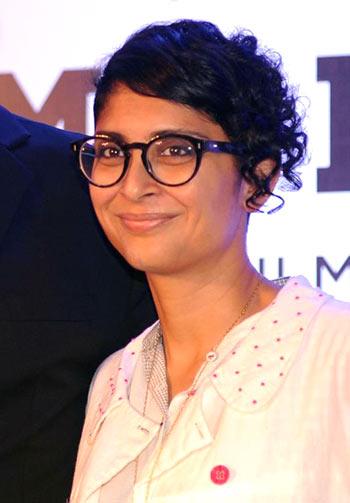 'Being overweight has its issues but I made Aamir do all the possible tests.'
Kiran Rao balances her husband's weighty issues, his new film Dangal and MAMI.
The 17th edition of Mumbai Academy of the Moving Image (MAMI) has now been rechristened as Jio MAMI, and will be held in the city from October 29 to November 5.
Its chairperson Kiran Rao is an active participant, making sure top movies are screened at the film festival.
She shares her plans with Rediff.com contributor Rajul Hegde.
Hansal Mehta's Aligarh will open MAMI. A Hindi film has been chosen to open the film festival after a long time.
Our focus is to encourage Indian cinema. What is the relevance of a film festival if it doesn't benefit the local film industry and the film-going public?
Why can't an Indian film open the festival? Are we saying there aren't any good films made here?
Aligarh is the perfect candidate. We watched the film last month and it was great.
Will young actors like Alia Bhatt, Shraddha Kapoor and Varun Dhawan add glamour to the inaugural ceremony?
We certainly hope that the film fraternity will turn up and support us. Having them on the red carpet is a big boost for our image. When stars turn up, the audiences, media and we are happy because they give us the much-needed glamour at the festival.
Which films are you looking forward to?
I am looking forward to some films in the Half Ticket section (for children) like (Brazilian animation film) The Boy And The World.
Pablo Larraín's The Club and Jacques Audiard's Dheepan are amazing films.
I'm also looking forward to Derek Jarmans' Blue. It's an iconic experimental film because it is shot entirely on a blue screen. It pushes the boundaries of how you think about cinemas.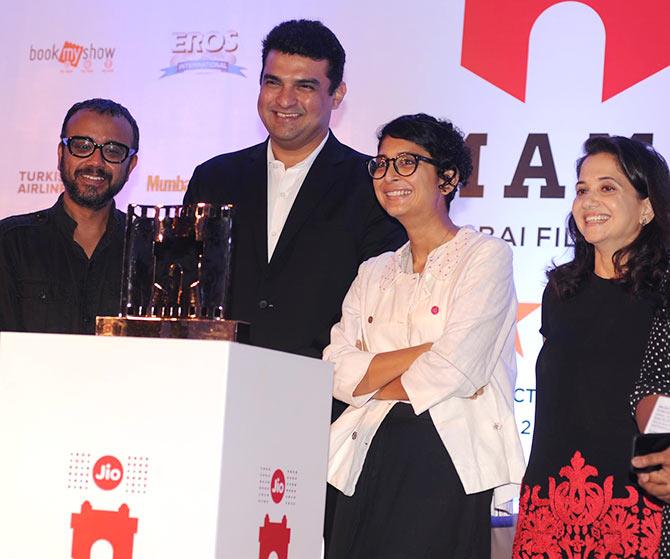 Image: Dibakar Banerjee, Siddharth Roy Kapoor, Kiran Rao and Anupama Chopra at a MAMI promotional event
How do you balance MAMI with Dangal, produced by Aamir and you?
I have been running around between MAMI and Punjab (where Dangal is being shot). But it's been exciting for the last couple of months until MAMI is over.
Aamir's weight keeps changing, depending on the film he's working on. Does that worry you?
Being overweight has its issues but I made him do all the possible tests. He has to lose the weight for the film too.
He is monitored by dieticians in the US.
I want to assure to everyone that despite my fears, he is a 'healthy overweight person' (chuckles).
Aamir Khan has reportedly helped filmmaker Kalpana Lajmi, who has a malignant tumour in her kidney, by paying her medical bills?
We are happy to help a filmmaker in need. Lalita Lajmi (Kalpana's mother) is such a fine person; she has been associated with us from Taare Zameen Par. We hope that Kalpana gets well soon.
Photographs: Pradeep Bandekar