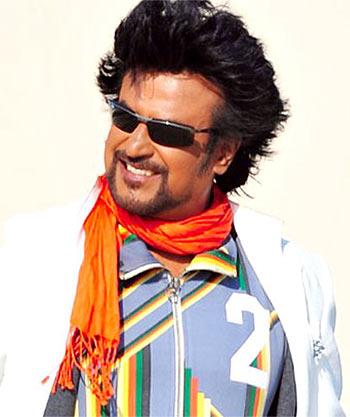 How Rajinikanth became a Superstar.
For 40 years, Rajinikanth has remained the undisputed Superstar of Tamil cinema.
Four decades ago, in August 1975, Rajinikanth made his acting debut with a small, but significant role in director K Balachander's Apoorva Raagangal.
Since then, he has worked in over 170 films, steadily graduating from minuscule negative roles to playing the angry young man, to demonstrating his perfect comic timing and the indomitable larger-than-life screen persona.
Today, he is not only a superstar, but a demigod, who has achieved a cult status.
As he completes his four decades in cinema in August, here is a look at some of the landmark years of his career.
1978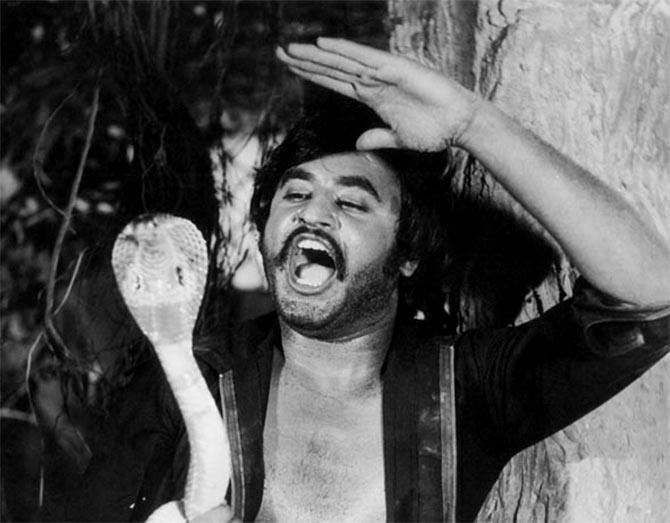 Image: Rajinikanth in Bhairavi
Rajinikanth had over 20 releases in the year 1978, but two films stand out -- Bairavi and Mullum Malarum.
Three years after making his debut, Rajinikanth finally got the opportunity to work as the solo hero in Bairavi.
Directed by M Bhaskar, the film created a huge sensation.
S Thanu, one of the distributors of the film, placed a 35 feet high cutout outside a theatre, where the film was being screened. He added the tag 'Superstar' to his title and that's what Rajinikanth is called till date.
J Mahendran's Mullum Malarum is also a landmark films of Tamil cinema. Rajini played Kali, a winch operator, who loses his left arm in a freak accident.
During the making of the film, it was reported that producer Venu Chettiar was against casting Rajinikanth in the lead. He believed Rajini would be only suited to playing negative roles.
But Mahendran was adamant.
The film turned out to be a massive success.
1980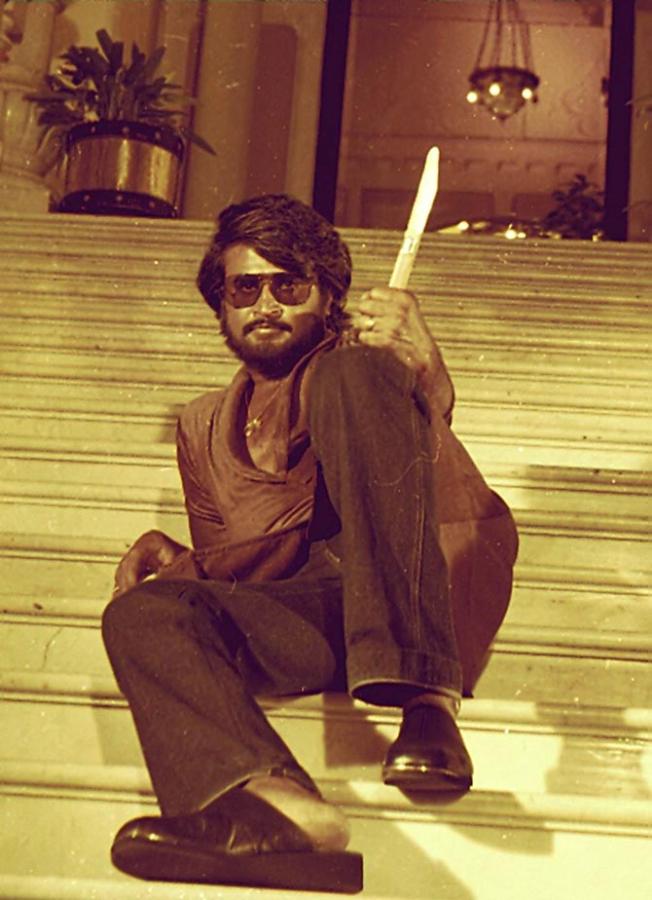 Image: Rajinikanth in Billa

The year 1980 was one of Rajinikanth's most successful years. His films Johnny with Sridevi, Polladhavan with Sri Priya and Murattu Kaalai with Rati Agnihotri were superhits.
But it's Billa that tops the list, as it completed 25 weeks at the box office.
Billa was the remake of Amitabh Bachchan's Don.
1981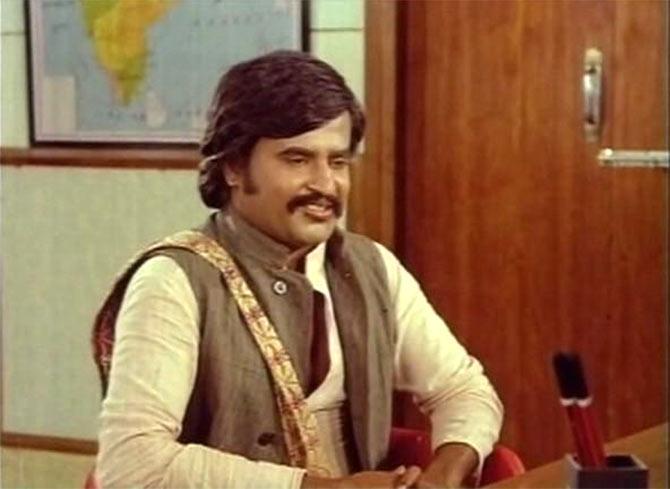 Image: Rajinikanth in Thillu Mullu

Hrishikesh Mukherjee's cult classic Gol Maal will remade as Thillu Mullu in 1981.
Directed by K Balachander, the film was yet another turning point in Rajinikanth's career.
The angry young man that he repeatedly portrayed in his films transformed into this entertaining character with seemingly no effort.
It was also during the making of this film that Rajini met his future wife Latha, a student of Ethiraj College, Chennai, who came to interview him for her college magazine.
Read about the Women in Rajinikanth's life.
1985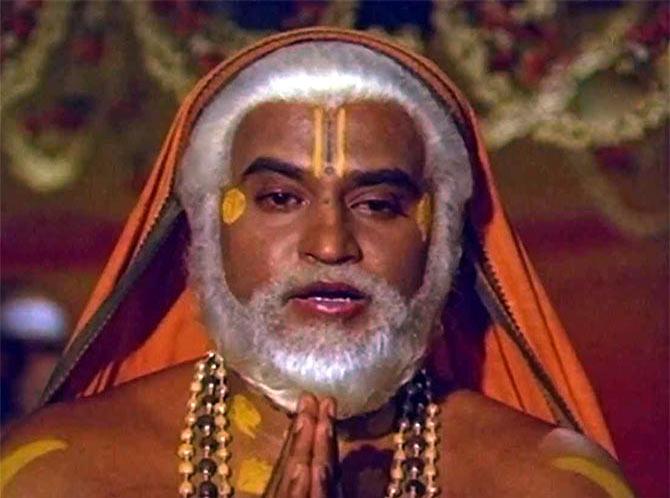 Image: Rajinikanth in Sri Raghavendra

Produced by mentor K Balachander and directed by SP Muthuraman, with whom he has worked in over 20 films, Sri Raghavendra was Rajinikanth's 100th film.
A biopic, the film chronicled the life and times of Hindu saint Raghavendra Swami, with Rajinikanth essaying the titular role.
The film opened to positive reviews and the Superstar's sedate performance was much appreciated, earning him much critical acclaim.
The film was, unfortunately, a box office disaster.
1988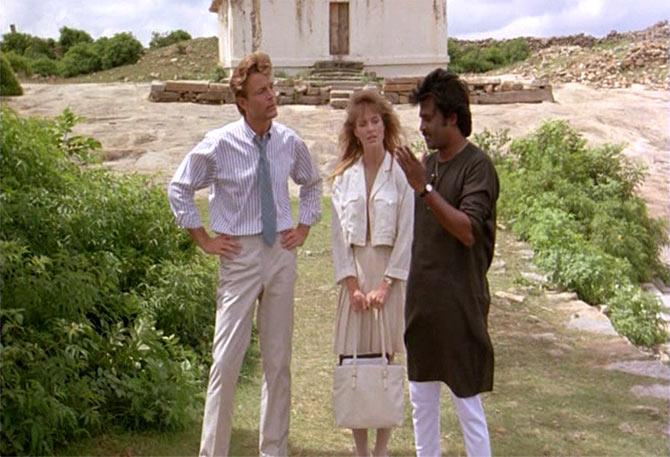 Image: Brett Stimely, Anna Nicholas and Rajinikanth in Bloodstone

In 1988, Rajinikanth appeared in his first English film, Bloodstone.
The film was produced by Ashok Amritraj and directed by Dwight H Little. It was shot mostly in Southern India.
Rajini essayed the character of an English-speaking taxi driver caught in a dangerous game to rob a mythological ruby called Bloodstone.


1995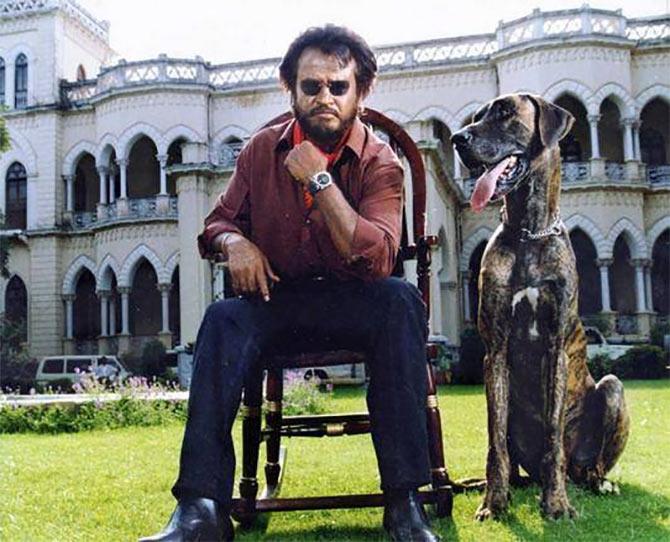 Image: Rajinikanth in Baasha

The mega success of Suresh Krissna's Baasha in 1995 earned Rajinikanth a demigod status.
He essayed two contrasting characters in the film, a peace-loving auto driver and a feared underworld don. The film catered to his superstar status and was loaded with spectacular stunt sequences, songs and punchlines.
Fans went crazy over the dialogue 'Naan oru tharavai sonna nooru tharavai sonna madhiri' (I may say it once but it means it is said a hundred times) repeated in his inimitable style through the film.
The same year K S Ravikumar's Muthu was dubbed into Japanese, as Mutu: Odoru Maharaja, meaning Muthu: The Dancing Maharaja. The film created a huge record and earned him a large Japanese fan base.
Muthu was the first Indian film to become a major success in Japan.
2005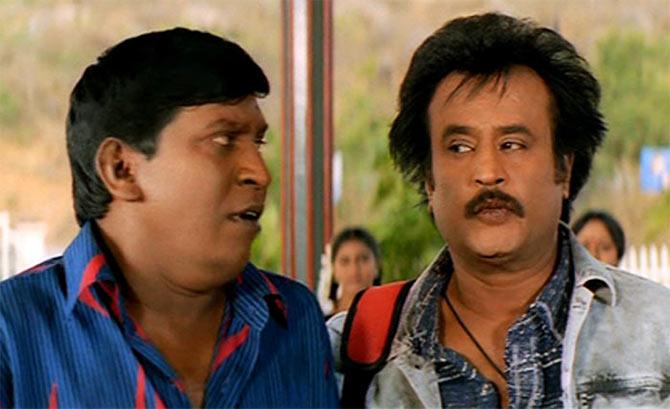 Image: Vadivelu and Rajinikanth in Chandramukhi

P Vasu's Chandramukhi is one of the biggest blockbusters of the decade. The film featured an ensemble cast comprising Rajinikanth, Prabhu, Jyothika, Nayantara and Vadivelu.
Despite having to share the screen with so many actors, Rajinikanth dominated the scene, especially as the cruel king Vettaiyan.
His hilarious comedy track with Vadivelu was another highlight of the film.
2010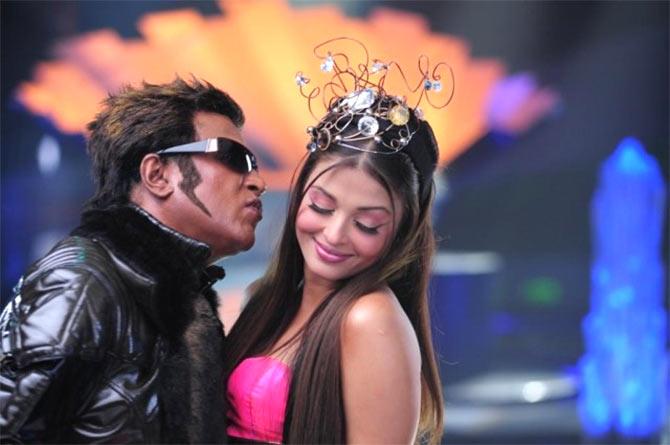 Image: Rajinikanth and Aishwarya Rai Bachchan in Enthiran

After the mega success of Sivaji in 2007, Rajinikanth and director Shankar got together for yet another extravaganza called Enthiran.
Co-starring Aishwarya Rai Bachchan, Enthiran was the most expensive films made in India at the time.
Rajini's portrayal of Chitti, a robot with negative shades, won him rave reviews, while Aishwarya provided the perfect foil.
Enthiran broke box office records and became one of the highest grossing films of all time.