Celebrate Diwali, filmi style.
Lights, cheer, colours, Diwali is among one of India's most vibrant festivals.
And its shining grandeur finds a year-round reflection in Bollywood's eternally bright demeanour, which is known to release its biggest entertainers around this time of the year.
While we gear up for 2014's Diwali release Happy New Year headlined by Shah Rukh Khan, Abhishek Bachchan and Deepika Padukone, here's how Bollywood likes to celebrate the festival of lights in its various moods and moments.
Thoda Fashion. Thoda Tashan.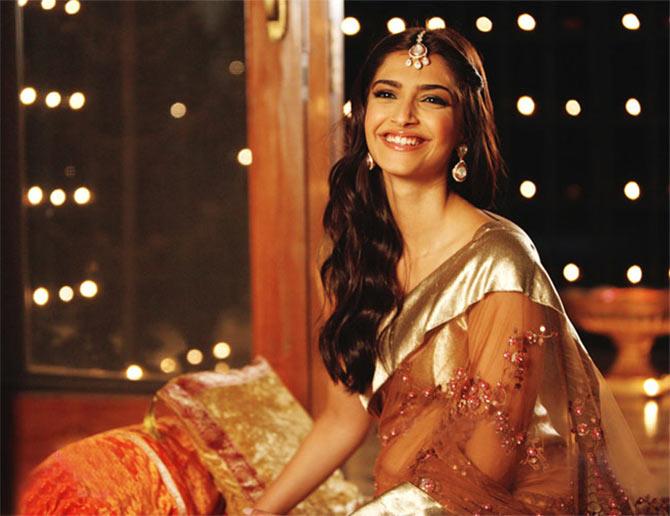 Image: Sonam Kapoor in Aisha
Bollywood's resident fashionista Sonam Kapoor goes for gold in a desi wear that is as glittery as her surroundings.
There will be diyas!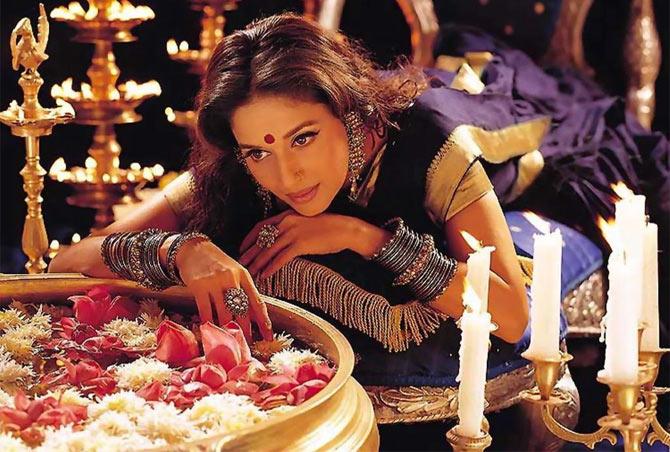 Image: Madhuri Dixit in Devdas
What's Diwali without lights? Bollywood with its 'lights, camera and action' maxim understands this only too well and illuminates the scenes with gorgeous diyas, brass lamps, LED lights, candles and Madhuri Dixit's million-watt smile.
Pray for success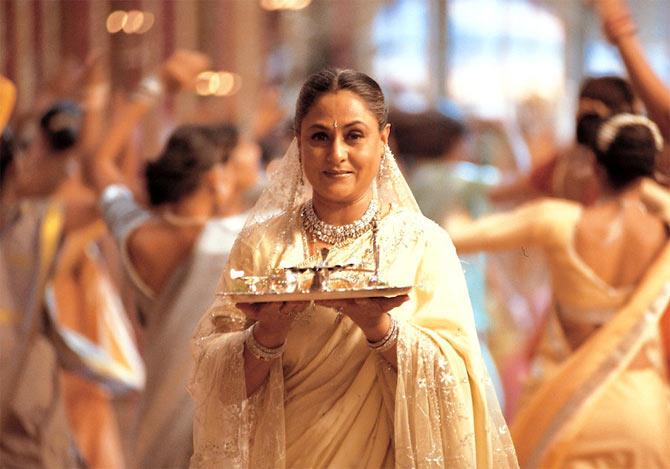 Image: Jaya Bachchan in Kabhi Khushi Kabhie Gham
And what better way to pitch in a devotional ditty, Jaya Bachchan praying to Goddess Lakshmi for prosperity and success (of the movie) with an ultra lavish song featuring 100 junior artists, chandeliers and silver thaalis in true blue Karan Johar style.
Dhoom machale!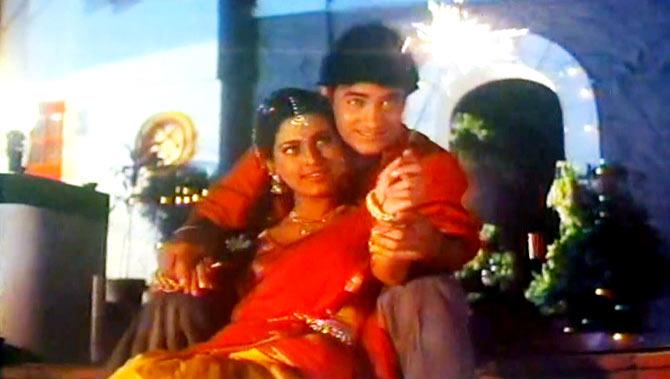 Image: Juhi Chawla and Aamir Khan in Hum Hain Rahi Pyaar Ke
Diwali is also about patakas and we don't just mean the Mallika Sherawat kind. A environment-conscious Aamir Khan and Juhi Chawla demonstrate how to bring down sound pollution by playing with a good ol' phooljharis.
Quit the Diwali blues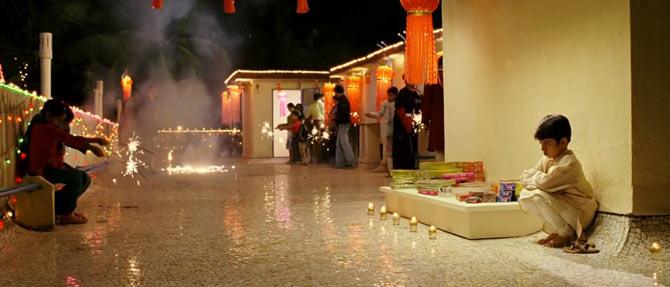 Image: Darsheel Safary in Taare Zameen Par
Not everyone has a blast on this otherwise joyous day as witnessed in Darsheel Safary's case as he sulks in solitude about folks sending him off to boarding school as soon as school vacations get over in this gloomy scene from Taare Zameen Par.
Group dance, please!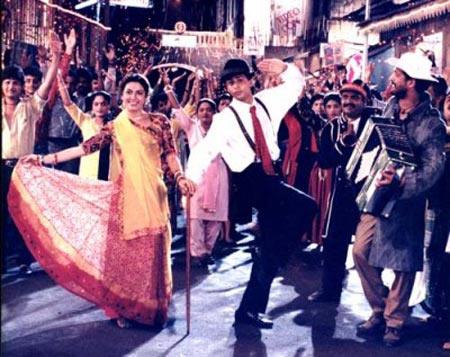 Image: Juhi Chawla and Shah Rukh Khan in Raju Ban Gaya Gentleman
Bollywood loves to highlight the significance of community living and harmony with a basti song featuring the hero, heroine and supporting cast raising a toast to their bond with a sparkling phooljhari.
It happened one Diwali night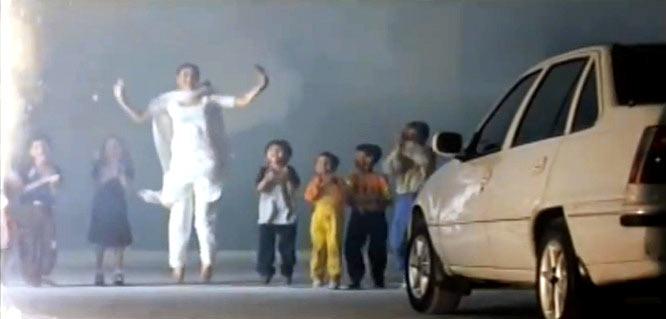 Image: Kareena Kapoor in Mujhe Kucch Kehna Hai
And Tusshar Kapoor experiences love at first sight first hand when he catches a glimpse of a radiant Kareena Kapoor lighting anaars with a bunch of street kids in his debut, Mujhe Kucch Kehna Hai.
Better safe than sorry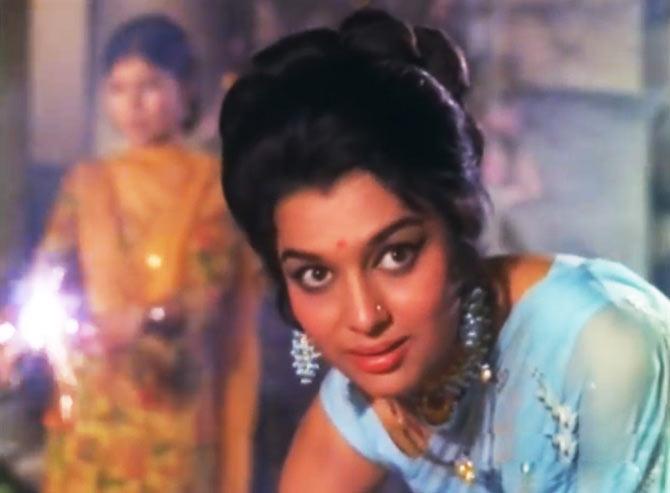 Image: Asha Parekh in Chiraag
Films have an extreme sense of creating awareness. And so poor Asha Parekh has to lose her eyesight in the movie Chiraag to explain how lighting crackers distractedly can cause freak accidents.
Trick or treat?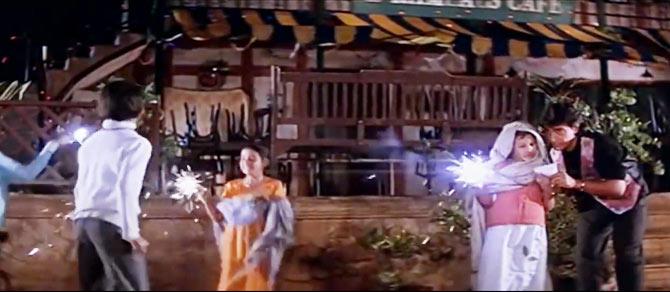 Image: Aamir Khan in Jo Jeeta Wohi Sikander
Aamir Khan's prankster ways come in handy as he tricks his brother and his school crush into admitting their feelings for each other during a fun-filled Diwali celebration of his neighbourhood in Jo Jeeta Wohi Sikander.
Celebrating with near and dear ones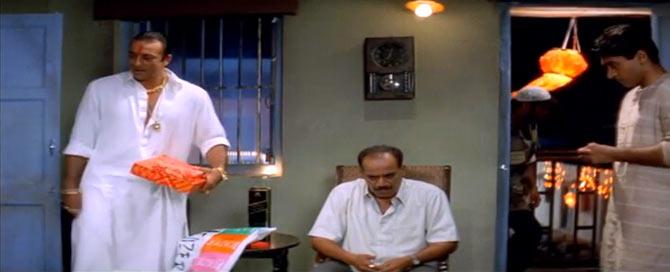 Image: Sanjay Dutt, Shivaji Satam and Monish Bahl in Vaastav
Cop or a criminal, it's all about loving one's family in Bollywood's book. And so Sanjay Dutt drops by his old chawl to distribute Diwali gifts and mithai in this scene of his critically acclaimed Vaastav.