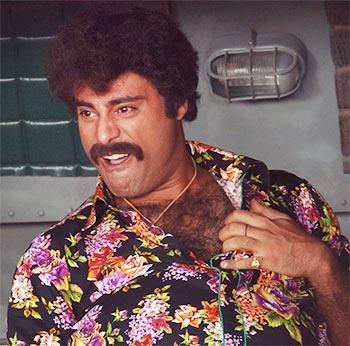 'Some people might go through their entire careers without getting a role like this. It's once-in-a-lifetime kind of a role.'

Sikandar Kher gets us ready for Tere Bin Laden: Dead Or Alive.
Sikandar Kher is looking forward to Tere Bin Laden: Dead Or Alive for many reasons.
For starters, this is his first film in three years, and it sees him in a double role. Besides, this is his first comedy.
Things seem to be working out for the actor, who recently engaged, and Sikendar is a happy man. He talks to Jahnavi Patel/Rediff.com, about his movies and the big wedding.
Is Tere Bin Laden: Dead or Alive the kind of film you were looking for?
I have a pretty crazy and wacked out sense of humour and I was looking for a comedy that was wacky as well. So when (director) Abhishek Sharma called me, and told me the script in just one line, I couldn't stop laughing.
Abhishek had initially decided to cast two different people for the characters you're playing. How did you react when you got to know that you'd play a double role?
It was really exciting, as I thought this character was mad. The white guy becomes a brown Punjabi guy from Texas. That sounds crazy. Some people might go through their entire careers without getting a role like this. It's once-in-a-lifetime kind of a role.
Was it difficult to play a double role where the two characters are so different from each other?
We prepared a lot for this; we had a 15-day workshop. Going unprepared for anything, even a normal role, is tough.
Which character did you enjoy more?
I enjoyed doing both thoroughly, they're so different.
I enjoyed playing the American because I couldn't recognise myself in my getup.
When I became Chadda, it was fun because everyone on set started imitating him.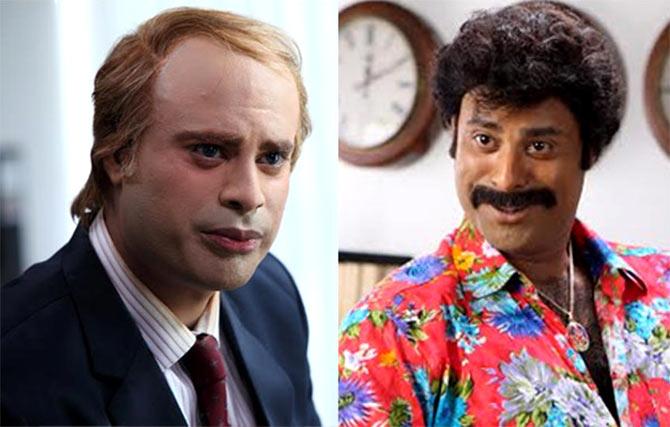 Image: Sikandar Kher's looks in Tere Bin Laden: Dead Or Alive
Abhishek says you will be the surprise factor of the film.
What he also meant is the fact that I have done five films till now, and, they all have been negative kind of characters. This is the first time I'm doing comedy and it's a very different kind of a character.
You are not used to seeing me this way. I hope it's interesting and a pleasant surprise.
How was it working with the cast: Manish Paul, Piyush Mishra and Pradhuman Singh?
It was great working with them. They are such secure and generous actors. And their comic timing is perfect. When such cool people are around you, it makes your work so much easier. You can fool around and improvise a lot.
What projects are you working on?
I'm working on the second season of 24 with Anil Kapoor, who is just fantastic. Abhinav Deo is directing a few of the episodes.
I play a negative role of a Gorakhpuri man, who is a little crazy. The character is shaping up well. I showed Anil uncle a couple of my scenes from Tere Bin Laden.
This is my first time on television.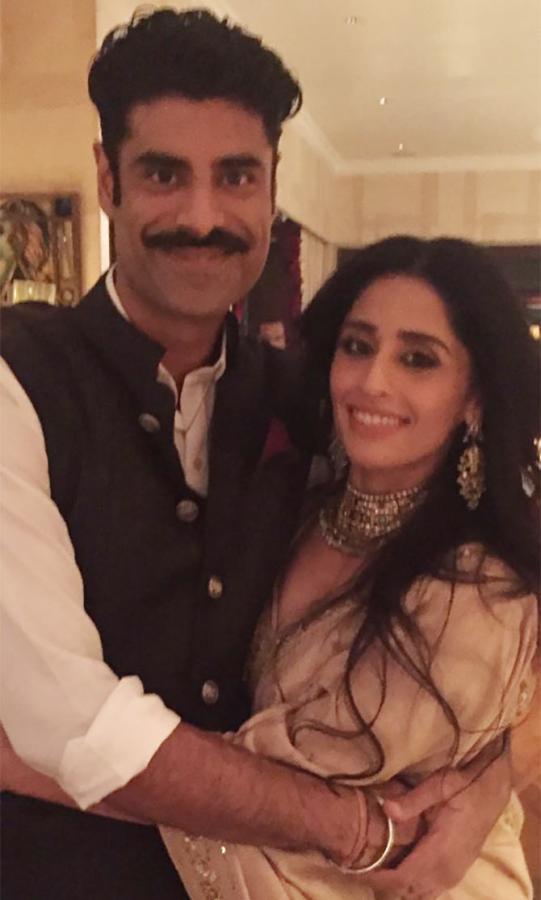 Image: Sikandar Kher and Priya Singh
You recently got engaged to Priya Singh. How long have you known her?
I am a very lucky man to have found her. It's like a fairy tale. I'm not the kind of person to have an arranged marriage. For me, I wanted to find the woman of my dreams, and spend the rest of my life with her. When I saw Priya, I knew she was the one.
Your engagement was a private affair. Will the wedding be grand?
No. It will be just with close friends and family.
That's how I have always celebrated -- be it on birthdays or whatever. When it's intimate and with close friends, everyone is comfortable. Besides, I should enjoy that day.
When it becomes big, of course, you love it when everyone comes to bless you, but then you're also making sure they are all well taken of.