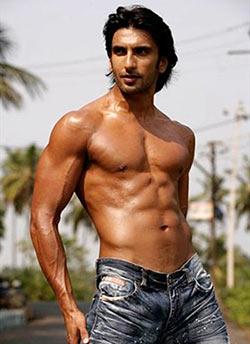 'I started everything early; I was way ahead of everybody,' Ranveer Singh tells us.
Ranveer Singh is always high on energy: fidgeting with his phone, calling his assistant to give him some biscuits, and the next moment, suddenly hugging you.
The actor says he is in a very happy space right now.
"The first trailer of Kill Dil is out, I am wrapping up Dil Dhadakne Do and I am starting Sanjay Leela Bhansali's Bajirao Mastani. I don't think I can ask for more," he explains.
Ranveer talks about why he admires Deepika Padukone, and why endorses a condom brand. Sonil Dedhia/ Rediff.com listens in.
Your cameo in Finding Fanny was hilarious.
I really enjoy doing cameos. It is just a day's work and you get to play a new character.
Everyone loved the four second cameo in Finding Fanny. I was approached by the director Homi (Adajania) and agreed to do it. I had to go to Goa to shoot it and unfortunately, I got dengue.
I was grounded for three months. At home, I would try out different looks -- a French beard or growing my side locks, wearing floral shirts -- and would send selfies to Homi as a 'look test'.
I would love to work with him in a full-fledged role.
What's your take on the 'cleavage controversy' surrounding Deepika Padukone?
I already spoke about it on Twitter. I said what I had to say about it. Deepika has also put out her final words.
I think the topic should be left at that. As a friend of Deepika's, I am very proud that she stood up against something wrong. I was also very happy to see the amount of support there was for her.
How would you describe your relationship with Deepika?
Deepika is a very special person in my life. I admire her a lot and she is a brilliant actor.
Her capabilities were discovered after Cocktail because it became a commercial success, but I had noticed it much earlier, starting with Love Aaj Kal and then Break Ke Baad and Lafange Parindey.
She is operating at an advanced level of performance right now.
Having worked with her in Goliyon Ki Raasleela Ram Leela, you have to see it to believe it, the way she works. I can't think of any actor in today's time doing double shifts.
I remember while shooting for Ram Leela, she was also juggling between Chennai Express and Yeh Jawaani Hai Deewani.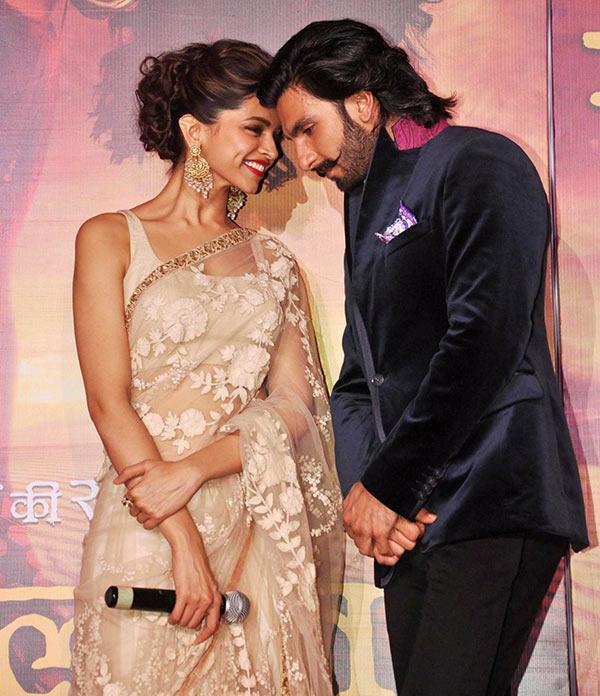 Image: Deepika Padukone and Ranveer Singh. Photograph: Abhijit Mhamunkar
You have an enviable energy -- people say you're like an Eveready battery -- and this image extends to your films and television commercials too.
I don't think I have any set image and I don't want one.
If I think I'm getting a particular image, I try and break it. I find it very important to keep the audience guessing and keep them on their toes.
Versatility is very high on the list of things I want to achieve. If I am able to do Band Baaja Baraat then I should also be able to do a Lootera.
My television commercials and the brands I endorse are completely different from each other.
I don't like to be tagged. I try to keep things light and humorous, which gets misconstrued.
How would you describe yourself?
I don't do anything just for the sake of it. I don't live my life for the sake of it. I have to do something with everything.
I'm not really old, and I'm not really wise and I've just started a career, but in my limited experience, I understand the value of opportunities and the fragility of life in general.
When I hurt my back while shooting for Lootera, I was lying there not knowing if I could dance or do action ever again. I couldn't even stand on my feet.
Later, I was down with dengue and I hit rock bottom. The doctors told me, 'you were incredibly fit going into the disease, and that's why you were able to fight it off.'
Recently, I lost a very close friend and that's why I don't take life and life's opportunities for granted. Every movie I do is the last movie I will ever do. Every ad I do is the last ad I will ever do. Every cameo is my last cameo. Every shot I give is the last shot I will ever give.
Was it your idea to endorse a condom brand? I guess you are the first actor to do so.
Yes, it was my idea. I was in my car passing through Juhu beach (a part of suburban Mumbai) and various commercial hoardings were passing by and I thought: why doesn't any mainstream actor endorse condoms?
We have evolved as a society; the attitude towards sex has changed and somebody needs to bring that to light otherwise people will keep treating it like it's taboo.
So I asked my people to call Durex because that was the first brand I used.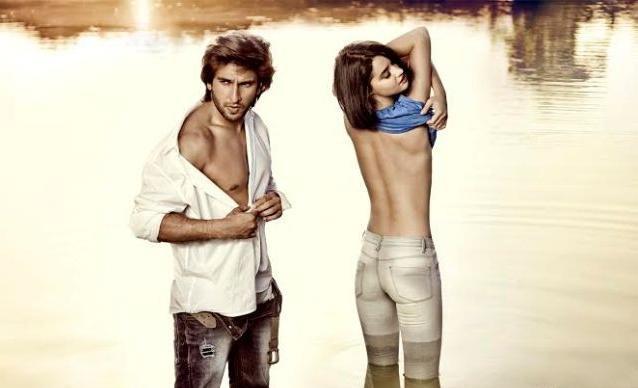 Image: Ranveer Singh in the Durex ad
At what age did you first use a condom?
At the age of 12! I started everything early; I was way ahead of everybody, so much so that in school all the mothers use to say he is the rotten apple that's spoiling all our kids.
I used to sit in the middle with all the boys around me and I would teach them all weird stuff. They would listen with their mouths open.
I had become an expert. I could write a thesis.
I find it very cool when girls hit on me because for a long time, I was a fat kid. I became sexy at a later stage.
You are a self-confessed Govinda fan and your next film, Kill Dil, pits you against him.
Whatever Govinda shines in, whatever he does, he is brilliant in every sense. He is my favourite part of the trailer which has just come out.
I have grown up watching his films. I am a hardcore Govinda fan and I feel that his talent never got its due; he is still one of the most unexplored talents.
He is the stuff of genius. I don't think I can ever be a patch on him in my life.
In school, people used to teasingly call me Junior Govinda. During the annual events in school, I would dance to songs like Meri Pant Bhi Sexy and all the teachers would be stunned.
Ever since I started understanding films, he has been the paragon of entertainment for me -- the way he dances, the way he emotes, his comic timing!
Tell us about Zoya Akhta's Dil Dhadakne Do.
Zoya's film was a break from what my default is. I had to tell Zoya that I needed time to wrap my head around the kind of films she makes.
The performances in her films are candid, conversational and natural. She emphasises the naturalness of things. She doesn't want her actors to use a lot of make-up, she wants to shoot in natural light, and dialogues must be spoken as if it's a conversation.
Having done theatre throughout school and studied it for four years, my default is theatrical, which is why I work so well with Sanjay Leela Bhansali.
Zoya guided me and helped me a lot. I hope people like my performance in Dil Dhadakne Do as I have attempted something different.
Towards the end of the shooting I was feeling like, 'I need a Bhansali film. I need to shout and cry and do something loud' (laughs).
How are you preparing for your character in Bajirao Mastani?
I am really excited about that film. A magnum opus director is making a magnum opus film.
Sanjay sir is mounting the film on a very large scale and it's huge. The way I plan to prep for Bajirao Mastani and go about things...yes, I will be underground for a considerable amount of time.
Once I go into this zone, I want to go into the depths of it. I have to make a physical transformation. I have to shave my head bald. I think I am going to explore myself as an actor creatively as much as I can with this character.
I will be going underground for a long time but I think it will be worth it.
Since I am going bald for the film, people are going to give me a new tag of takla (laughs).