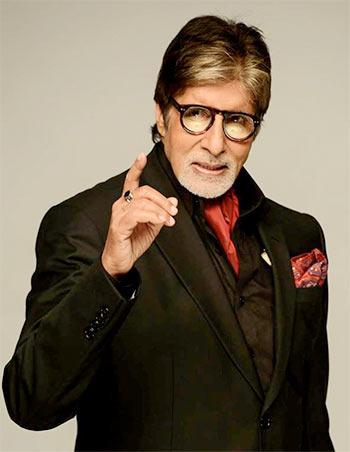 'I come from an industry, where I have been for 45 years. We never had so many ladies on (the) set, for example. We never had ladies looking after events, managing affairs of production, taking care of camera work, designing work, scripting, writing... It's just phenomenal.'

'Women are the strongest factor in PINK but I am not saying it's a documentary or a film on rape or women-empowerment.'
Amitabh Bachchan talks PINK.
~ Read the Pink review here
Celebrity interviews either happen on time (which is rare) or get delayed, but it's almost unheard of if an interview happens before its scheduled time.
But then Amitabh Bachchan has always been known for his punctuality.
The actor was clearly in no mood to waste time, and arrived early at the venue. He then settled down to discuss his courtroom drama PINK, co-starring Taapsee Pannu, Kirti Kulhari, Andrea Tariang, Piyush Mishra, Angad Bedi and Dhritiman Chatterjee.
Before he started the interview, he asked in his deep baritone: "Should I look at the camera or at you and talk?"
We left it to him.
So he replied, "I would rather talk to a face than a camera."
He said everything he's spoken so far about the hard-hitting film is his personal belief as well.
"It's not because I work for the girl child or the Beti Bachao, Beti Padhao campaign or that I am the United Nation's ambassador for the girl child. I genuinely feel, as a human being, that whatever I have spoken in the film is my belief. There's a lot of reality in what I say," he says.
In this exclusive interview to Jahnavi Patel/ Rediff.com, Amitabh Bachchan reveals what attracted him towards being a part of PINK and what he learned from his young co-stars.
You recently tweeted that you've watched PINK. What are your thoughts on it?
Frankly, I haven't seen the entire film yet.
I saw it when we were dubbing and a few portions that Shoojit (Sircar, producer) had sent me for approval, as to whether I needed to dub for it or not.
I will see it in its entirety soon.
Having lived with the film and having worked in it, I feel a sense of great pride in not just being associated with Shoojit Sircar, director Aniruddha Roy Chowdhury and the entire crew but also feel very proud of its content.
Very rarely have I had the opportunity to say lines which I would have said even if I wasn't working in a film. That's the kind of belief that I think all the artists, who have worked in the film, have.
What was it like working with so many young actors?
The other thing (besides the film's content) that really attracted me are the performances of the young artists in the film. Those are the characters and the artists you will notice, you will not notice anybody else.
Taapsee (Pannu), Andrea (Tariang), Kirti (Kulhari), Angad (Bedi) and all the other boys that have worked in it are just phenomenal.
This is with due respect with all the other artists that are there, they have all done exceptionally well but somehow, I feel, this young generation, that I have had the fortune to work with, is just an amazing learning graph for me.
How is it possible for them to be so natural and so good in their very first appearances? That's very attractive. I don't have words to describe that.
We are still taking years and years and even now, wanting to learn new things, but when they come onscreen, they're just perfect.
It is wonderful to be in their company, to be able to learn something from them and perhaps use it in my next film.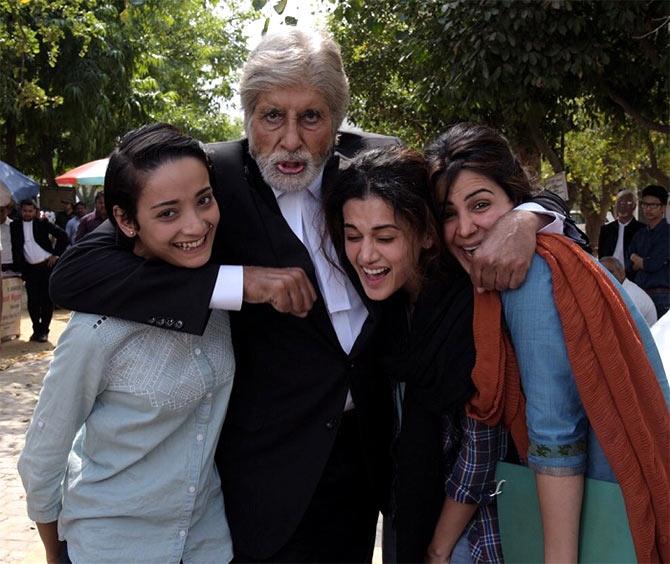 IMAGE: Andrea Tariang, Amitabh Bachchan, Taapsee Pannu and Kirti Kulhari on the sets of PINK. Photograph: Tapasee Pannu/Twitter
What is the strongest factor in the film?
The women.
It's a comment, a viewpoint.
I am not saying it's a documentary or a film on rape or women-empowerment.
Yes, there is a story. It's entertaining like a regular entertainer. You will go and enjoy it.
An incident happens in the film around which the story is dedicated and constructed.
There are certain factors which I feel society and people, who live in our world today, need to take note of.

Do you think this film will spark controversy?
I would be very happy if there are discussions and debates after seeing this film.
I wouldn't mind being a part of them; I am sure the crew would also want to be a part of it.
How was it to work on the film?
It's been a very natural experience.
These are rare moments in an actor's life, where you're put in an environment which is so natural and you get natural performances.
You are allowed to enact moments which allow you to take your time and get involved in it.
There is a great courtroom drama in the film. I am happy that the director used six-seven cameras at the same time. It enabled us to shoot an entire sequence of 15-20 minutes.
When the camera is running continuously, all of us were performing our little bits in sequences as per the script. On other times, you just go and say your lines and you cut, go back, relax and then somebody else's shot is taken.
But this was done all together, all at once.
Even if I have said my lines and been a part of that sequence, I haven't been eliminated from it. I come back to my seat where I am supposed to be in the structure of the frame and I am still reacting to what is happening.
That was really, really commendable. Whatever you see is how it actually happened.
We haven't cut a way to take a separate shot of somebody, it all happened in one sequence. It's been a novel experience for me.
If you had to give some safety tips for women, what would they do?
I can't say what is good and bad for security and what kind of physical things you need to do.
But I feel that we should start educating women at a very young age and tell them that you have to use your own wisdom, authority and strengths and not be dictated by somebody.
I keep using this phrase which I picked up from a wonderful editorial in The Times Of India which said that, 'Women are not a democracy, they are a dictatorship and it's about time the dictator took charge.'
It's a fantastic statement. Do not deliberately get subjected by authority: Log kya kahenge? Yeh kaisa hoga? Ladkiyan aisa nahi karti... I think we are growing out of that phase.
I think this film may not deliberately tell you to do something like this but it certainly is supportive of this sentiment. I hope it can leave a lesson to some of the viewers.
I can't tell you to carry a weapon or spray gun with you but I think we should start changing the temperament of the women. They are an important part of our society. They need to be respected; they need to be given their dignity, their position.
I come from an industry, where I have been for in 45 years. We never had so many ladies on (the) set, for example. We never had ladies looking after events, managing affairs of production, taking care of camera work, designing work, scripting, writing... It's just phenomenal.
I am not saying that the changes are not taking place. I think we need to continue doing this and be more cautious towards some basics which need to be pronounced.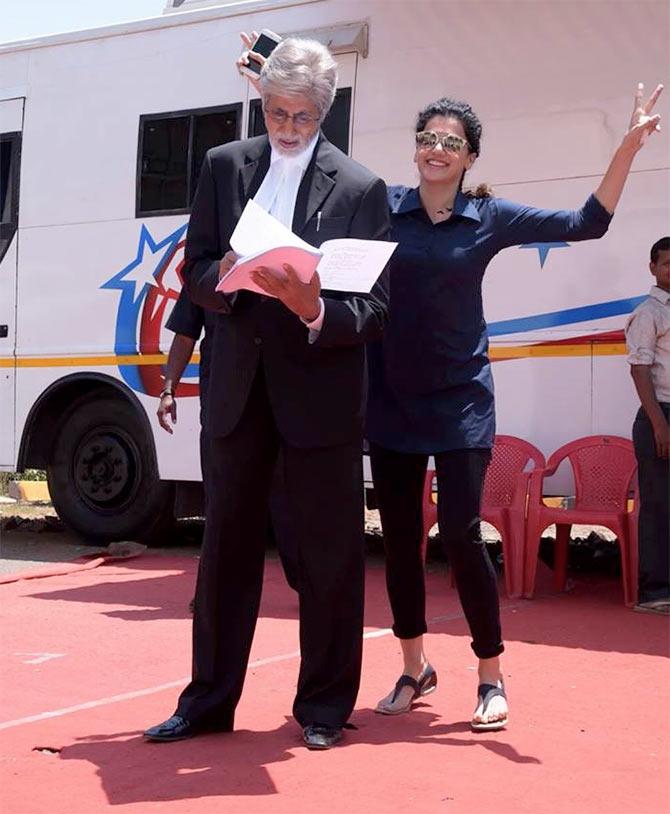 IMAGE: Taapsee Pannu has some fun while Amitabh Bachchan reads the script on the sets of PINK. Photograph: Taapsee Pannu/Facebook
You're one of the busiest actors in Bollywood. What is a regular day like?
My life is just as ordinary as yours perhaps. I am not saying that yours is an ordinary life, I know it's very tough.
I would hate to be in your situation.
But I am just very normal. I get up in the morning, have a job to do, go there, come home, be with the family, that's it.
In this digital age, how important is it to be well-versed with social media?
There are always two aspects to this.
There are some people, who find it too intrusive and personal, and they don't want to get into it and that's fine.
You have to look at the other aspect as well. You can't be looking at people and only looking at praise towards you. Nobody is beyond some kind of fault and those faults need to be understood. I find it extremely interesting.
I cannot say whether everyone should join social media because that is a personal choice.
All I can say is that I am having a wonderful time with all the three platforms (Twitter, Facebook and the blog) every day.
The other thing it does is that it gives me an opinion, a moment for an opinion. For all these years, over 40 years of my career, when I wanted to express myself or give an opinion, I had to talk to people like you (the media).
What you thought about it and how you interpreted it was your point of view.
There were moments when perhaps my view point was not correctly put across. Now, I have the opportunity to correct an error.
If I have made an error, I have the opportunity to apologise.
It's a wonderful way of communicating. The world is just so together now and nothing is beyond reach.
I think it's a wonderful feeling that we are connected to the entire universe almost, at the press of a button.
Never would have anyone thought this would happen but it has and it's fantastic.


Amitabh Bachchan gives his top safety tips for women. Video: Afsar Dayatar
Is social media the best way to communicate and stay connected with your fans?
Now I have an extended family, which I call my EF, and they are all very dedicated, emotional and together.
I am happy that when they started coming on to this platform, they only knew me but now, some of them know each other and they communicate, meet and travel together.
For me, that's a great moment.
People from United States, Europe, Russia, South Africa and all over the world, travel just to come and meet me and come and live with the local EF here because they know them. It's a fantastic feeling of a family coming together.
And yes, if I can communicate with them and tell them what is going on in my life or what is to be expected, it just helps me in conveying (it).

What did you think about the Ae Dil Hai Mushkil and Shivaay trailers?
I have seen both and they are wonderful.
Both Ae Dil Hai Mushkil and Shivaay look interesting. I look forward to seeing them.