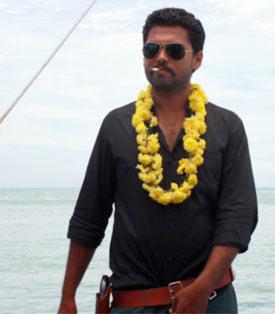 Rakshit Shetty's Ulidavaru Kandanthe will release on March 28. The film's crew is busy with post-production work.
Rishabh Shetty, who plays one of the main characters in the film, says they are gearing up to take the film to the prestigious Cannes Film Festival this year.
Says Rishabh who is also the film's associate director: "We will be sending Ulidavaru Kandanthe to the Cannes Film Festival this year. Rakshit has been working for it day and night. Background score, visual effects and the other post production work is on at a brisk pace.
"I have known Rakshit since his short film days, when we spoke of only making meaningful, quality films with newcomers, shot in digital format. Even then we could not find producers to make the film we wanted to.
"After Anurag Kashyap's Gangs of Wassepur's dubbing rights in one of the European languages went for a whopping Rs 17 crore, we realised that there is a huge market for our films outside our country waiting to be tapped. We want to set a benchmark with Ulidavaru Kandanthe and I think we have."
He says the film has "all the ingredients of the so-called 'commercial entertainer' - love, mother sentiment, action - but all in a different format and not in the beaten-to-death form of storytelling."
Ulidavaru Kandanthe will be the first Kannada film to be shot in live sound by sound engineer Renjith Vishwanthan.
The film is likely to be released in other metro cities in India.