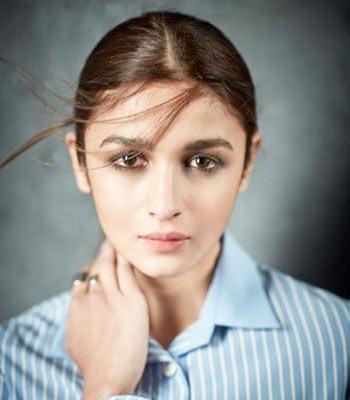 'Director Abhishek Chaubey didn't think I could be this girl. He didn't even think of coming to me. Shahid thought of coming to me and that's how everything happened.'
'I feel if I don't take risks, I'll never know. I have to play around a little bit. I want to do a film like Udta Punjab as well as an out-and-out comedy.'
Alia Bhatt is ready to fly high with Udta Punjab.

Alia Bhatt is elated with the court verdict on her new film, Udta Punjab, which had run into controversy with the Censor Board.
As soon as the verdict came out, she tweeted: 'And FINALLY #UdtaPunjab will flyyyyy!!Here's to freedom of expression, to our judiciary, to the industry, to the media and to YOU ALL.'
The actress must be especially rooting for this film, as it hasn't been an easy job for her. She will play a Bihari migrant in the film, a character very far removed from her urban upbringing.
Dressed in a blue-pink checkered dress with a black and white checkered cardigan over it, Alia settles down on a couch for the interview and unlike some celebs, doesn't shy away from giving honest opinions. Jahnavi Patel/Rediff.com takes notes.
A new film with a very different look. What was the preparation for the role like?
A lot of preparation went into it because nothing about this character has anything to do with how I am or how I can be.
With the help of the writing and direction from Chaubey (Abhishek Chaubey, director), the character was created for me. When I was portraying her onscreen, it was from an imaginary perspective. There was nothing real from my own life that I could derive.
The physical transformation required make-up. I had lose weight because I had to look unhealthy.
Then there was the other transformation, which was the accent, and workshops to loosen up the body language.
Basically, my instincts are very urban -- the way I sit, speak... I have a certain correctness about my body language.
My character is a Bihari migrant, who works in the fields. She has no idea of what being 'proper' is, so I had to find a way to bring that about and also bring about a little vulnerability.
What research did you do?
I didn't sit and speak to a drug addict but I watched documentaries and films, which were very disturbing.
I play a heroin addict in the film and I don't know what it is like to be on heroin. So I had to see what the person goes through, the body language, what happens to the face, mouth, what happens when you're getting withdrawal symptoms...
It wasn't pleasant but I had to do that.
You said Udta Punjab is an educative film. Is it because we will see Shahid Kapoor's character rehabilitate from being a drug addict?
It is not only Shahid's character who is a victim of drug abuse, even my character is a victim of drugs.
Diljeet (Dosanjh)'s character has a connect, where by default, he becomes a victim of drugs.
Kareena (Kapoor Khan) is a rehabilitation doctor, so everybody is involved with drugs in some way.
You're getting the education from all four characters through different perspectives -- one is the victim, one is the hope, one is the reason and one is the law.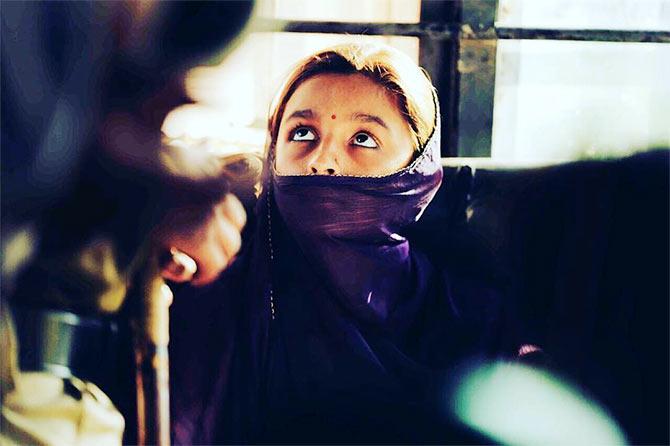 IMAGE: Alia Bhatt in Udta Punjab
What made you take up such a risk and play this character?
I wanted to challenge myself.
If I didn't take this risk, I wouldn't take another risk in life. Maybe this will open up windows for me to do different kinds of films.
Initially, Abhishek didn't think I could be this girl. He didn't even think of coming to me. Shahid thought of coming to me and that's how everything happened.
Then Abhishek met me and said, 'Okay, I have to take a minute and digest the fact that you'll be playing this character but it's fine, I feel that we can do it.'
I feel if I don't take risks, I'll never know. I have to play around a little bit. I want to do a film like Udta Punjab as well as an out-and-out comedy.
Was it easy to convince Abhishek Chaubey?
I didn't have to really sit and convince him ke please mujhe le lo (please take me in the film).
I sat with him and said that this is what I love about the film, I love the character, I know there will be a lot of work and I am willing to do it.
As a director, he knows his script and story well. So he sat, took a moment and then said 'let's do this'.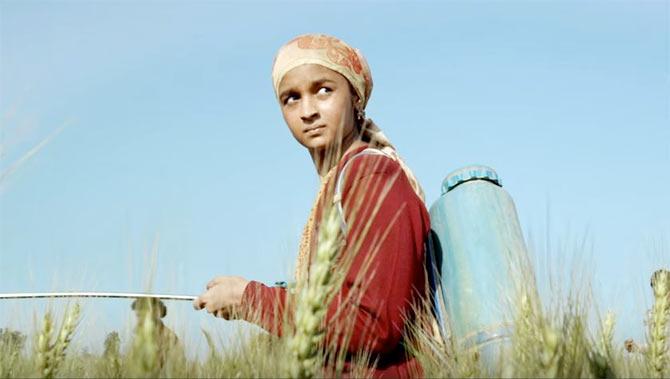 IMAGE: Alia Bhatt in Udta Punjab
Were you skeptical about this film as you have a deglamorous role?
That wasn't an apprehension for me.
The apprehension part was that will people be able to separate Alia from this character. You see me in a certain way -- I am supposed to be very happy, bubbly, cute and pretty all the time. But in this case, I was not. That's also why it is an 'A' film. I wouldn't push kids to watch this film.
Your last film with Shahid Kapoor was Shaandaar, a commercial film. Now, the two of you are back with a dark film. Do you think the audience will accept your pair in a different genre?
We have to see the acceptance after the film releases; it's too soon to tell.
I hope (the audience accepts) because one film's baggage shouldn't fall onto the next.
That's what actors are supposed to do, they're supposed to be actors, playing different characters. One should accept them in different parts.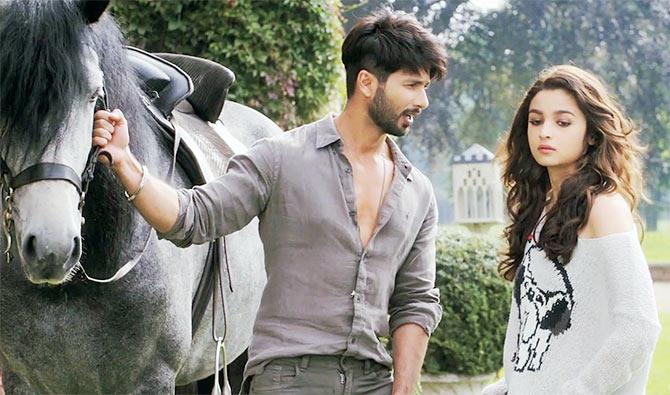 IMAGE: Shahi Kapoor and Alia Bhatt in Shaandaar
Shaandaar didn't do well at the box office. Did Shahid and you discuss about that having an impact on this film?
We were definitely bummed out about Shaandaar not doing well but we always knew that the fate of Udta Punjab, no matter what, would be different.
We don't know how the audiences will eventually react to it but it has a very relevant topic. So a response to that will always be different as compared to a comedy commercial film.

When you play an intense character, it tends to leave an impact. Did it leave one on you as well?
It definitely did, not from the character's point of view but I think I have a great respect and value for the lives that we are leading right now because we sit and cry over small things. But these are real problems (shown in the film).
When you put things in perspective, I am sitting here complaining about maybe my weight, my hair or a pimple when actually these (substance abuse) are the real problems. Even 14 and 13-year olds are affected (by drug abuse).
The film has got an 'A' certificate. Do you think the target audience will miss out on it?
No, we can't show a 13 or a 14 year old this film because it has a certain kind of intensity.
There's a reason why you're supposed to show this film only to adults because they have this ability to watch it as fiction. But if a 13 or a 14 year old is using or is addicted (to drugs) and their parents watch this film and are aware of the situation, they can do something.
At the end of the day, an addict will not watch the film and decide to quit. I hope that happens but usually, it doesn't.
It's more for the society and the people and for us, as a country, to be aware so that we can take this problem head on.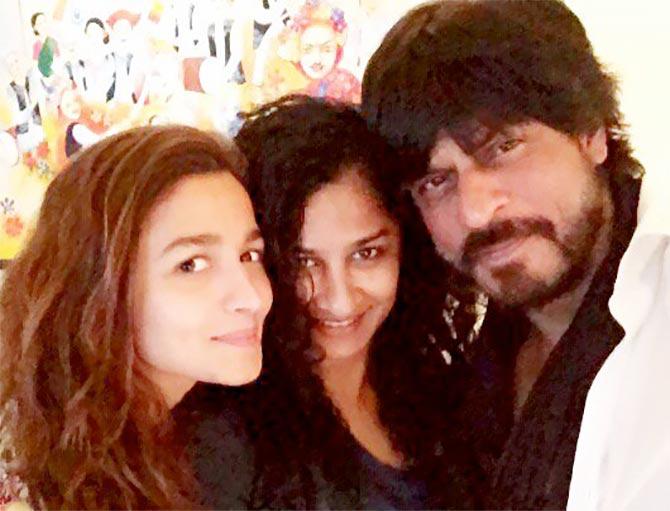 IMAGE: Alia Bhatt, Gauri Shinde and Shah Rukh Khan. Photograph: Alia Bhatt/Twitter.
You have been paired up with an older hero, Shah Rukh Khan, in Gauri Shinde's film. Do you think other filmmakers will now open up to such pairings?
I hope they do, it can open up more arenas.
The opportunities to work with one another can become more just based on the kind of films, it doesn't have to be only a love story.
Gauri Shinde's film is not a love story. I think we need to open our minds a little bit -- there are stories apart from love stories too.
You're finally doing a Bhatt film, Aashiqui 3.
I am not saying anything about Aashiqui 3 right now only because it is still in scripting mode.
I am definitely very interested in the film and can confirm that we are in talks but I will reserve the confirmation till the scripting is done.

But Sidharth Malhotra has confirmed doing the film with you.
According to me, Sid has not confirmed, he said that we are in talks.
He also said that you two are going to sing all the songs.
I will call him right now and ask him why he said all that.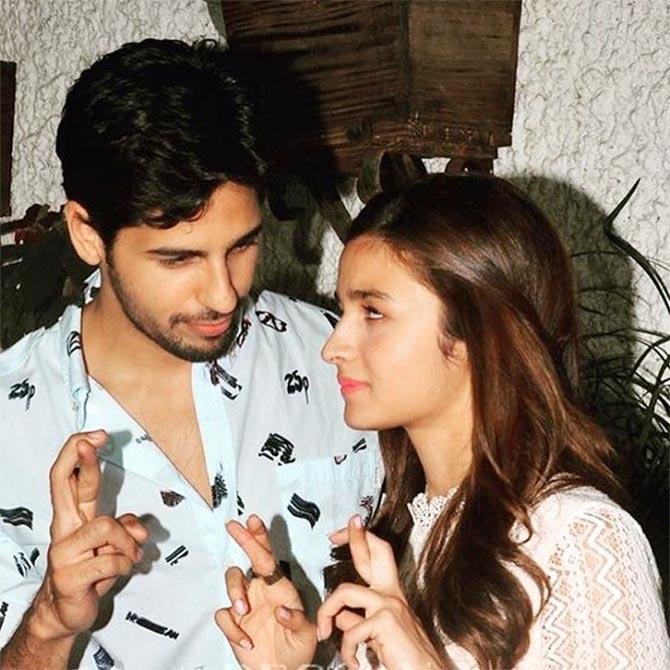 IMAGE: Sidharth Malhotra and Alia Bhatt. Photograph: Alia Bhatt/Instagram
Are you doing the Dil Hai Ke Manta Nahin remake?
That's a film that needs to be put together very thoughtfully. We are not really in talks about that, we just said we will do it.

Disco Deewane singer Nazia Hassan's biopic was also offered to you?
I had said that if I want to do a biopic, I will do it on Nazia because it's a very interesting subject.

There's a biopic being planned on her...
Give me the director's number, I will call him.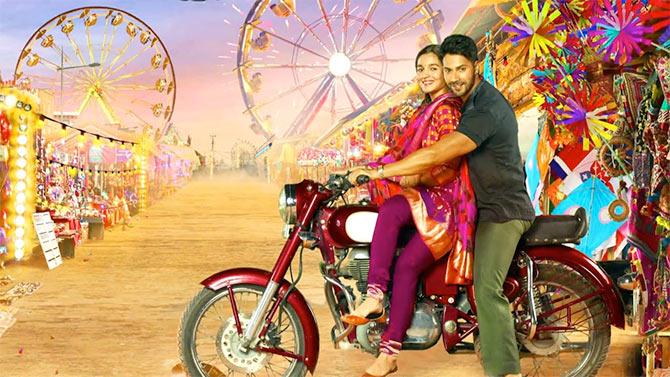 IMAGE: Alia Bhatt and Varun Dhawan in Badrinath Ki Dulhania
You have done with the first schedule of Badrinath Ki Dulhania. When do you begin the second schedule?
After Udta Punjab releases, I think in July.
This is the first romantic film to have a franchise but it's not a sequel, right?
Yes, it's a franchise, not a sequel.
It's a different story but with same people, same director (Shashank Khaitan) and the one thing in common is that it's a love story.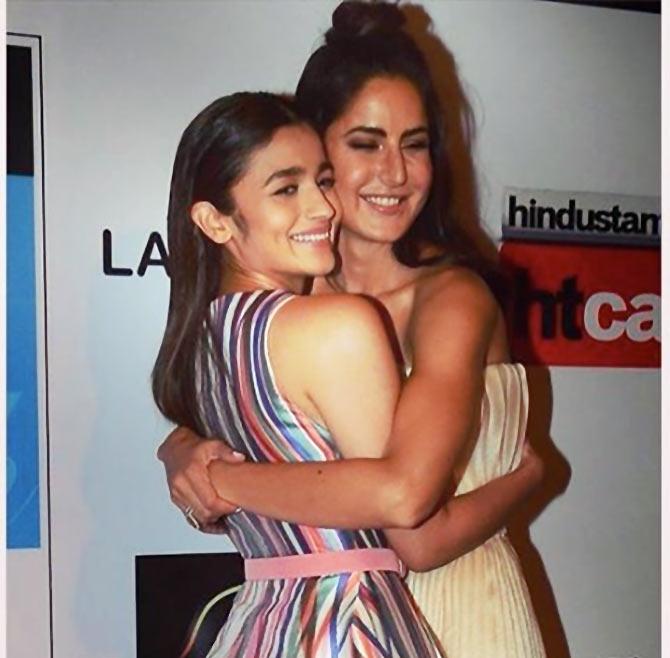 IMAGE: Alia Bhatt and Katrina Kaif. Photograph: Alia Bhatt/Instagram
If you were to do a chick flick, who would you like to work with?
I had told Farhan (Akhtar) to make a girl version of Dil Chahta Hai. I'll leave the casting up to him. But I would pick Katrina Kaif.
Any television series you'd love to be a part of?
Game Of Thrones.