'Bahubali drained me both physically and mentally. In the beginning, one is in awe of big sets and the grand visuals, but after 250 days, I was so drained out that I once told Rajamouli, let's just release the film and watch it.'

Telugu superstar Prabhas gets ready for Bahubali release.

He has had no release in the last two-and-a-half years but his upcoming film Bahubali is expected to be a box office dhamaka!
Telugu superstar Prabhas plays a double role in director S S Rajamouli's multi-lingual, two-part epic drama, and he shot for more than 300 days.
Prabhas tells Sonil Dedhia/ Rediff.com how he prepared for the film, and why it was frustrating to shoot for such a long time.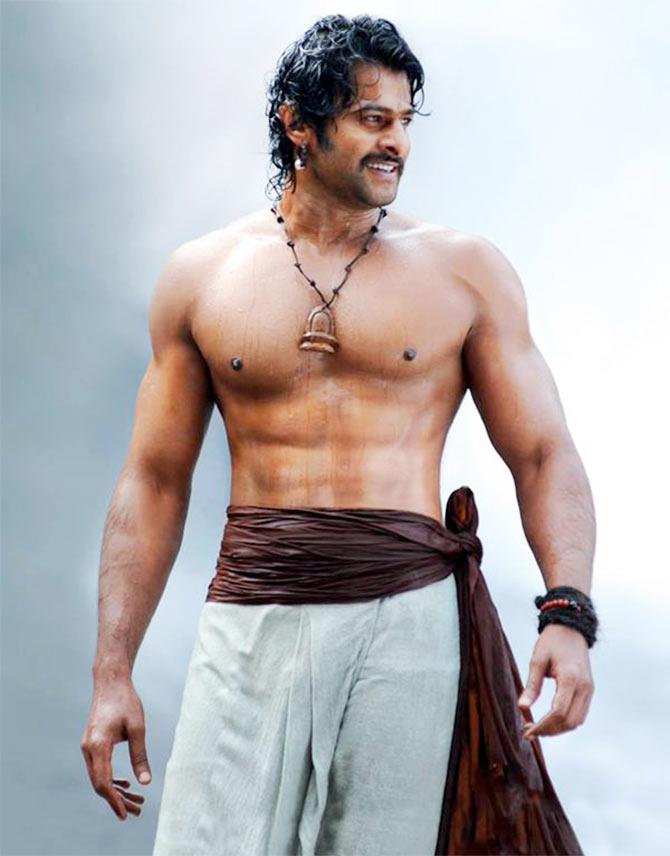 Bahubali is finally set to release this week. How are you feeling?
I am nervous and yet, very excited.
After two-and-a-half years, a film of mine is being released, so my fans are really waiting for it.
There's a second part, which will release next year. So I am hoping that this works (laughs).
Isn't it a risk to give so much time to one project?
I knew from the beginning that it was going take time to shoot for Bahubali.
When you make a film on such a huge scale, it's difficult to give time to any other project.
I have worked on it for more than 300 days. A war sequence, which was planned for 20 days, extended to 120 days!
Director Rajamouli is known for his visualisation and he has shot the entire scene very well.
I play a double role in the film (father and son). I wanted to concentrate only on my characters.
Do you fear that your fans might well have forgotten you, as they have not seen you on the big screen for nearly three years?
I never felt like that. I knew that when the trailer of Bahubali released, it would have a great impact, and it did.
Also, my fans knew something big was happening. There was so much buzz around the film during the shoot.
People were eagerly waiting to hear anything about Bahubali. So I never had the problem of being out of sight, out of mind.
Six years ago, when Rajamouli narrated to you one line of Bahubali, did you think the film would become so big?
I had worked with Rajamouli in Chatrapati (2005); we have been good friends since then.
He narrated that one line of Baahubali when he was shooting for Magadheera (2009). At the same time, my film Billa had released, which was a decent hit. But before that I had delivered four flops.
He said he was still writing Bahubali and would get back to me once he finishes.
He is one of the biggest directors and I know him very well. He is my guru; we discuss every personal and professional matter.
But at no stage did I imagine that he would be making India's biggest film.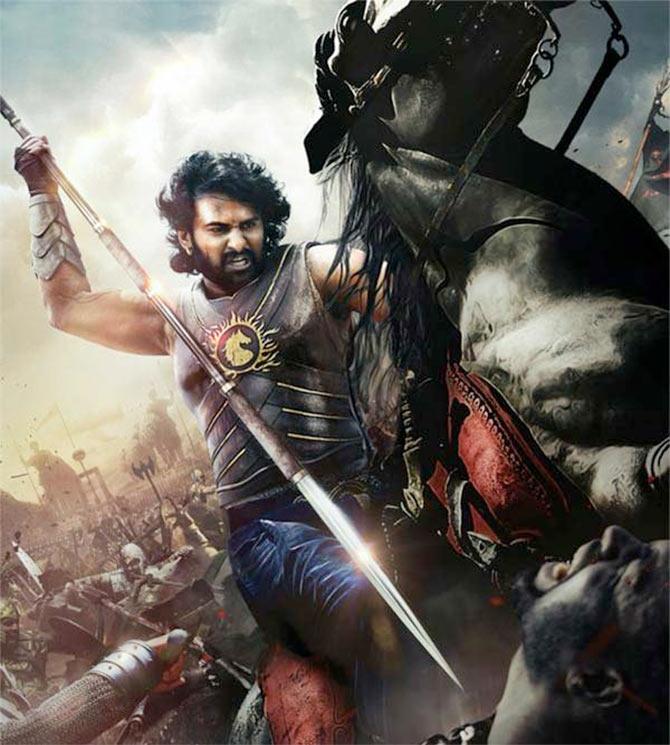 How tough was it to shoot for the film? Did it drain you?
Yes, it drained me both physically and mentally. In the beginning, one is in awe of the big sets and the grand visuals. But after 250 days, I was so drained out that I once told Rajamouli, let's just release the film and watch it (laughs).
At one point of time, I was frustrated and wanted to quit.
Shooting the war scenes was torture.
A shot in one of the songs required me to jump from a hill into a waterfall! The shot required 25 days of shooting since we had to train for rock climbing.
For the war sequences, action choreographer Peter Hein called some of his friends who knew Kung Fu.
Rana (Daggubati) and I underwent training for five hours every day for almost all the days that we shot for the film.
I also had to learn sword fighting and horse riding.
What kind of rapport do you share with Rana Daggubati?
Before the shoot, I had met Rana two or three times. During the first schedule of the film, we got close and in the second and third schedule of the shoot, we became best friends.
Rana and I used to be a source of entertainment for everyone on the sets.
Sometimes Rajamouli would shout at us, and then we realised that this is not the kind of film where you go on having fun; a certain amount of dedication is required.
Whenever Rana was not in the shoot, I used to feel like how I am going to have fun without him around. We shot together for nearly 150 to 200 days.
Bahubali is almost like a two-hero subject. If we two didn't get along well, it would have been bad for the film.
Luckily, everything turned out well and we became close friends.
Are you a self-critical person?
Yes, I criticise myself a lot. My friends complain about it (laughs). I always feel I can do better.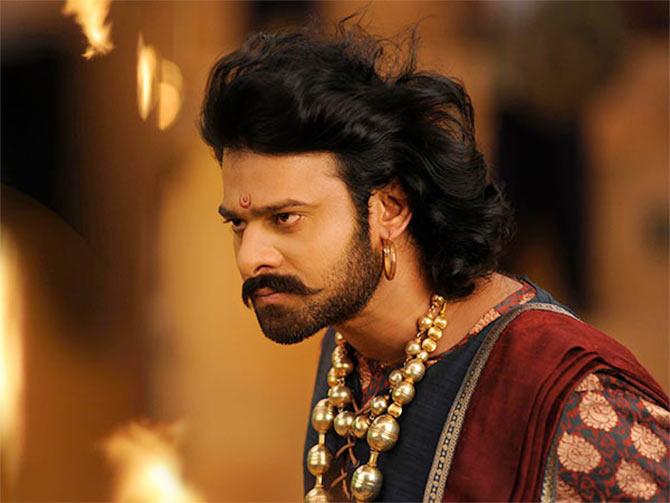 Do you like being called the 'young rebel star' in the south?
I never liked being called the young rebel star.
These tags are attached to the name during the credits of the films. But for Bahubali, we are not going to do it.
Bahubali is officially being dubbed in Hindi, so it becomes your first Bollywood film. Do you plan to do more films in Hindi?
I would be stupid to say no to Bollywood. It is the biggest film industry in our country.
I haven't been offered a film as yet, but I would definitely work in a Hindi film provided I like the script.
Which filmmaker would you want to work with in Bollywood?
Getting the chance itself is difficult. How can I choose a director?
My favourite filmmaker is Rajkumar Hirani. I love all his films. I can watch all his films a hundred times (smiles). I recently saw PK and loved it.
Any plans to get married and settle down?
I don't know. Maybe after the release of Bahubali (laughs).