'There was a kissing scene in Hello with Gul Panag, but nobody saw that film.'
'In Style, it was only a little peck on the cheek. There was a little in Life... In A Metro too. But I hadn't done an erotic film.'
Sharman Joshi gets candid about his first erotic film, Hate Story 3.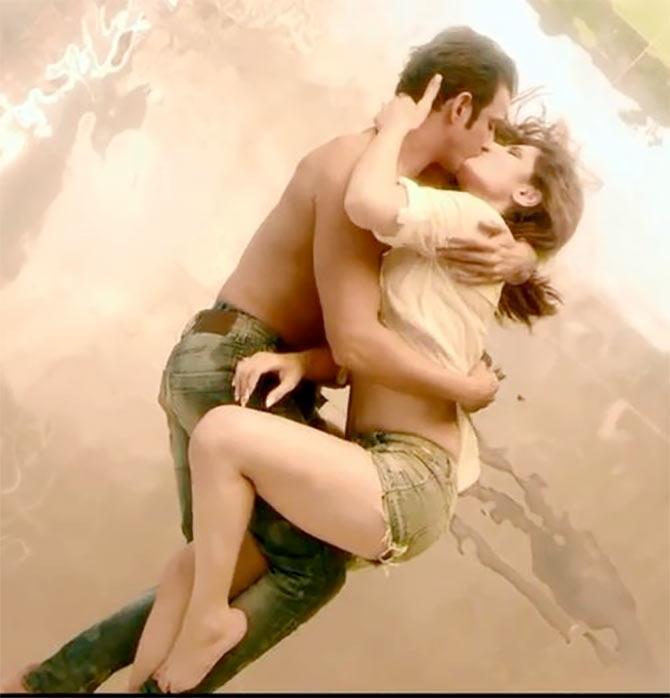 Sharman Joshi is bored of his character-driver films, and wants to do a 'commercial' film.
And so, Hate Story 3 seemed like an obvious choice!
We haven't seen the talented actor in an erotic film so far but Sharman tells us he wouldn't mind going 'butt naked', if it was required in a film. There's obviously so much we don't know about this actor!
Soft-spoken and humble, Sharman chats with Jahanvi Patel/ Rediff.com in this honest interview.
This will be your first erotic film.

Yes. There was a kissing scene in Hello with Gul Panag, but nobody saw that film.
In Style, it was only a little peck on the cheek. There was a little in Life... In A Metro too. But I hadn't done an erotic film.
I was doing character-driven films, that's what interests me. I have decided to do commercial films now.
I took up Hate Story 3 because of the production house, the story was great and I felt Vishal (Pandya) would deliver as a director. You have to maintain a fine balance for an erotic film. If we didn't get it right, it may not turn out nice.
But that battle has been won, which means I've taken a good call. Because I'm doing it for the first time, it's very important that it works out well.
I've been offered erotic thrillers earlier as well but something or the other would not be right.
But now I'm bored of my character-driven films and want to do commercial cinema for a bit.

What was the most attractive element of Hate Story 3?

The story was a fine one. It has got great twists and turns. Vikram Bhatt, who has written the story, is a great story teller.
Then, of course, Bhushan (Kumar) is producing it.

Tumhe Apna Banane is a popular song, picturised in a very sensual manner. Were you ever apprehensive about it?

Once we heard it, we were sure it's a fine song. We were sure it would be a winner.
We have worked very had on it. Vishal has been really careful about shooting this song. On a couple of occasions we've postponed the shoot because we felt we weren't ready in terms of ideas. Eventually, when we finished it, we were happy with the work.
I saw the song for the first time at the trailer launch. I was sitting in the first row and suddenly saw the song and went 'oh God!'
It's looking great, and the impact magnifies on screen.
Zarine (Khan) is looking gorgeous and I did my part.
I'm happy with the reactions. People are saying it's aesthetically done, and not looking cheap and vulgar.
For me, as an actor, I like the unexpected. It's so boring to be predictable. Like, Sharman, you do comedy so well, you should do something like Ferrari Ki Sawaari.
I used to be like that. Let's move on now.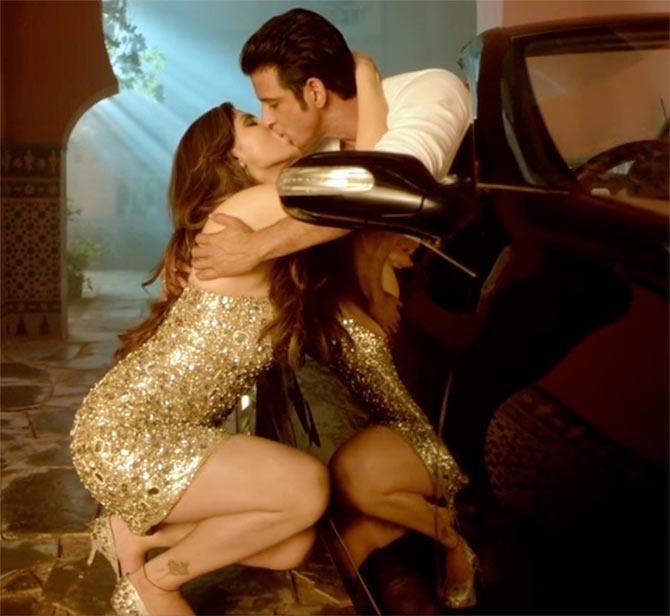 Sharman Joshi and Zarine Khan in Hate Story 3
As you said you were looking out for a change. Was an erotic thriller on your mind?

I want to explore every genre at least once.
I'm attempting a ghost comedy which Anees Bazmee is producing and Bilal Khan, a new director, is directing.

Was there any kind of discomfort while doing the bold scenes?

No, I found them easy. Someone was telling me it requires a lot of retakes. I said I'm a one day actor; I don't take time to act, even for bold scenes.
Actually, Zarine and me got along really well. We had spent a lot of time during the shoot. We shot the song pretty much towards the end, so we knew each other really well and had that comfort factor. We weren't awkward.
The previous Hate Story movies have done well at the box office. Is there any kind of pressure on you?

No, no pressure. If it succeeds, it's great. If it fails, then sit back, reflect, see what went wrong, and attempt something else.
I don't take pressure because whenever I do anything, I do it with full sincerity and hard work. After that, nothing is in my control, so I don't feel guilty.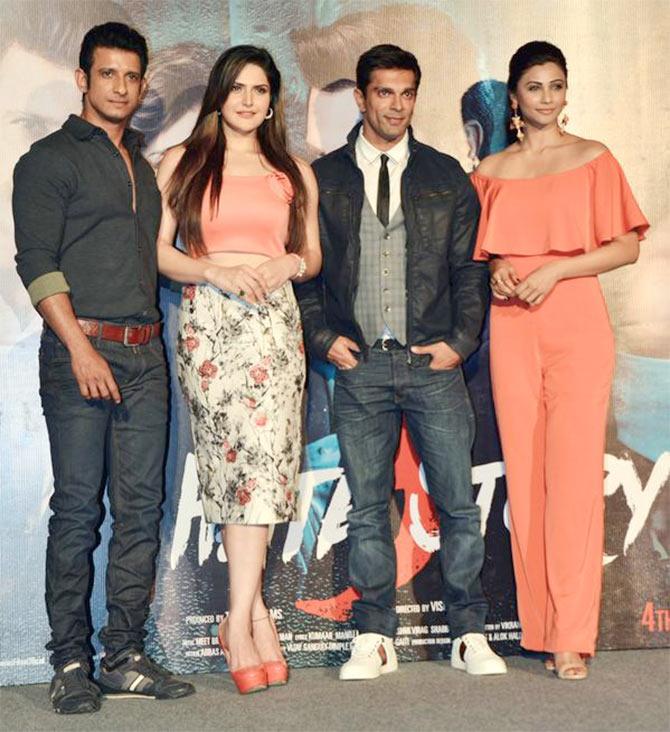 Image: Sharman Joshi, Zarine Khan, Karan Singh Grover and Daisy Shah at the music launch. Photograph: Pradeep Bandekar
Since there are so many actors in the film, did you all get along well?

Karan (Singh Grover) is a chilled out, fun loving fellow. He has done a lot of work.
Zarine is always laughing and giggling. It keeps the mood on the sets very positive and happy.
Daisy (Shah) and I are introvertish. We are both quiet.
There were reports that you wouldn't mind going butt naked for a film if it requires you to do so.
Yes. But they've made such a big noise about it. I'm okay to do a kissing scene; I don't know what the hue and cry is all about. It's not a big deal for me. I can even go butt naked if need be. Of course, only if the film is shot aesthetically. I won't drop my pants just like that.
Rahul Bose had done it for a film and it was nicely done. So if it's adding a layer in the film, I'm fine.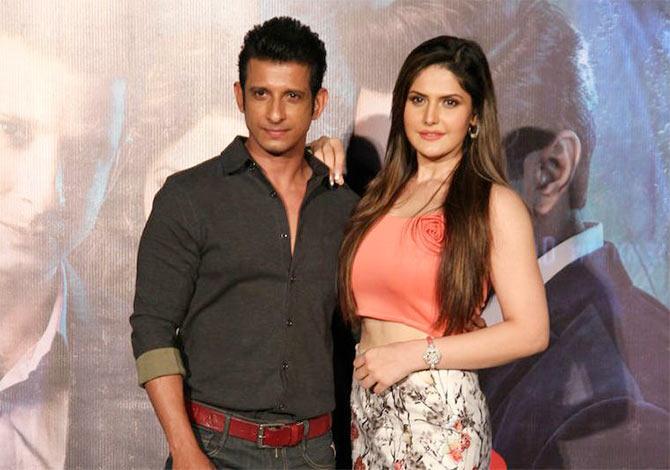 Image: Sharman Joshi and Zarine Khan at the music launch. Photograph: Pradeep Bandekar
What projects are you working on?

There is 1920 London, which is being produced by Reliance and Phantom Films. It's my first supernatural thriller.
Then, there is a film for Excel Entertainment called 3 Stories.
There's an English film I've finished work on and that will go to film festivals. Its working title is The Journalist, and I play one.
I will start working on the ghost comedy, produced by Anees Bazmee. It also stars Swara Bhaskar.
Then, I have Tom Dick And Harry next year.

I would love to do a sci-fi film. Sci-fi needs big budget, so unless I get paid and Hate Story 3 does Rs 500 crores, then maybe they will afford a sci-fi film. Gravity, starring George Clooney and Sandra Bullock, was phenomenal. It's less about science and more about human drama in that sense, about survival.