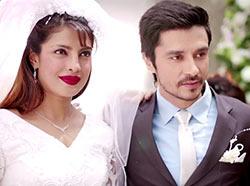 'I cried after my elimination from Indian Idol because I had got used to the lavish lifestyle, the good food, good hotels, good clothes and I was going to miss that.'
Shivam Pathak returns to the good life, thanks to his hit music in Mary Kom.
Shivam Pathak, a finalist in Indian Idol season 5 (telecast in 2010), got his first assignment to compose music for a Bollywood movie, with Mary Kom. He has composed two songs -- Salaam India and Sukun Mila.
The 24-year-old singer-composer tells Patcy N how tough it is for a newcomer to make it in Bollywood.
Composing for Mary Kom
I started composing music because I was sitting at home and not doing anything.
Through (director, Son Of Sardar) Ashwini Dheer, I met Sanjay Leela Bhansali. They were talking about Mary Kom.
Sanjay sir had heard me on Indian Idol. He liked my voice. I told him I compose music too and played Salaam India for him. He loved it and asked me to rework it a bit.
The lyrics were written by my childhood buddy Sandeep Singh from Lakhimpur.
Sanjay sir is very involved in the music. He kept telling me to make a hundred changes. I got a bit frustrated. But when I heard the final result, I realised how important his inputs were.
Salaam India is sung by me, Salim Merchant and Vishal Dadlani.
I played my second song Sukun Mila at my next meeting with Sanjay sir and he approved of that too.
Sukun Mila is sung by Arijit Singh. Sanjay sir wanted me to sing it but I told him Arijit should sing the song because he is at the top now. If he sings my song, it will become more popular. I was thinking like a composer now and not a singer.
In fact, I am thinking of becoming a composer rather than a singer.
I am composing for Ashwin Dheer's next film and also for a television serial.
Shivam Pathak sings Sukun Mila from Mary Kom. Video: Afsar Dayatar
Early life and Indian Idol
I come from Lakhimpur Kheri in Uttar Pradesh. My father was an accountant in a bank. He is retired now. My mother is a housewife. I have two sisters, who are married.
I came to Mumbai to do a course in hardware and networking. In 2008, I heard about Indian Idol. I gave an audition but was not selected.
When I told my parents I want to learn singing, they were very disappointed. They had spent lots of money on my hardware and networking course.
No one in my family has anything to do with films or music, so I did have initial problems, but later my parents supported me.
They paid my fees of Rs 15,000 a month at the Suresh Wadkar Ajivasan Music Academy. I stayed in the hostel there for two-and-a-half years.
I participated in Indian Idol in 2010 and reached the top five. I cried after my elimination. But I got to meet a lot of people like Salim Merchant and Sunidhi Chauhan.
One reason I cried was because I had got used to the lavish lifestyle, the good food, good hotels, good clothes and I was going to miss that.
I again went to the Suresh Wadkar Ajivasan music academy and studied for another one-and-a-half years.
Shivam Pathak sings Salaam India, Mary Kom. Video: Afsar Dayatar
First break and struggle
Salim Merchant had told me that he would give me a break after Indian Idol. He gave me lots of jingles, but I did not want jingles. I was clear in my mind that I want to do film songs.
I sang lots of scratches; nobody pays money for scratches though I got paid twice.
I sang the Bharat Ke Majbood Haath song for the Congress party which was playing on television during elections
I also sang India Is Mast Kalander for Vaibhavi Merchant's Taj Express project along with Sukhvinder Singh.
My first big break was Nagesh Kuknoor's film, Mod 2011. The music composer was Tapas Relia. I sang two songs in the film, one with Shreya Ghosal.
After that, I was the celebrity participant on another show for Star TV, Jo Jeeta Wohi Superstar (2012), and was in the top five. I was paid Rs 50,000 per episode.
I did around 20 shows for Sony in India and abroad. I was paid around Rs 45,000-50,000 in India and around Rs 1 lakh or more per show abroad.
In 2013, I sang the title song for Satyagrah for Salim Merchant.
I bought a house in New Mumbai while doing Jo Jeeta Wohi Superstar, with my father's help, to bring stability in my life, as I was wasting a lot of money. I was staying in a rented house in Juhu, which was expensive.
So I asked my parents to come down and since then they have been here helping me out.
Shows are the only source of money. I get more than 15 shows a month but I only take two or three.
Also watch :
Shivam Pathak sings Kuch Toh Log Kahenge, Amar Prem
Shivam Pathak sings Abhi Mujh Mein Kahin, Agneepath
Shivam Pathak sings Kabhi Khud Pe Kabhi, Hum Dono