'I have made enough money in my life to live in the happiness of my gambit. I don't want to buy a jet plane, I don't want to live with an entourage.'
'So my requirement of taking my wife and children to a foreign holiday in business class is not a worry.'
R Madhavan is anything but a Saala Khadoos!
R Madhavan is really like the person we've seen in Tanu Weds Manu -- he is genuinely sweet!
When he arrives late for the interview, he apologises from the heart.
When he sees journalists munching on bhel, he advises: 'Don't eat those carbs; they are not good for you.'
When a reporter forgets to collect his recorder after the interview, Madhavan rushes out, and calls out to him: 'Bhaisaab, aap apna recorder bhul gaye!'
When he sees a group of reporters playing Dumb Charades, he starts playing with them.
Yes, we could go on.
Madhavan is just not your regular Bollywood star.
He talks to Patcy N/ Rediff.com about his new film, Saala Khadoos, and much more.
This is your first production. What made you want to produce Saala Khadoos?
I haven't done a film in a while and I wanted to play something besides a loverboy. A loverboy's shelf life is very limited. I wanted more variety, so I chose Saala Khadoos.
But it was such a different subject that I could not find a producer to make the film the way I wanted it -- they either wanted to change the director, or change me or make me direct it, or cast a big heroine...
That was not acceptable to me because I felt I won't be able to make the kind of film I wanted to, and that's the problem with every film I have done. For every film that I have believed in -- from Tanu Weds Manu to Rehna Hai Tere Dil Mein -- it was very difficult to find producers. So I decided to put my mouth where my money was.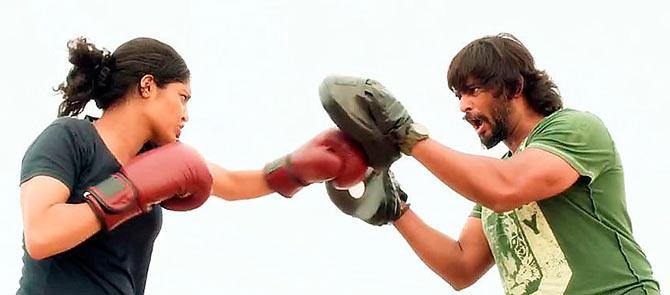 Image: Ritika Singh and R Madhavan in Saala Khadoos
Mani Ratnam's assistant Sudha Prasad Kongara is directing the film. Why did you think she would do justice to the project?
This is her first film in Hindi but she has already made a Tamil film called Drohi.
Sudha has written the story.
Normally, lady directors make love stories or family dramas or films on women liberation. But this was a story on boxing, and I was skeptical when I first read it. But the research was spectacular.
She had interviewed almost every boxer across the country. She had profiles, recordings and clips, and that blew me away.
You were on a sabbatical before you started working on Saala Khadoos in 2013. Why was that?
I played a middle-aged man in Tanu Weds Manu Returns and had a shape like that but it happened in my real life too -- I had become docile and complacent with my success.
For this film, I had to look like a boxer. I had to grow my hair and moustache, and look like a retired boxer.
I exercised for 45 minutes. I did Pilates. I also played golf because that helps me think.
Then, I had to learn how to box.
I was also looking into the script and screenplay. Then I had to get producers and the cast, and that was the toughest job. This film would not have been made if we did not get Ritika Singh, it wouldn't have looked real.
Also, making the film in two languages took three years.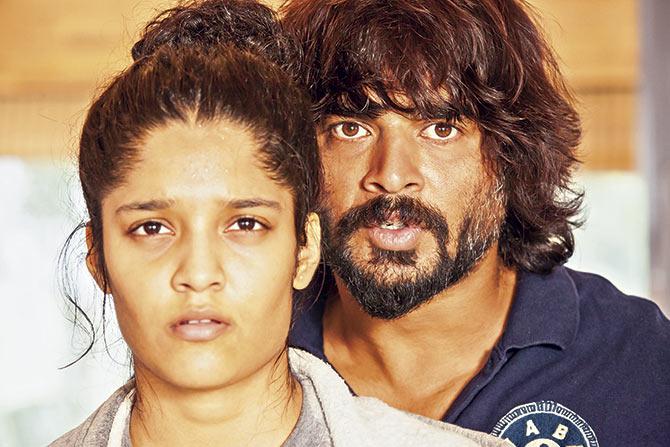 Image: Ritika Singh and R Madhavan in Saala Khadoos

You said you had gained weight. How did you lose it?
It's not a difficult process; people make too much out of it. It's quite simple: If you want to eat more, don't think of losing weight. If you want to lose weight, eat less.
But getting the physique was not easy. Since I am a vegetarian, it's even more difficult.
I trained under 24-year-old Alexander Coates, who taught me how to strengthen my body, not just to put on muscle.
I did not want to take supplements and gain muscle in three months because then you start losing hair, your eyes don't look sharp, your skin looks dull, and you start looking older. We did everything slowly and regularly.
If you take such long sabbaticals, isn't it a financial blow?
Absolutely. But I have made enough money in my life to live in the happiness of my gambit. I don't want to buy a jet plane, I don't want to live with an entourage.
So my requirement of taking my wife and children to a foreign holiday in business class is not a worry.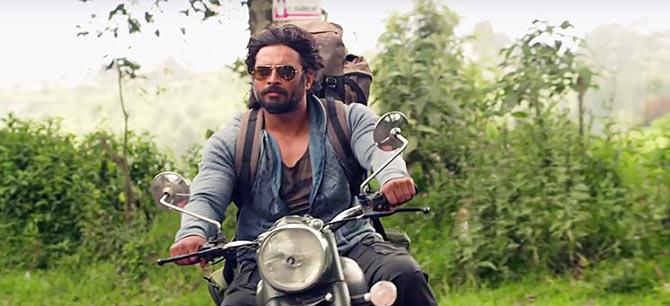 Image: R Madhavan in Saala Khadoos

Is it true that Rajkumar Hirani came on board much later, as producer, and he thought Ritika was a wrong choice?
Yes, but we had not started shooting yet.
He did not say Ritika was a wrong choice, he was wondering how we would get a boxer who could act.
This film is not only about boxing. In fact, it's seldom about boxing. It is more about the relationship between two people (the coach and the aspiring boxer).
I was very convinced that I would find a 17-year-old girl, who knew how to box, how to act, how to speak in Tamil and Hindi, who looked good as well, like a heroine, and whose parents would allow her to work in a film. Yes, these were impossible requirements but we got lucky.
We auditioned lots of girls but I was lucky to see Ritika at the Raj Kundra's Super Fight League.
What kind of acting training did you give her?
We gave her many types of training, like boxing, selling fish, as she plays a fisherwoman, and acting. But she is phenomenal. We had to live up to her standards because she was so good.
Image: Ritika Singh and R Madhavan in Saala Khadoos

How difficult was it for you to handle two jobs of actor and producer?
I was extremely grateful to Rajuji (Rajkumar Hirani) because he never let the pressures of producing come close to me.
He told me to worry about my acting and leave the rest to him. He handled everything.
He made sure we had the right script, the right dialogue writer -- he was involved in everything from editing to everything. Rajuji has been my Saala Khadoos.
How did you convince Rajkumar Hirani to come on board?
When I did not find any producer, I was losing my confidence. I even thought of dropping the subject. My director had given up hope.
I decided to just narrate the script to Rajuji and see how he would react to the subject.
When he heard the script, he reacted in the manner I expected, and he really liked the script.
He never imposed himself. He never came on the sets to see how we were shooting. He gave us freedom but he was still our pillar of support.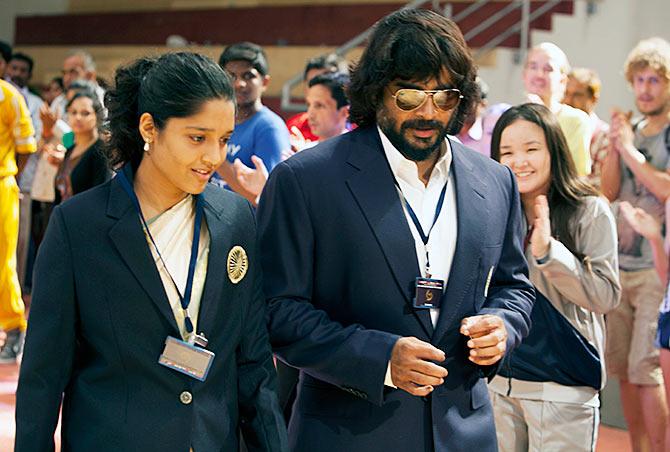 Image: Ritika Singh and R Madhavan in Saala Khadoos
Why don't you do more Hindi movies?
I don't get the kind of offers that I should because I am a very limited actor. And I can't accept every offer that comes my way.
What do you mean by limited actor?
I can't dance. I can't entertain people like Hrithik Roshan.
For me, my realism has stood me over 15 years, so the kind of films that I have done has garnered enough respect for me to be able to survive the industry.
What are you doing next?
I have no offers. I didn't have the time to read or commit to any other project.
Is there any film you wished you had done?
Baahubali.