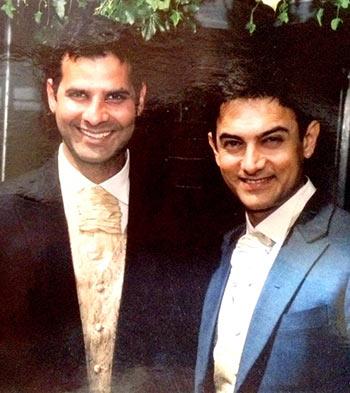 'After Lagaan, Aamir would sit up the whole night and drink an entire bottle of Bacardi.'
'Kiran has been a very patient wife. She deserves a Nobel Prize.'
Actor Amin Hajee talks Aamir with Patcy N/Rediff.com
Aamir Khan celebrated his 50th birthday over the weekend, and his close friend Rajkumar Hirani and cousin Mansoor Khan had some nice things to say about the superstar.
One of Aamir's closest friends Amin Hajee had some revealing stuff to say about him as well.
Read on:
Aamir was shooting for Qayamat Se Qayamat Tak with Juhi Chawla around the same time that I was shooting with Juhi for Jalal Agha's Goonj.
The Goonj team lived in an apartment together, and Juhi would constantly play the songs of Qayamat Se Qayamat Tak.
I asked her about it and she told me about the film with this new actor, Aamir Khan, who lived in Bandra (north-west Mumbai).
I knew of him, but I first met Aamir at the screening of Nirvaan, directed by Jalal Agha, at Sunil Dutt's preview theatre called Ajanta Arts in Bandra (another north-west Mumbai suburb).
Aamir knew of me and my twin brother Karim.
After the screening, he couldn't find his shoes. He thought Karim and I had hidden them because he knew we were pranksters. I swore we had not hidden his shoes, but he wouldn't believe me.
'Aamir would do push-ups and carry dumb bells after every take in Ghulam'
For Ghulam, they wanted someone to play a boxer opposite Aamir. Ashutosh Gowariker, who was my co-star in Goonj, recommended my brother and me. My brother was busy, so I went.
Aamir and I shot the boxing scene for nine days. It was very tough.
I was exhausted every day and Aamir had to encourage me for every take.
I didn't know acting in an action sequence was so hard. Being a professional dancer, I thought I was very fit, but I couldn't carry on.
Aamir would do push-ups and carry dumb bells after every take. I was very impressed.
I've known him since 1989, but we became close friends from 1996, when we were shooting Ghulam.
We would play chess or carrom at his house.
Aamir, Ashutosh, Karim and I spent lots of time together.
Whenever Aamir had a new script, he asked us to read or hear it and tell him what we thought of it.
'Aamir, Ashutosh and I were the three musketeers'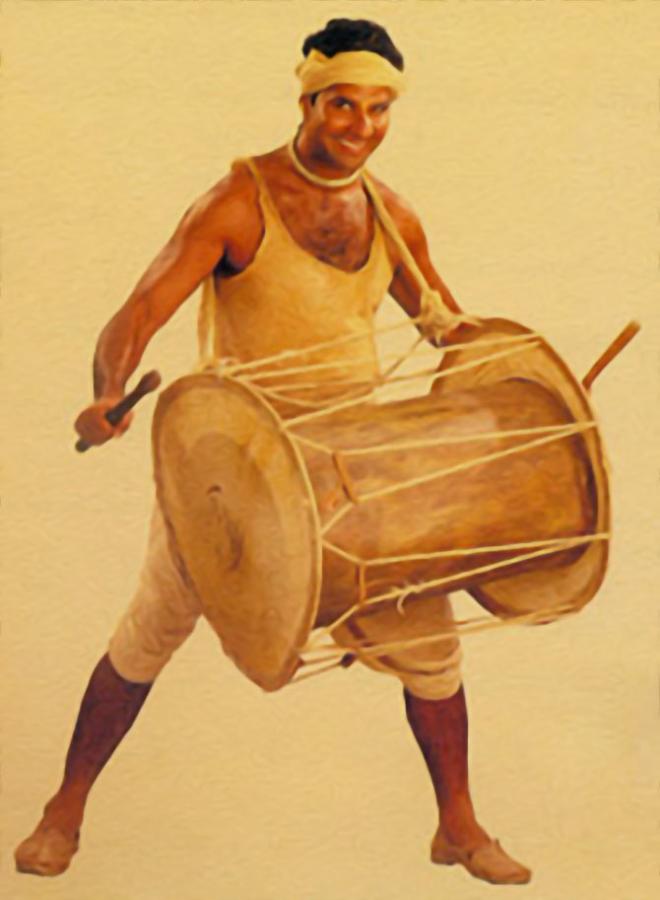 Image: Amin Hajee in Lagaan.
Ashutosh auditioned me for the role of Baagha in Lagaan. Aamir was not sure I could do the role and expressed his doubts to Ashutosh.
Ashutosh told me to come to Aamir's place and play the dhol. Aamir was shocked. I told him I had been practising for a while and would like to give the role a shot.
Aamir told me I was very good.
We spent a lot of time together during the shooting of Lagaan. People started teasing me, 'Producer (Aamir Khan) ka yaar, director (Ashutosh Gowariker) ka dost.'
We became the three musketeers.
'Aamir was the best man at my wedding and I was his best man at his wedding to Kiran'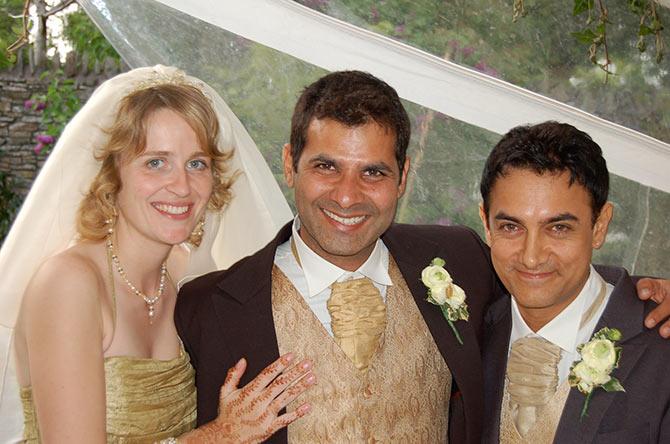 Image: Amin Hajee with wife Charlotte and Aamir Khan.
I live in Panchgani so we don't meet every day, but we don't have to meet every day to be good friends.
Whenever Aamir has time, he comes to Panchgani. He has a house there now. But before that, we would stay at the Il Palazzo Hotel, go to Table Land at night, and eat at dhabbas.
We went to the US together after the shooting of Dil Chahta Hai because he wanted a holiday.
We went to Marrakesh together. We don't plan our holidays; he just calls me and says, 'What are you doing? Let us go out for four days.' This is when we were both single.
After Lagaan, I got married.
Aamir was the best man at my wedding and I was his best man at his wedding to Kiran.
Nowadays we miss each other because we both have our individual responsibilities.
Every year from December 26 to January 3, he comes to Panchgani because December 28 is his wedding anniversary.
For those eight or 10 days we are all together -- my kids Summer and Sky and wife Charlotte, his son Azad, Kiran, my twin brother Karim and his wife Shefali and their son Kashir.

'Aamir would sit up the whole night and drink an entire bottle of Bacardi'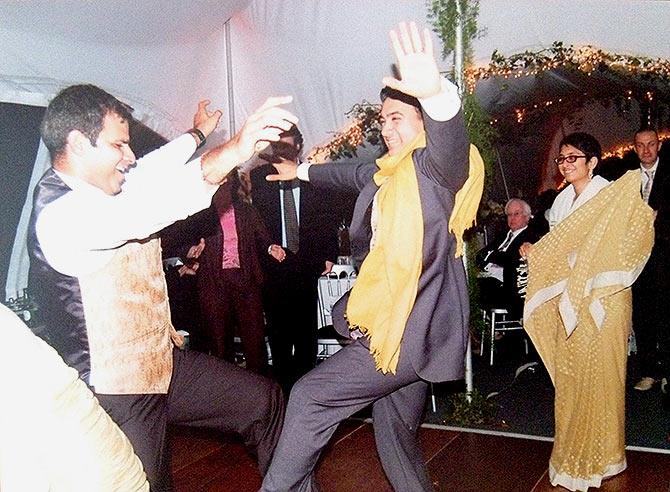 Image: Amin Hajee, Aamir Khan and Kiran Khan at Amin's wedding.
After Lagaan,, Aamir went through a bad phase (the break-up and then divorce with Reena Dutta).
That incident was part of our lives too as he is very close to Charlotte.
We would be worried about him. He would sit up the whole night and drink an entire bottle of Bacardi. I would be with him and he would talk non-stop about whatever had happened.
I told him to reduce his drinking because he told me that when Guru Dutt was going through tough times, his friends were around him. He committed suicide when he was in that inebriated state.
I was very upset and told him I don't want to listen to this kind of talk.
I told him this is not how I see you ending up and we will not let this happen to you. I will not stand there and watch you fall.
The next day Aamir told me he had thought about what I said, and I was right.
I still remember we were standing at the main door of his house; he had come to see me out as was his habit.
I recited the lines from the famous song from Amar Prem:

Kuch toh log kahenge, logon ka kam hain kehna
Chhodo bekar ki baton mein kahin bit naa jaye raina
Tu kaun hai, tera naam hain kya, Sita bhi yaha badanam hui
Fir kyun sansar kee baton se bhig gaye tere Naina

Reena was a dear friend and an awesome person, but we were never very close.
She is a fantastic mother. She was professional. I have yet to meet a better producer. She is warm and affectionate; there is no negativity at all.

Every family has problems. Aamir is not a superman, so he struggled a lot.
'Kiran has been a very patient wife. She deserves a Nobel Prize'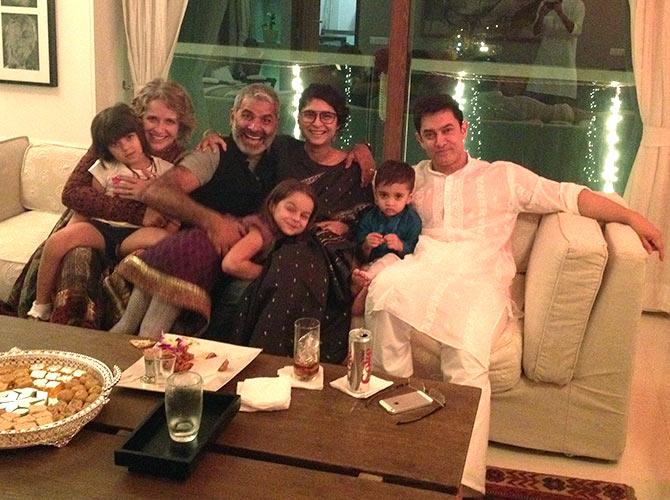 Image: Amin Hajee with wife Charlotte and kids Summer and Sky and Aamir Khan with wife Kiran Rao and son Azad.
Aamir has strong willpower, and his work helped him to come out of his problems.
When the break-up happened, he was getting ready for Mangal Pandey. He immersed himself in his work.
Aamir is work-driven. Even if he has high temperature, he will be there for the shoot.
The most important thing in his life is his work; even family functions and friends are secondary if he is working. He cannot multi-task.
Kiran has been a very patient wife. She deserves a Nobel Prize.
She puts up with Aamir's idiosyncrasies. He has quite a few quirks like his obsession for work. He is not driven by the need for success, but he wants to give his best.
Kiran understands Aamir well. She knows what it is to be Mrs Aamir Khan. She has put her own career and her own dreams on hold. She is waiting as Aamir is completing his dream.
She is a great homemaker, friend, lovely wife, secretary, superb mother. They make a good team.
After Azad came into their lives, Aamir has become a calmer person.
Sometimes he has no time to be with Azad because by the time he comes home, Azad is asleep, and when he wakes up, Azad is in school.
Kiran was in Germany for a week once and Aamir took care of Azad -- took him to school, brought him back -- he took off from everything.
I am trying to direct my first film. When Aamir heard about that he came to my house in Mumbai and told me how happy he was. He came at 11:30 at night and was there till 1:30.
Aamir is very close to Junaid and Ira (his children by his first wife). He loves them a lot even though he does not get much time with them.

'Aamir is crazy, after some time his pranks are not funny'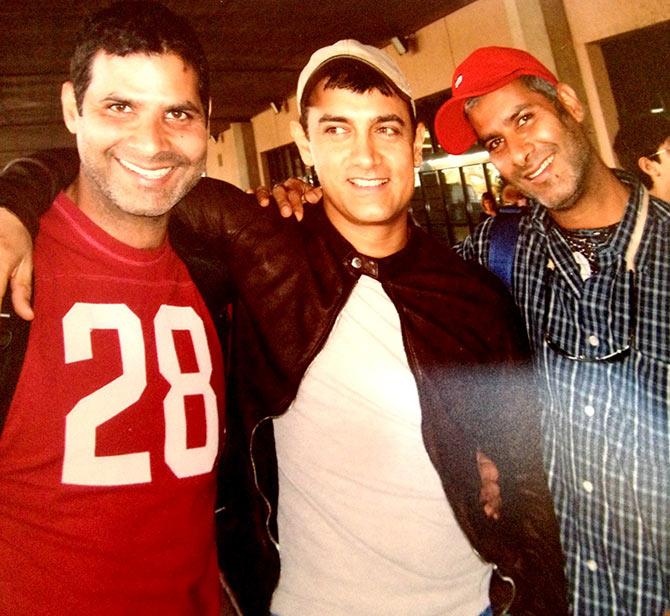 Image: Amin, Aamir Khan and Karim Hajee.
He is a prankster. If Charlotte and I are having a fight, he will add fuel to the fire.

Once he called 75 people to watch the screening of a film at Film City in Goregaon (another north-west Mumbai suburb). He told me to go there and stand with a board that said 'April Fool banaya'.
I refused to go so he sent his secretary. But there were batata vadas and samosas for the guests.
If he is invited for a party with a tuxedo as the dress code, he will go in shorts.
Once, for a live online chat on camera, he told me to sit in for him. People abused me until he came 15 minutes later. People were so excited that the chat crashed and we had to go to their office in Worli.
If you are in a hurry to leave for a meeting, he will hide your bag or your phone and then start searching for it with you.
Aamir is crazy, after some time his pranks are not funny. Sometimes I find his humour sadistic. Still, he will be my best friend forever.