In March 1972, The Godfather was first screened in a New York theatre.
The movies were never the same again.
46 years later, longtime Rediff movie critic Raja Sen reveals why that film means that much, and how it led him to a unique tribute.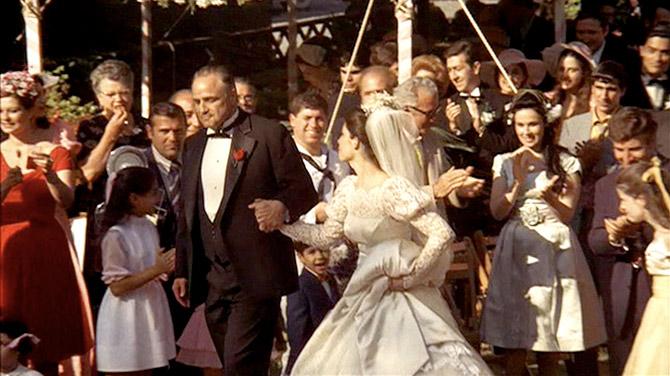 IMAGE: Marlon Brando as Don Vito Corleone at his daughter Connie (Talia Shire)'s wedding in this scene from The Godfather.
I desperately wanted to eat a cannoli.
First, however, I had to find out what in the world a cannoli was.
My father's hurried explanation, meant to shush nine-year-old me so the cassette would not have to be paused -- "Something to eat" -- did not sit well with me, especially considering the importance of the scene.
The wind was blowing, reeds were dancing, and a man sitting in a black car had just been killed with remarkably little fuss.
All while a stout, taciturn man relieved himself a few steps away. The round man returned to the car, pleased to see the shooting had gone well, and instructed: "Leave the gun, take the cannoli."
It was roughly 15 years after first watching this scene -- one that I have since studied like a textbook -- that a friend and colleague, Aseem Chhabra, took me to a New York bakery called Veniero's, an Italian family-owned store, in operation since 1894.
Their cannoli is absolute legend, crunchy pastry dough rolled into a cigar-like tube and filled with sweet cream and ricotta cheese.
It is a work of pastry art, and as my first cannoli crumbled under my teeth and flooded my mouth, I finally realised the wisdom of the words in the film, and why this could not possibly have been left behind.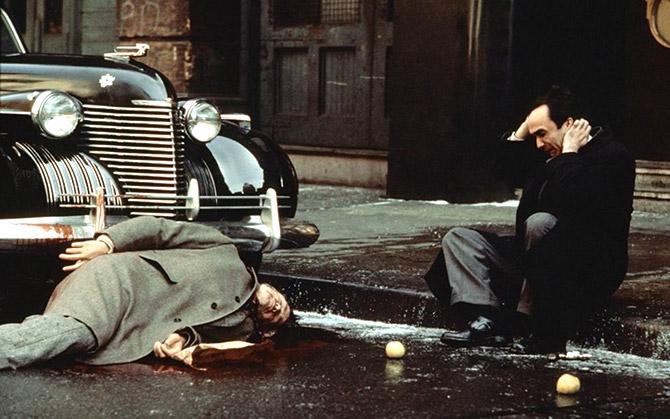 IMAGE: John Cazale as Fredo Corleone weeps in this moving scene from The Godfather.
Has there ever been a film larger than The Godfather?
Every line, every scene, every shadow has been mythologised, and rightfully so.
This is a film that has been memorised, quoted, slavishly imitated and feebly mimicked.
Francis Ford Coppola's 1972 masterpiece is the cinematic equivalent of The Bible, revered and analysed and placed on a pedestal so high other films dare not come close, but bask merely in its shadow, one that is so long that the film's influence is hard to measure.
It is a film that became a figurehead for a new wave of cinema, giving other directors something to aspire to and build around, and we are still poring over its genius.
This is, blow for blow, the heavyweight champion.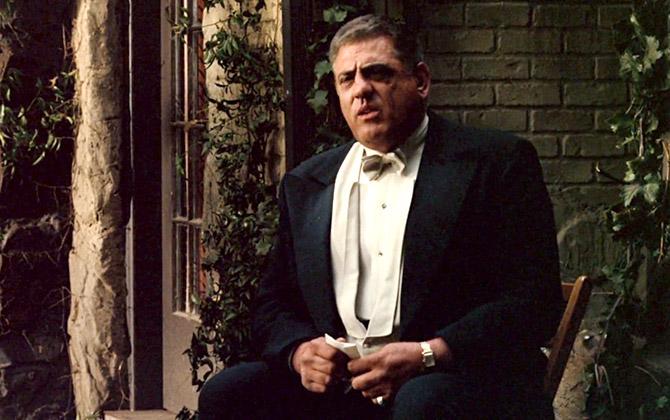 IMAGE: Lenny Montana played Luca Brasi, the Godfather's most feared hitman, with appropriate menace.
Every inch of The Godfather is iconic.
The great Stanley Kubrick said it had the best cast ever assembled and was 'possibly the greatest movie ever made.'
On a very distant other end of the spectrum, real-life mafioso started using words and phrases from the film, most notably calling a mob boss "Godfather," and saying 'offer you can't refuse.'
Seeing how effective Marlon Brando's thoughtful Don Corleone was in the film, a few crime bosses began to speak like him, slowly and deliberately. With words that meant something.
Take a moment to think about that: It is a movie that made actual gangsters want to philosophise out loud.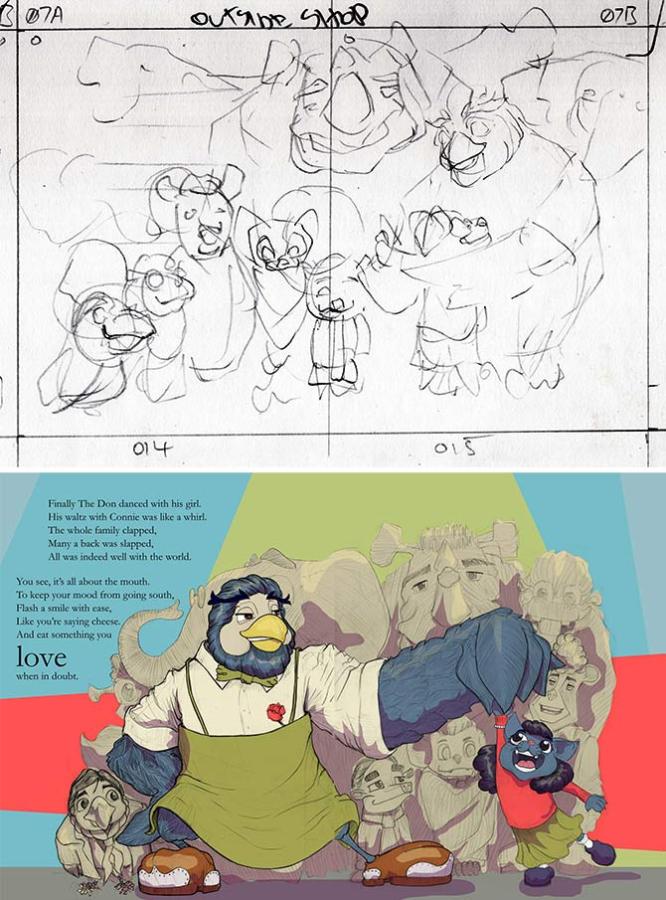 IMAGES: Illustrations from The Best Baker In The World.
As someone who reviews movies and loves them deeply, I consider great cinema high art. And I have always felt that the drama and characters in something as immortal as The Godfather are -- like the creations of Shakespeare -- well suited to being adapted into an entirely different context, a new world.
Which is where I found the idea to retell The Godfather for children.
An innocent and wholesome picture book, written in limericks, meant to be read out loud to little ones who are far too young to watch the film.
What could be farther from the original?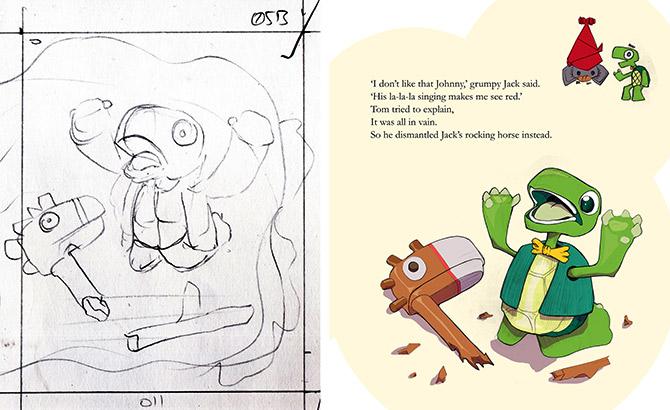 >IMAGES: Illustrations from The Best Baker In The World.
Also, what could be a greater challenge than making that particular film -- one with severed horse-heads and massacred sons -- cuddly?
The idea is to take out all the death and violence and blood and yet try to maintain the drama and the moments we worship.
In a children's book, in the right context and with the right build, the unexpected popping of a balloon can have the same emotional and narrative heft as an assassination.
In my book The Best Baker In The World, Francis Ford Coppola's classic has been transposed to a small and friendly neighbourhood with a very popular pastry chef.
Just like The Godfather did people favours with the expectation of a favour in return 'someday', so does my baker give out cakes for free, while saying 'just be nice to me.'
There are lines of dialogue and much symbolism taken directly from the film, and Coppola himself shows up.
Much of the film's most iconic bits have made their way into the book -- some of them rather slyly -- and it has been tremendously fulfilling to pay this tribute.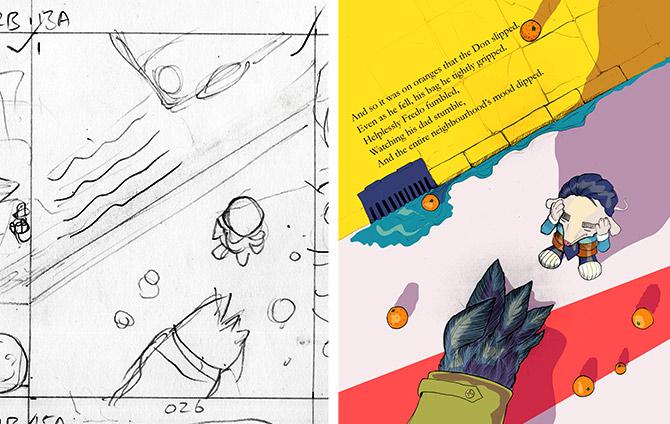 IMAGES: Illustrations from The Best Baker In The World.
I have always wanted to write children's books because of their boundlessness.
Anything goes, and children are the most open minded of readers, accepting concepts and understanding worlds without reality to get in their way.
It is, as Willy Wonka sang, 'A world of pure imagination.'
In this book, for example, the characters are all animals and birds, but they are defined by personality, instead of birth: The younger son Michael is a raven (who likes his chocolate dark) while the eldest son Sonny is a bear (with very big feet).
These are concepts children embrace much more instinctively than adults.
The Best Baker In The World is out now in bookstores and Web sites near you, and I daresay it is worth a look simply for the gorgeous illustrations by Vishal K Bharadwaj which accompany my limericks on each page.
The characters do look like their movie counterparts, and many a homage is hidden all over the place.
If you love the film, I hope we can amuse you.
The Godfather is the beginning. This is the first in my series for Puffin books called My First Matinee, which will take mature, R-rated movie masterpieces and set them in a children's world.
Next up: Danny Boyle's visceral 1996 stunner, Trainspotting.
By now you know that I left out the guns, but there is one other change I feel the need to point out: The Corleone family has been renamed for the book.
The baker and his colourful clan are now named Cannoli.
After all these years, I listened to the fat man.