'The real problem that has affected Tarantino's films is not their amorality. On the contrary, it's their misplaced morality.'
'The basic pitches for his movies, off late, tackle such pre-resolved issues, that they don't quite allow his pop-culture sensibilities to hit a crescendo and instead reduces them to trinkets in service of broad movie prototypes.'
'Which means,' says Sreehari Nair, 'that neither history nor cinema triumphs.'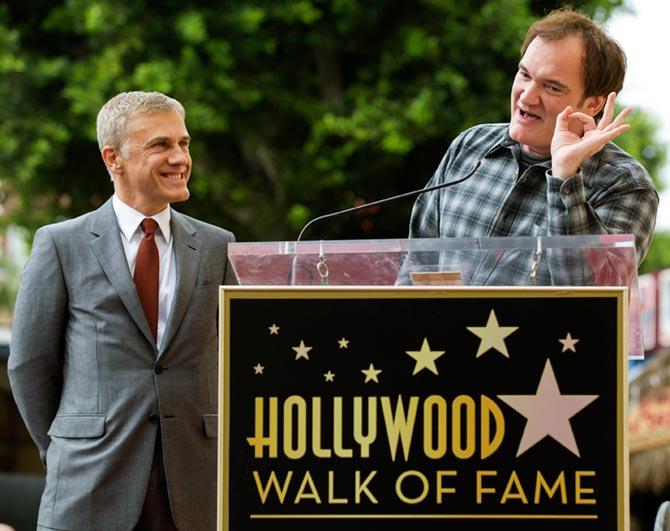 IMAGE: Actor Christoph Waltz watches Quentin Tarantino speak, before unveiling his star on the Walk of Fame in Los Angeles, December 1, 2014. Photograph: Mario Anzuoni/Reuters
In true Internet fashion, online film discussions can turn personal in a matter of few scrolls. On forums and message boards, when a person disses your cinematic heroes or your cinematic sensibility and you don't have an immediate counter to offer, it is common practice to go after the disser's family.
Glanced through the following exchange on the IMDB Message Board for Quentin Tarantino:
<User Handle: HillaryClinton2016>: Why can't Tarantino make a movie that for once isn't set in the Tarantino universe?
<User Handle: purplebear17>: Why can't your mom shampoo your hair, fix you up a hot bubble bath, cook you a nice steak and put you to sleep for a while?
The Charlie Rose Show, 1994. A skinny man in a blue tux and institutional green tie indulges the host in a conversation that you can't switch yourself off from.
He assumes a courtly demeanour when talking about his own picture, but becomes a different person altogether when discussing the films and directors that have shaped his sensibility. We learn from Quentin Tarantino -- the writer, director of the sensation that was Pulp Fiction -- how much of a self-taught filmmaker he is; his cinematic upbringing, a combination of European Art House Cinema and Blaxpoitation films. If you've seen Pulp Fiction, you immediately connect the dots.
While European Art House Cinema had infused in Tarantino's films their narrative and character fluidities, it was Blaxpoitation that gave his pictures (Pulp Fiction and to an extent Reservoir Dogs that came before it) a brute strength that was to sock audiences right between their ears.
On the show, Tarantino goes onto talk about his reverence for the French director Jean-Pierre Melville and his American hero Brian De Palma, about what Jean-Luc Godard meant to him and about the 'exuberance' of Martin Scorsese. He also reveals how the fast-talking in Howards Hawks' movies informs the way his own characters talk, the directorial brilliance of Sergio Leone, and the pure trashy fun that movies such as Switchblade Sisters and the ones by directors like Sam Fuller, offers.
About Tarantino:
Samuel L Jackson about Quentin Tarantino: Quentin will come in and describe a scene to you in terms of 6 different films.
Filmmaker Tara Wood about Quentin Tarantino: Quentin is the most revolutionary, distinctive director of our time.
Spike Lee about Quentin Tarantino: Quentin is infatuated with the N-word. What does he want to be made -- an honorary black man?
Quentin Tarantino about Quentin Tarantino: Quentin isn't doing the writing. Quentin starts it off. Then the characters take over and Quentin has no control over they might or might not do.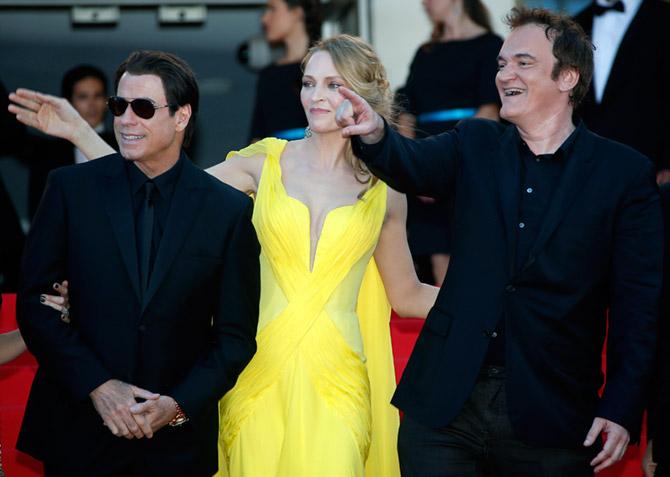 IMAGE: Quentin Tarantino, Uma Thurman and John Travolta at the Cannes Film Festival, May 23, 2014 where their film Pulp Fiction was presented during a special screening for its 20th anniversary. Photograph: Eric Gaillard/Reuters
December 2012. Tarantino, now sporting a baseball cap and palpably casual attire re-appears on the Charlie Rose Show -- this time to promote his then-due-for-release Django Unchained. The conversation is still bloody interesting but something about the man has changed. The animated persona is intact, but his vaporous, nervous energy has now been replaced by a facade that's part professor-like and part motivational speaker-like.
This time Tarantino is all for thrash. Godard doesn't matter to him anymore neither does De Palma, his despise for John Ford is all too evident as is his growing love for a quasi-fascist filmmaker like Sergio Corbucci. And you're okay with all of that; Tarantino acting like a big purveyor of trash. But what really hurts is the parallel that you can draw between his changing sensibilities and the films he has made in the interim.
Jackie Brown. Post Pulp Fiction, Tarantino made one of the most daring choices of career; taking Elmore Leonard's novel Rum Punch and making a slow-burn, intense character-study out of it. Jackie Brown was perhaps the film that Tarantino loyalists were least expecting after a knockout punch like Pulp Fiction, but come to think of it, it was a more courageous film.
A film that mixed grime with genuine tenderness, Jackie Brown moved at its own pace and was suffused with characters that didn't just stop to deliver punchlines but also worried about 'getting their business done.'
IMAGE: Quentin Tarantino with the cast of Django Unchained, Samuel L Jackson, left, Kerry Washington, Jamie Foxx and Christoph Waltz in Berlin, January 8, 2013. Potograph: Tobias Schwarz/Reuters
If Pulp Fiction was the high-point of Tarantino's career, Jackie Brown was perhaps the tipping point. For what you see in his recent films like Kill Bill, Inglourious Basterds and Django Unchained, is a man who had mastered triviality but let go off the poetry that made these trivialities so memorable.
What the French New Wave filmmakers often did was take banal American novels and read the poetry that existed between the lines. It's the exact sensibility that marked Tarantino's Pulp Fiction, Jackie Brown and Reservoir Dogs. But now all that Tarantino does is take banal novels and read the lines out loud.
Trash superimposed on trash. The loud reading of the lines has become Tarantino's definition of 'reading the poetry between the lines.'
From the numerous trailers and clips of Tarantino's newest offering The Hateful Eight (due to release on December 25, 2015):
Samuel L Jackson's character introducing Kurt Russell's character as Kurt Russell looks on, appreciatively: They call him 'The Hangman'.
Kurt Russell's character introducing Jennifer Jason Leigh's character as Jennifer Jason Leigh looks around, bored: This is Daisy Domergue. She is wanted 'Dead or Alive' for murder.
Chris Mannix's character introducing Bruce Dern's character as Bruce Dern looks up, clueless: Cut my legs and call me shorty, is that General Standford Smithers I see?
Look up the exchanges above on YouTube and play them to yourself in neutral mode. Post that, revisit, the opening scene of Inglourious Basterds (a scene that Tarantino fanboys hold up as an example of his growth). Perhaps you can try re-watching the 'Superman Speech' in Kill Bill.
The truth is none of these sequences quite work like the 'The Breakfast' or the 'The Gold Watch' sequences in Pulp Fiction, 'The Sicilian' scene in True Romance (which Tarantino wrote) or the final meeting between Jackie and Max in Jackie Brown.
And that's because, the irreverence, the lack of equilibrium and the looseness that was once, such a big part of Tarantino's aesthetics -- which stemmed from his almost child-like love for cinema -- has now been replaced with an adult's firm hand.
Now, even when he attempts to say 'rewrite history,' you can sense the calculations, you can feel the apology. It's not the apology that a child who doesn't know enough would tender, but the kind that an adult who knows too much, would.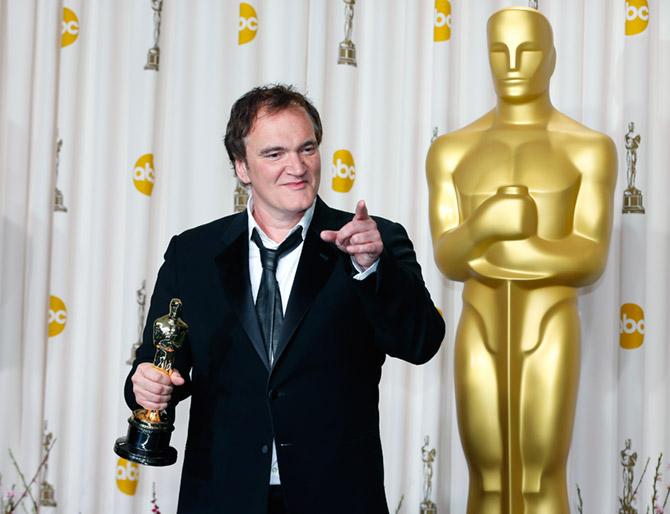 IMAGE: Quentin Tarantino with his Oscar for Best Original Screenplay for Django Unchained at the 85th Academy Awards, February 24, 2013. Photograph: Mike Blake/Reuters
What Tarantino thinks of as 'the act of letting his characters take over' is just Tarantino writing different versions of himself. And what do these characters do? They engage in verbal posturing and try to outspeak each other till we are led to the simplistic Good vs Evil fights that he is setting up for us.
It was the sheer pointlessness of his earlier bizarrely brilliant sequences that lent Tarantino's finest works, a sexy casualness -- which is an attribute that is sorely missing from his recent movies that are all 'shaped' to give us that final bloody showdown, festooned with a high-school moral lesson.
Also, earlier, what was so cool about Tarantino ripping off stuff from other sources was that, back then he was still using them to create his personal literature. When Tarantino ripped off stuff in his first three films, he still found a way to make those rip-offs his own. And weirdly enough, a great amount of moral complexity got translated in the process -- thereby enriching the stories he was trying to tell.
Now, though, it's just one big homage-circus in search of blood. The Bruce Lee Outfit, the Obscure Director and Actor Names, the Music references, the TV Show references, the Fast-Food Joint references, the Poster on the Wall references -- it's a tapestry of endless winks.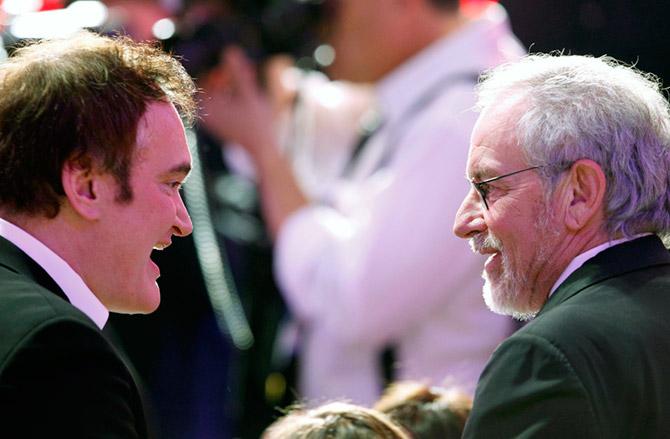 IMAGE: Steven Spielberg, right, with Quentin Tarantino at the 16th Critics' Choice Movie Awards, January 14, 2011. Photograph: Mario Anzuoni/Reuters
When I hear detractors of Tarantino constantly cribbing about the growing violence or the usage of the N-word in his films, I think they're missing the point. In the course, they're giving the man an almost oblique angle to defend his films -- the point being that you can't curb his artistic instincts.
I think the real problem that has affected Tarantino's films is not their amorality. On the contrary, it's their misplaced morality.
The basic pitches for his movies, off late, tackle such pre-resolved issues, that they don't quite allow his pop-culture sensibilities to hit a crescendo and instead reduces them to trinkets in service of broad movie prototypes.
Which means that neither history nor cinema triumphs. And the only real winner in Tarantino talking about himself in third person, saying stuff like: 'Django Unchained is Quentin's attempt to truly empower the Black American male.'
At that precise moment, you can sense no difference between Quentin Tarantino and that beauty contestant who talks about making the world a better place. It's all floating weeds and no debris.
Chapter 1: Death
I want to go in and watch The Hateful Eight with all my best wishes in place. However, if the trailers and the clips are anything to go by (Will they sue me if I confess to also having read the first draft?) it all looks and sounds, a tad tiresome.
The external cinematography is just gorgeous, too gorgeous -- you know the kind of gorgeousness that can depress you?
Also the chamber-play elements in the film with characters introducing one another and the typical Tarantino-cockishness-trying-to-sound-like-smartness dialogues, mixed with a setting that clearly doesn't really need a 70 mm release, all seem to be asking one question: Is the emphasis, just a little too wrong?
Despite the falling quality of his films, however, it's still a true pleasure to hear Tarantino talk about cinema and the power of cinema.
Like when he rambles on about how 'the page' is so important to him, it has enough octanes to inspire any aspiring screenwriter to take to the pen and start scribbling.
Or when he narrates a film-going experience from his childhood, you can literally see his eyes twinkle.
When he talks about the sub-textual analyses he writes about the directors he loves, it gets wretched writers like this one to come up with wretched pieces like the one you are reading.
For all that, we should be thankful to the man.
However, while he has become a raconteur of the highest order, the fact of the matter is, Quentin Tarantino's films have become progressively less interesting, more apologetic and drabber.
The aching truth is that the little boy who once played with GI-Joes in his bedroom and assigned them different character names and character-talks from the movies he'd watch has today grown up to be a man purely in love with his own voice.