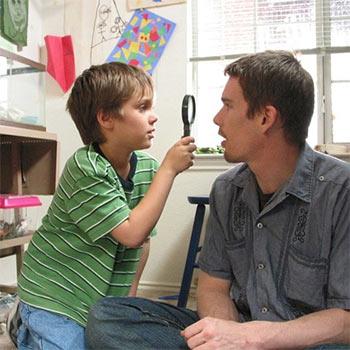 In Boyhood, I saw the father that I had been to my son: Not always perfect, but never giving up on the child I helped to bring to this world, says Aseem Chhabra.
Early one morning, in 2008, I was traveling in a bus going crosstown on Manhattan's 23rd Street heading to my son's school. I was lost in thought when I suddenly heard a commotion at the back of the nearly empty bus.
I looked up and saw a man in his 30s pulling his two children, while they dragged their backpacks. By the time it registered in my mind that the man was Ethan Hawke, the bus stopped and he jumped off with the kids.
Several thoughts ran through my mind. Those were Hawke's kids with his first wife Uma Thurman. The couple divorced in 2005.
Image: Ellar Coltrane and Ethan Hawke in Boyhood.
It was the first time I had seen a Hollywood personality in his most real, natural self. This Ethan Hawke was not the star, the actor we knew from his films. This was a harried, stressed out man, a parent, a father simply trying his best to get his kids to school in time.
I have thought of that moment often and especially during the three times I have seen Richard Linklater's much celebrated film and now the top Golden Globe winner Boyhood.
In the film -- 12 years in the life of a child who grows up to be a teenager -- Hawke plays Mason Sr, a divorced father of a boy and a girl, who takes off time from parenting and briefly goes to Alaska.
Meanwhile, his ex-wife Olivia (a deeply moving portrayal by Golden Globe winner Patricia Arquette) is a single mom, juggling jobs, schools and often ending up in really bad relationships, including one difficult abusive marriage to an alcoholic man.
And here is what makes Boyhood such a unique film.
Both Mason Sr and Olivia are well-etched characters. They are good caring parents, but they are also experimenting with life, trying to figure out what they want to be when they grow up. As the film tells us, the two were young parents, and were divorced by the time they turned 23.
In accepting his best director Golden Globe, Linklater said: 'We are all flawed. No one's perfect!'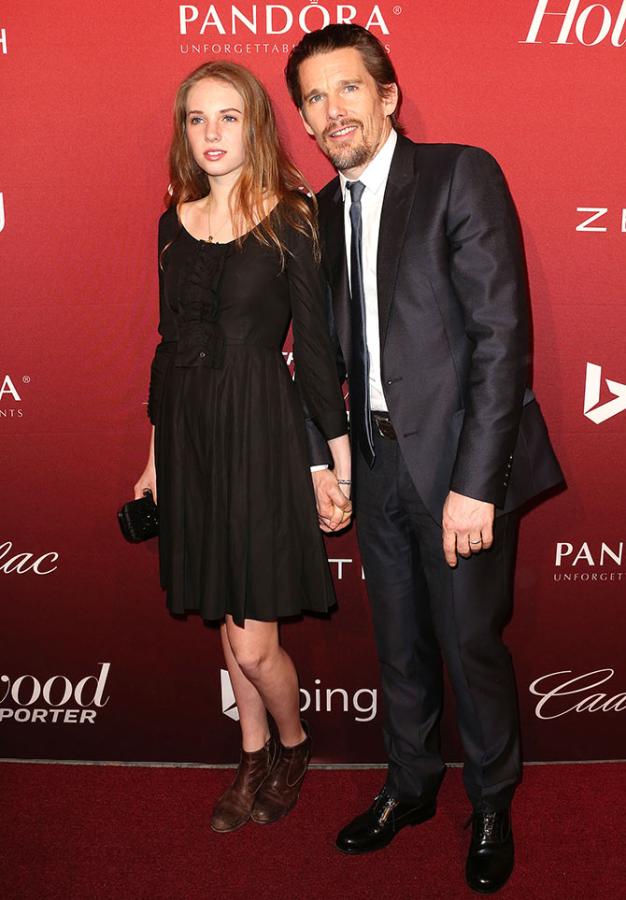 Image: Ethan Hawke with his daughter Maya Thurman-Hawke in February 2014. Photograph: Frederick M Brown/Getty Images
That in essence is the main theme of Boyhood. This and the fact that most children are resilient and they manage to find their own space even when they do not have the most perfect living situation.
The boy in Boyhood, Mason Jr (played by Ellar Coltrane from the ages of six to 18) just grows up, as does his older sister Samantha (director Linklater's daughter Lorelie Linklater). They go through their own ups and downs in life -- the struggle to make new friends as their mother shifts cities and neighborhoods, and the the pressures of teenage years.
Nothing major happens in Boyhood.
There are no car crashes; no one dies of cancer or any other illness.
Somehow the 12 years, reflected in nearly three hours of film time pass through smoothly. We transition through 12 years of fashions, hairstyles, music, video games and even political landscapes -- from the presidency of George W Bush to the election of Barack Obama. And through this, all we watch Mason Jr and Samantha turn out to be thoughtful and well balanced children.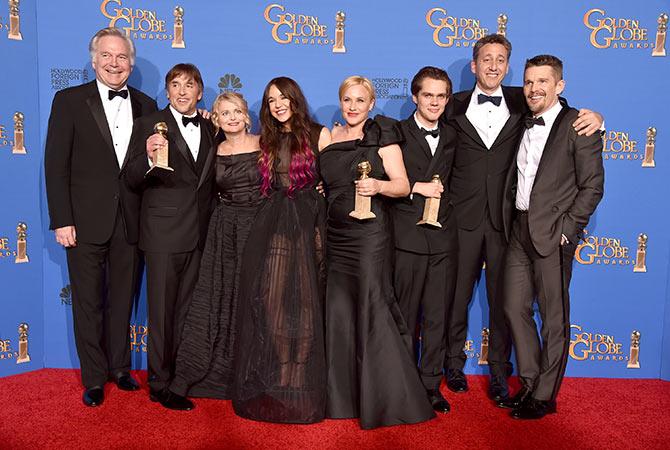 Image: Producer Jonathan Sehring, director Richard Linklater, actress Lorelei Linklater, producer Cathleen Sutherland, actors Patricia Arquette and Ellar Coltrane, producer John Sloss and Ethan Hawke at the Golden Globes 2015. Photograph: Kevin Winter/Getty Images
As a divorced father myself, I can empathise with the lives of Olivia and Mason Sr. So much of my own life experiences resonate with what the two of them go through in the film.
I especially relate with the Mason Sr character -- sometimes absent father, trying his utmost to stay connected with his children, doing what he believes is good, although for him successes and failures even out. His intentions are noble and his actions come from the right place.
In Mason Sr, I saw the real-life Hawke in the bus doing his utmost to make sure his kids were not late to school. And I saw the father that I had been to my son: Not always perfect, but never giving up on the child I helped to bring to this world.
Many years ago, a friend told me that when children are born, they do not come holding a guidebook on how to raise a child. Overnight parents have to figure out (although sometimes with advice and support) what to do to protect and bring up the children. Most parents somehow manage.
So that is Boyhood: A film, a rare cinematic experiment that Linklater conducted with his actors, crew, and one that was blessed by his farsighted financiers and producers.
Boyhood is also one of the most important and real human documents from Hollywood. It is a piece of art that should stay with us long after the awards season is over.