'While there cannot be any doubt that the national anthem should be shown utmost respect, cinema halls are not the most appropriate places to play the national anthem,' says Mohammad Asim Siddiqui.
Illustration: Dominic Xavier/Rediff.com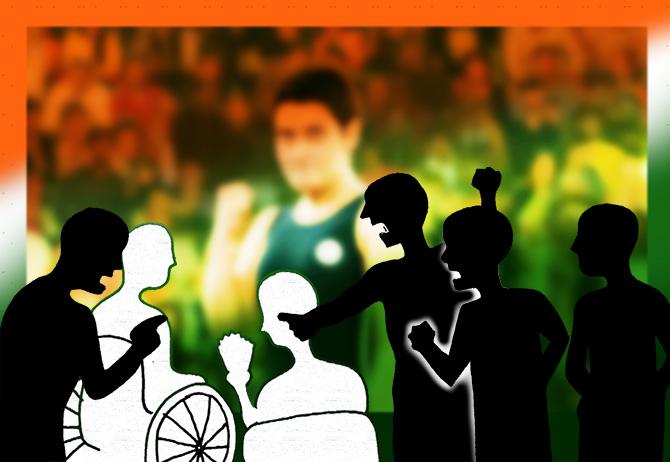 In the climactic scene in Aamir Khan's film Dangal when the instrumental version of the national anthem plays after Geeta wins her closely fought gold medal bout, many in the audience stood up.
The action of a section of the audience unintentionally forced many others also to stand up. Many were confused about what to do in that situation.
Was it necessary to stand up because the national anthem was playing in the film? There was a brief moment of disorder in the cinema hall.
The Supreme Court's recent clarification addresses the issue of standing up when the national anthem is part of the film.
'When the national anthem is sung or played in the storyline of a feature film or as part of the newsreel or documentary, apart from what has been stated in the order dated 30-11-2016, the audience need not stand,' the bench headed by Justice Dipak Misra stated.
This is the second modification in the Supreme Court's position after it issued a clarification on December 9, 2016, making an exception for disabled persons to stand up during the playing of the national anthem.
Many questions still remain unanswered.
Who can ensure that playing the national anthem, whether before the film starts or when it is part of the film, does not provide yet another weapon to some vigilante groups to select their targets?
Almost anyone can be falsely accused for not paying the desired respect to the national anthem.
In the same way who can decide about the nature of disability in the cinema hall?
Disability is not always very visible. One may be disabled without really appearing to be so.
There can also be purely filmic reasons for feeling uneasy about the playing of the national anthem before or during a film.
In today's context Wordsworth's famous lines 'the world is too much with us', can be rewritten as 'the politics is too much with us.'
From your morning newspaper to WhatsApp messages on your smartphone to opinions on Facebook to the shrill voice of news anchors on television channels, is there any escape for a person from politics?
Probably Bollywood's 'mindless cinema' is an option which offers a good escape from politics (That films are not above politics and ideology is another matter).
Our films have been pilloried for their dance and song sequences, for their designer romances, for their celebration of cults of masculinity and for their bias against women.
In all fairness they have managed to keep millions of viewers happy and contented. I have not liked all of Manmohan Desai's films, but there is a lot of sense in his words when he said 'My only interest is to see that I present something fantastic on the screen, something that will make the audience focus all their attention on the screen. My only concern is their everyday problems. My constant efforts are to take people into a world of fantasy where there is no worry, no serious thinking, just fun and entertainment all the way. Who wants to see realism'?
Realism may not be reality, but certainly who does not want to escape reality for a while?
And you don't escape reality if you watch a film on your television screen or your laptop. But yes that conscious decision to spend your hard earned money to go to a cinema hall, watch a film while your mobile is on silent mode, and suspend your disbelief for a while has always been your best bet to escape too much reality.
Manmohan Desai may be dead, but his tradition of masala films has been carried forward by Bollywood.
But it is not only masala films but also films discussing serious issues that can provide a temporary escape from our reality.
At the end of the day all feature films are based on a narrative which has a beginning, middle and end, having the power to command the audiences full attention.
Whether to watch a Rohit Shetty film or maybe more meaningful stuff offered by a Shoojit Sircar film, spectators go to the cinema hall in a particular state of mind.
They go there with friends, with family and probably rarely alone. If film-making is a collaborative venture, film viewing is also an occasion for a get-together.
People go to watch movies in a theatre to lose themselves in a narrative, in a make believe world, in a fictional universe.
Their worries at home, their religious beliefs and their political concerns take a backseat once the filmic narrative takes over, howsoever formulaic it may be.
Undoubtedly, the most secular of all sites, cinema halls induce a particular kind of mood in film spectators where they drop their guard and are ready for some fun.
They are in a mood to entertain themselves to the hilt because they have spent money and are not watching a pirated film on their laptop.
Lost in the narrative, the audience can root for a character who may have entirely different beliefs from them in the film. The success of films like Raees confirms this once more.
While there cannot be any doubt that the national anthem should be shown utmost respect, cinema halls are not the most appropriate places to play the national anthem.
Schools, colleges and universities can do that job admirably.
When film spectators are governed by the entertainment principle, when they are waiting for the entry of their hero or heroine, and in some cases for the item songs, will they show proper respect to the national anthem or will they consider it a ritual to be got over with?
The darkness in the hall together with their eagerness to enjoy their film does not create the right kind of ambience for something as serious as the national anthem.
Playing the national anthem in the cinema hall interferes with the audience's emotional preparedness for the feature film.
Maybe another modification in the Supreme Court order will address this issue.
Mohammad Asim Siddiqui teaches English at Aligarh Muslim University.
Check out his engaging earlier columns in the RELATED LINKS below.