Bollywood doesn't care for the fading star, says Syed Firdaus Ashraf.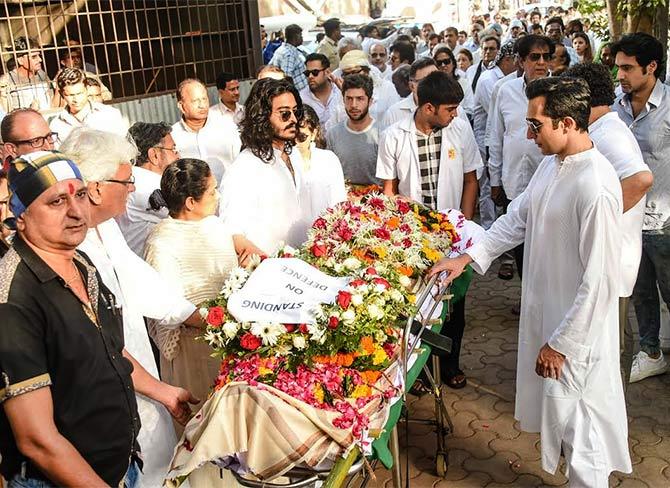 IMAGE: Vinod Khanna's younger son Sakshi, who performed the last rites, with his mother Kavita Khanna, uncle Pramod Khanna, eldest brother Rahul Khanna and other mourners. Photograph: Pradeep Bandekar
Actress Uma Devi died on November 24, 2003.
I was about to leave for her funeral, when a photographer friend called to say I was late, the funeral was over, so there was no point in my coming there.
I asked him who had turned up to pay their respects to the veteran actress, whose thriving career spanned from 1950 to 1990.
His answer shocked me: "No one."
Since no celebrity turned up for Uma Devi's funeral, my friend did not shoot any photographs.
Why didn't he, I asked him. Did he also not know of the mark she left on the movie industry in a career spanning more than four decades?
His reply was doused in practicality: "Since no celebrity came for the funeral, no newspaper will buy these pictures so it is not worth the effort."
His words were prophetic. I scanned the newspapers the next day; not a single one carried a photograph of Uma Devi's funeral.
It seemed that no one cared for an artiste who had acted in over 239 films, and who had regaled audiences like few could.
This was pre-Twitter, so one could not even outrage about this except to oneself and to one's close friends.
I remember speaking to her mentor, the legendary composer Naushad Ali, for a tribute feature. Even Naushad could not attend her funeral as the maestro -- then a week away from turning 84 -- was in bad health.
IMAGE: Amitabh Bachchan and Shah Rukh Khan at the funeral of Karan Johar's father, producer Yash Johar. Photograph: Getty Images
A year later, when film producer Yash Johar passed away, the who's who of Bollywood turned up at his funeral.
Shah Rukh Khan, Hrithik Roshan, Rani Mukerji, Juhi Chawla, Preity Zinta... you name them, the reigning kings and queens of Bollywood were there.
I asked another veteran photographer, "In his entire career, Yash Johar produced only nine movies whereas Uma Devi had acted in 239 movies. Yet no one turned up for her funeral, but everyone has come for his. Why?"
His reply: "Karan Johar."
He believed that the stars had not turned up for Yash Johar, the fine man or producer, but for Yash Johar, the father of Karan Johar, Bollywood's 'man of the moment.'
He patiently explained the thumb rule of Bollywood: "Yahaan chadhta suraj ko salaam karte hain, dhalte suraj ko alvida (only the rising sun is worshipped here, not a fading star)."
Since then, I have attended a few funerals of Bollywood celebrities, only to find the truth in the photographer's words being reinforced each time.
At the funeral of the brilliant director Vijay Anand, no young Bollywood actor turned up. Only the older generation came to mourn one of their own.
The only actress from the younger generation who was there was Tabu; I suppose because Vijay Anand's elder brother, Dev Anand, had given her a break in Hum Naujawan.
Vijay Anand's body of work, it seemed, meant nothing to the young actors of Bollywood.
In 2013, when Priyanka Chopra's father Dr Ashok Chopra passed way, many young Bollywood actors had turned up for his funeral.
Shah Rukh Khan, Ranbir Kapoor, Ranveer Singh, Deepika Padukone, Shahid Kapoor... they were all there.
I realised that no one had turned up for Dr Chopra, the person; they were there for Bollywood's reigning diva Priyanka Chopra's father.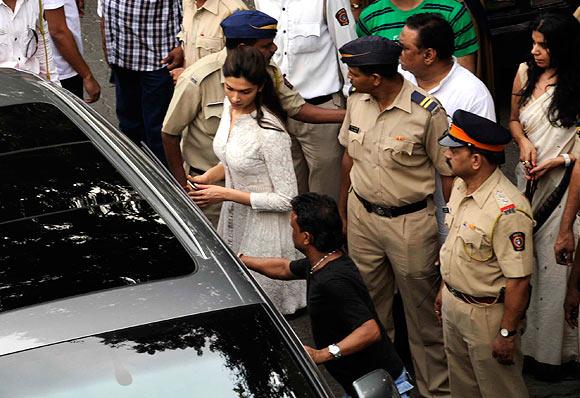 IMAGE: Deepika Padukone at Yash Chopra's funeral. Photograph: Pradeep Bandekar
A year prior to that, in 2012, when director Yash Chopra passed away, all the young stars made it to the funeral.
Even someone who had not acted in a Yash Raj film like Deepika Padukone was there.
I thought his elder son Aditya Chopra was then the reigning monarch of Bollywood, so how could one not turn up for his father's funeral?
Some years later, when I saw the Hollywood classic Sunset Boulevard, I realised how cruel life can be for celebrities when their stardom fades away.
They want to be in the limelight forever, but fans and show business cruelly dumps them once their glory days are over.
Director Guru Dutt's 1959 classic Kaagaz Ke Phool portrays this bitter truth about how the film industry casts you away in the dust bin of history once the limelight fades.
Tellingly, the film was a disaster at the box office.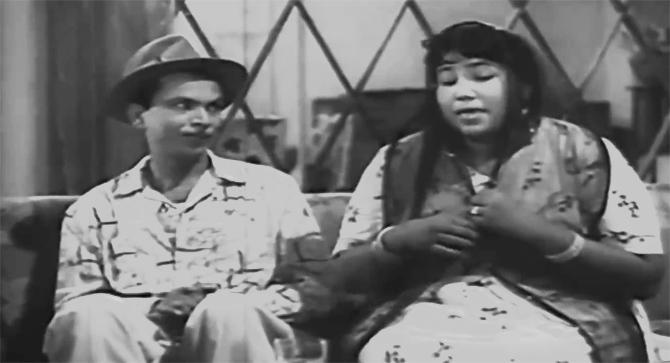 IMAGE: Johnny Walker and Tun Tun in Mujrim.
To return to the beginning of this feature, you may wonder why you have never heard of an actress called Uma Devi despite the fact that she acted in over 200-odd films?
Well, that's because she was better known as the comic actress, Tun Tun.
She had come to Mumbai to become a singer, but could not get a break as her mentor Naushad felt her voice had a limited range.
She did sing one unforgettable number, Afsana Likh Rahi Hoon in the film, Dard (1947).
Naushad advised her to act, which she agreed to, and that was when Uma Devi became Tun Tun.
For more than 40 years she made everyone laugh, but there was no one to mourn her demise.
This is the way Bollywood functions. A veteran like Rishi Kapoor forgot this when he took to Twitter yesterday.