Starry-eyed Sallu fans, Kajol's biggest secret and Amitabh Bachchan's one-man justice league...
Sukanya Verma's super-filmi week was high on drama.
Monday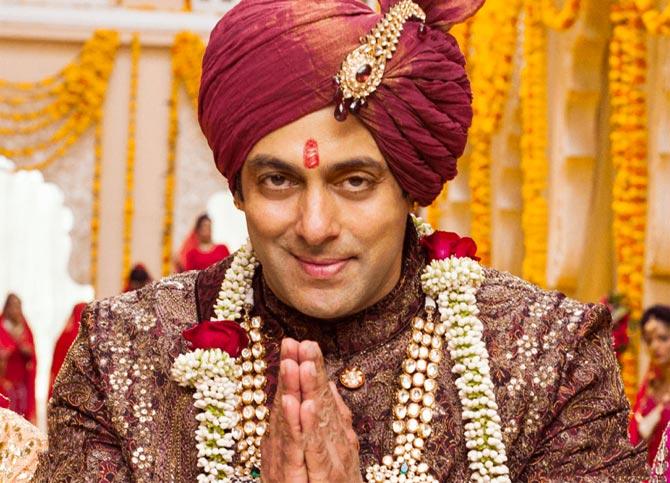 Life wears an extra touch of filmi around me.
It's sort of my identity now, my calling card, my USP, my boon, my bane or so I learn while attending a huge Punjabi wedding in Chandigarh.
There's a convenient description for every relative in a desi family -- the well-meaning aunty concerned with everyone's job/marital/pregnancy/green card status; the omnipresent freeloader; the bigmouth you dare not discuss yesterday's hangover with; the NRI who won't stop making comparisons between here and there... you get the drift.
Mine is the one who could help you meet (insert name as per favourite) Khan.
It's a hilarious notion that continues to gather momentum despite my failure to deliver.
And so as soon as I land on the reception stage to congratulate the dapper groom and his beaming missus, our man demands up front, 'She wants to see Salman Khan.'
Of course, I've got Shera on speed dial, grumbles a sarcastic voice in my head.
I mean, stuff like Ranbir Kapoor in Ajab Prem Ki Gazab Kahani going out of his way to produce Salman before a star struck Katrina Kaif happens only in the movies.
Instead I tell her to go watch Tubelight if it's still running in theatres...
Oh wait, that's not a very bright idea.
But I just love Salman, coos the fangirl bride. I believe her.
Her brand-new better half and his shiny red sherwani look straight out of a Bhai song 'n' dance video.
But you've married your Salman; I console her and wiggle my way out quickly before another relative hounding me for a one on one with Shah Rukh grabs hold.
Tuesday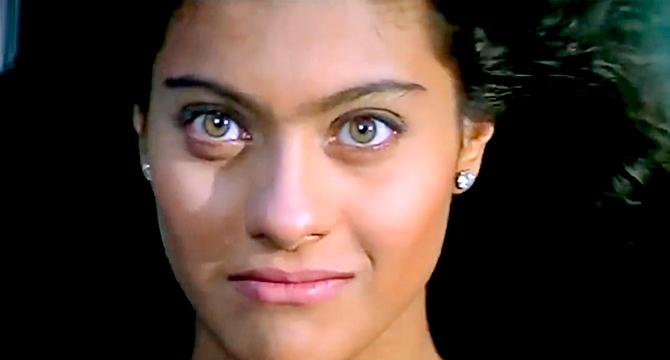 20 years of Gupt today and so many memories.
I was still in college when Rajiv Rai's thriller hit the screens and even dropped by Rediff's erstwhile Grant Road office to meet the light-eyed director.
(You see, unlike me, there are some obliging souls who are only too happy to arrange meetings between fans and celebrities.)
Rai, whose Tridev and Mohra are my all-time favourite masala movies, was yet to arrive for a live chat with readers while I sat on a chair devouring fries and multiple issues of Trade Guide.
I don't know if it's the fries but I began feeling sick all of a sudden and had to leave in a rush.
Anyway, Gupt came out and took the audience by storm.
I rushed after college and patiently stood in a long, pre-bookmyshow days queue outside Topiwala theatre, but the window closed down just before my turn.
With housefull boards everywhere, I ultimately saw it in black for five hundred bucks.
In 1997, it was considered a luxury, akin to buying an iPhone.
It was well worth it. I loved the film, its shocking climax and Kajol's deliciously wicked portrayal of it.
The killer's identity became the talking point of Gupt.
At college, friends would jokingly threaten to give away the spoiler if one didn't pander to their wishes until one day the wall of a public loo announced, 'Kajol is the killer.'
Wednesday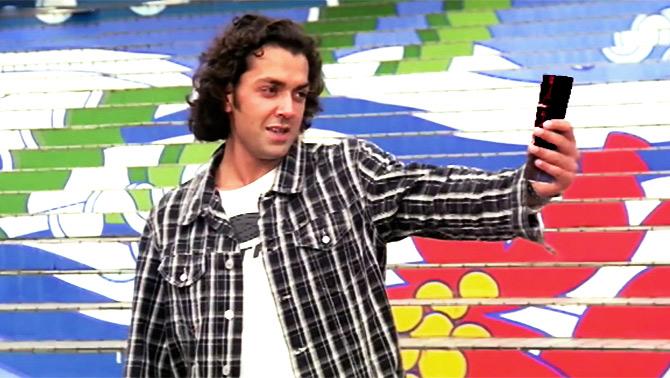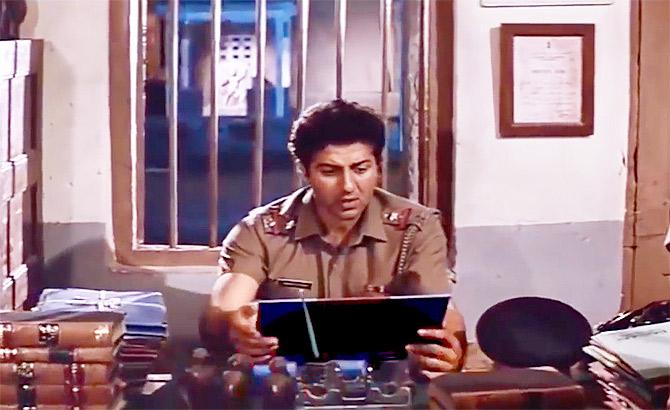 Realisation of the day: I am a technology slave.
To the extent that I mistook that picture of Aishwarya Rai in Bobby Deol's hand for a smartphone (Aur Pyar Ho Gaya) and the bulky file his big brother Sunny is browsing through for a laptop (Tridev).
In my defence, isn't that what they'd be holding if the said scenes were shot today?
Thursday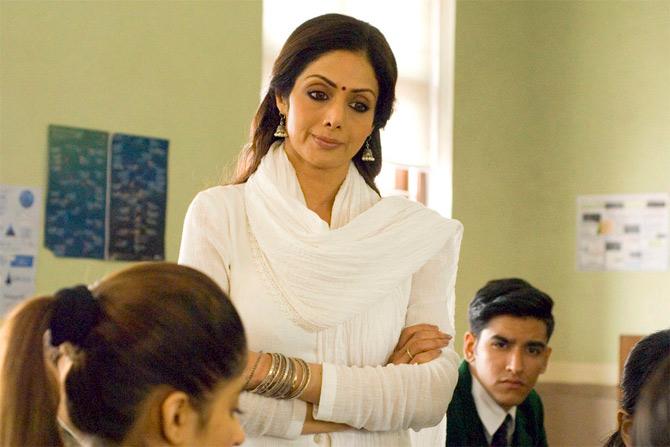 Whether I am in Mumbai or Delhi, my traffic woes never end.
Royally late for the Mom press show in Daryaganj, I can't stop feeling thankful about film-related events never starting on time.
Despite the film's problematic ideas of fair play and disproportion in sentiment, I bought in Sridevi's revenge and contrivances.
She made it easy for me to believe that she's shrewd enough to come up with devious schemes and cold enough to execute them.
Like I wrote in my review, 'The woman is a master of expressivity. Her face quavers in shock, her body tangles in anger, her eyes swing in pain and her voice knows no inhibition whether screaming in terror, crying in confusion, exuding warmth or demanding payback.'
I hope Mom makes money and we are treated to another Sri vehicle ASAP.
Friday
Rishtey main toh hum tumhare baap hote hain -- naam hai Shahenshah.
The Amitabh Bachchan featuring one of his most quoted dialogues is playing on cable, final 30 minutes, actually.
Most of the action takes place in and around a courtroom. Like most '80s drama of that time, it's terribly overwrought and bombastic.
You have Big B spouting lines like 'Yeh toh ek kafan hai jo tumhari zameer ki laash ne pahen rakha hai', referring to a corrupt cop's uniform or 'Aaj hum tumhare andar chhupe hue tamam kaale kutte nikaal kar tumhara gosht nochne ke liye tumhi pe chhod denge' to threaten bad guy Amrish Puri or reprimanding the judge with 'Iske chehre pe jo jhuriyan padi hain, woh aapke faisle ke chabook ke nishaan hain'.
But the funniest thing is the villain's lawyer Goga Kapoor pointing a machine gun at the judge to prove how his client was intimidated into false testimony and facilitates Amrish Puri's release.
A few minutes later, AB, after rendering all that righteous gyaan, adopts the same method and fatally pressurises Puri to confess to his crimes.
Saturday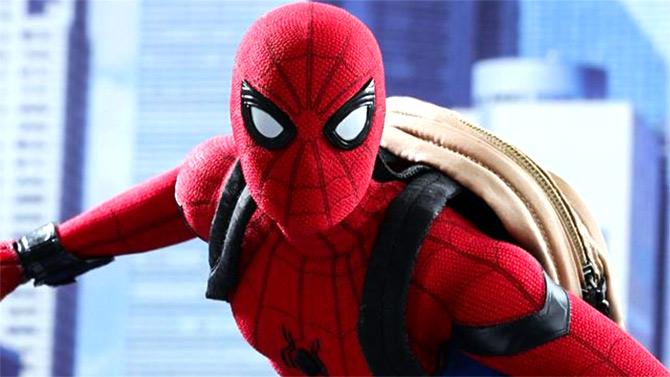 At PVR's swish Logix theatre to watch ,strong>Spider-Man: Homecoming,, I notice the percentage of kids in the audience is pleasantly high.
As unruly they can be, it's nice to have folks discovering 'friendly neighbourhood' at the same age as you.
The second reboot offers a fresh, zesty take around the high school dynamic of the young superhero, but the film feels a bit slow in parts and the action ranges between lacklustre and tedious. Especially the climax.
Both Tom Holland and Michael Keaton are super, but the ease with which Keaton figures out Holland's identity is a complete bummer.
As are the two post-end credit scenes.
Unsure if Spidey has any, I quickly text my friend to ask.
He confirms in affirmative and asks me to share my reaction after the second post-end credits scene.
Let's just say, there's no emoji that perfectly conveys the amused, frustrated, expletive-ready look on my face yet.
Sunday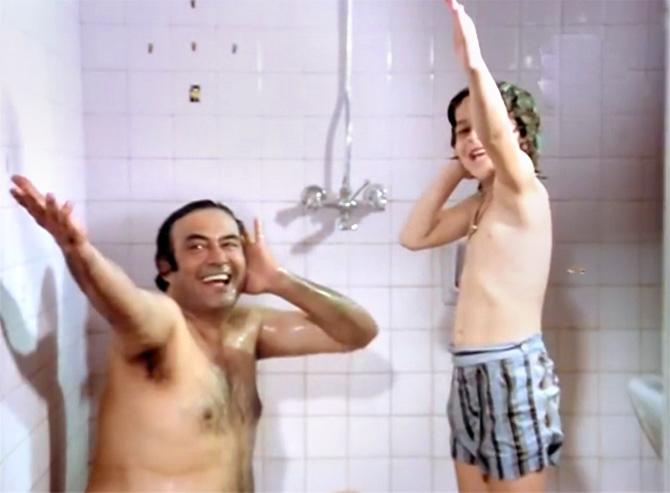 Happy Birthday, Sanjeev Kumar.
More than three decades since his passing, but the legendary actor cast such a lifelong impression, it stays put in memory.
And why not? He's worked in a variety of movies and roles, slipped seamlessly in any set up or sensibility, era or decade, getup or genre that it's easy to celebrate but impossible to label him.
Roles he'd probably be suited to play today, he enacted with utmost conviction in his 30s.
Some of my favourite performances of his include Dastak, Aandhi, Mausam, Angoor, Silsila, Grihpravesh, Koshish, Sholay, Trishul and Shatranj Ke Khiladi.
But my first and lasting memory of the actor is quite goofy -- the classic bathroom song in B R Chopra's Pati Patni Aur Woh where he expounds, 'Thande thande paani se nahana chahiye. Gaana aaye ya naa aaye gaana chahiye.'
Truer words were never spoken.