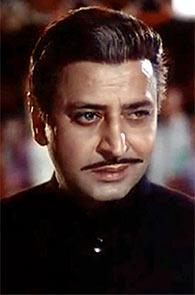 Pran lived a full life, entertaining and scaring the hell out of many people, writes Aseem Chhabra, in his tribute to the legendary actor who passed away on July 12.
Nearly an hour into Hrishikesh Mukherjee's delightful Guddi, Kusum (played with tremendous innocence and charm by Jaya Bhaduri) is taken to a film shoot by her uncle and Navin -- her sister-in-law's brother (Samit Bhanja). The plan is to get Kusum to understand the difference between what she sees on the screen and real life.

As they sit with Kusum's heartthrob, Dharmendra, actor Pran walks up to the group. Dharmendra does a round of introductions after which he looks at the watch Pran is wearing. "It's a beautiful watch," Dharmendra says. Pran at once insists on gifting the watch to Dharmendra.

Kusum is shocked. "Don't take anything from him," she tells Dharmendra after Pran leaves the group. "He always has some ulterior motive." Dharmendra laughs at her comment, and adds that Pran is one of the nicest persons in film industry.

"Our industry is strange," he says. "They make an honest man (he points towards Pran) a villain. And then someone like me becomes a hero."

It is easy to laugh at Kusum's comments as naïve and simple, but Mukherjee was so right in making a film like Guddi. Cinema -- especially Indian films -- have such a massive impact on our lives. Indians live and breath cinema and many find it very hard to differentiate between real life and what they see in films, especially when it comes to the on-screen personas of their favorite actors.

Pran or Pransaab, as he was known in the industry, had the opposite affect on movie fans. When I was a kid and even a teenager, I was afraid of Pran.

Perhaps it was when I saw Ram Aur Shyam (1967) in a theatre. Pran played a mean monster in it -- the evil brother-in-law of Ram (Dilip Kumar). This is what I remember of that film: at the slightest excuse Pran's Gajendra would pull out a whip and beat-up the poor Ram. Eventually, Ram runs away from home and quite by accident switches place with his long lost twin Shyam, who is sharper, smarter and will not take any nonsense from Gajendra.
Ram Aur Shyam, Dil Diya Dard Liya (1966), Jis Desh Main Ganga Behti Hai (1960), in which Pran played the mean Raka Dakku and other films of 1960s now seem very over-the-top and unreal. But that was the only cinema I was watching as a kid and these films haunted me.
Pran's take on villains was unique. He had a loud, menacing and scary voice, all the while he appeared suave, often well dressed and cultured (as in Raj Kapoor's Bobby). There were many other actors who played creepy villains in Hindi cinema -- KN Singh, Ajit, Prem Chopra, Shatrughan Singh, Ranjit, Amrish Puri, but Pran was the king of villains. The characters he created ruled the dark side of Hindi cinema narrative, until perhaps when Salim-Javed created the ultimate villains of villain for all times -- Gabbar Singh in Ramesh Sippy's Sholay.
As we moved through the 1970s and 1980s, the definition of villains evolved. Pran himself was transforming himself -- successfully breaking from being typecast (although he had a long list of crazy villain roles).
I remember everyone talking about Pran's Malang Chacha role in Manoj Kumar's Upkar (1967). It was such a breakthrough performance, a good-hearted man on crutches. Malang Chacha got the best song in the film -- the heartfelt Kasme Waade Pyar Wafa, and Pran won the Filmfare supporting actor award for his career-defining role. He also got the best song, Yari Hai Iman Mera, in Zanzeer (1973), where he played Vijay's (Amitabh Bachchan) good-hearted Pathan friend Sher Khan.
My favourite Pran role would be the conflicted grandfather in Parichay (1972) -- Gulzar's likeable take on Sound of Music. In the film Pran's Raisaab is rather strict with his orphaned grandchildren, and initially he comes across as the same villain he had played in so many films. But to Gulzar's credit (and perhaps also since Rai Sahib's role was tailored after Captain Von Trapp), Pran's Raisaab turned out to be a more nuanced character with all good intentions that we do not associate with villains.
According to imdb.com, Pran acted in over 300 films. Earlier this year the Indian government -- perhaps realising his age and his health condition -- honoured Pran with the Dadasaheb Phalke award in recognition of his huge contribution of many decades to popular Hindi cinema.
Pran lived a full life, entertaining and scaring the hell out of many people. That is not a bad life to live!