What's the difference between Sakshi Mahraj asking beef-eaters to 'leave' and Karan Johar asking Kangana Ranaut to 'leave'?' asks Syed Firdaus Ashraf.
Illustration: Uttam Ghosh/Rediff.com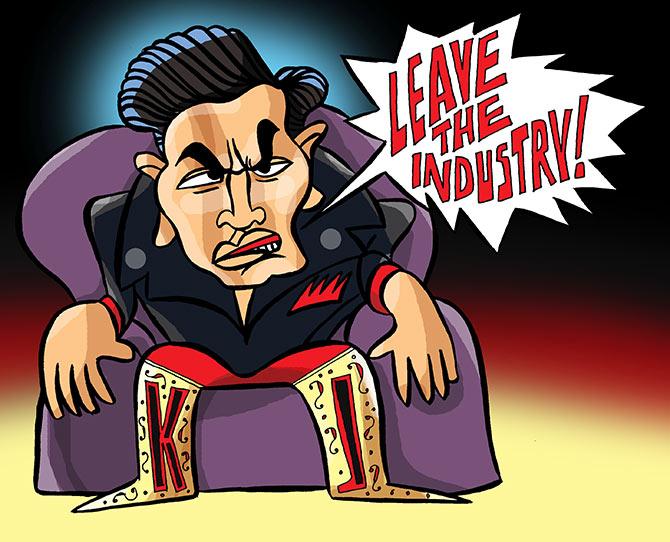 On March 3, 2015, the Devendra Fadnavis government in Maharashtra issued a diktat banning the slaughter and consumption of beef in the state.
The punishment for those caught eating beef would be five years in jail. Worse, mere possession of beef would get you five years in jail.
When people like me protested peacefully against the beef ban decision, the response from the likes of BJP MP Sakshi Maharaj was: '(If you don't like it) Go to Pakistan.'
Lest you think Sakshi Maharaj was a lone voice, Union Minister Mukhtar Abbas Naqvi too said the same thing.
Go to Pakistan.
In other words, if you are not happy here or if you protest against the system, there is only one response: Leave!
In October 2016, Bollywood director Karan Johar faced protests over casting Pakistani actor Fawad Khan in his movie Ae Dil Hai Mushkil. How dare you cast a Pakistani actor when our soldiers are dying at the border, the outraged asked.
The same 'outraged' people who a year earlier had asked those agitated by the beef ban to leave were now telling Johar to leave.
In other words, go and settle in Pakistan if you don't like it here.
There were many, including me, who did not think that Johar had done anything wrong, but our voices were not heard.
Given that he had gone through traumatic times on the eve of his film's release, when his nationalism and patriotism were questioned and he was told to leave, I would have expected Johar to not react in the same manner with another person.
It was shocking therefore for me to see Johar fulminating against actress Kangana Ranaut, stating that he was done with her playing the woman and victim card.
If that was not enough, Johar advised Kangana that she could 'leave' the bad world of the film industry if she felt so terrorised in it.
The background to this is what Kangana told the director on his popular television show Koffee With Karan. Among many things, she called him the fountainhead of nepotism in the film industry.
After letting her have her say on his show, Johar chose to react to it days later, in a public forum.
Here is my problem with what he said.
First, he denigrated women by saying Kangana, the most talented of the current lot of Hindi film actresses, was playing the woman card.
And, what does he mean she could leave Bollywood?!!
Who is Karan Johar to decide on who ought to stay or not in Bollywood?
By making such ridiculously self-important statements, isn't Johar only proving what Kangana said on his show?
What is the difference between Sakshi Mahraj asking beef-eaters to 'leave' and Johar asking Kangana to 'leave'?
I never thought I would ever put Karan Johar and Sakshi Maharaj in the same, illiberal, bracket, so before writing this column I re-read his statement to confirm that yes, Karan Johar did indeed say that Kangana Ranaut could leave the industry.
If the ultra-nationalist forces are thrusting their agenda onto the country and telling the rest of us to leave if we don't agree with their policies, isn't Karan Johar doing the same by asking someone to leave Bollywood if s/he doesn't like it here?
In other words, if you protest in Bollywood you should leave the industry or else you will be thrown out as no one will employ you.
'My way or the highway,' Johar has said as much to Kangana, and surprisingly nobody in Bollywood seems to mind it.
But the same rules didn't apply for Karan Johar when it came to Anurag Kashyap.
More than a decade ago, when Kashyap vented his anger against Johar for his candy floss cinema, Johar didn't utter a word against Kashyap.
Subsequently, Johar met Kashyap at a party and both men got along so well that the latter wrote the dialogues for Kurbaan, a film Johar produced.
While promoting the film, Johar in a joint interview (external link) with Kashyap, said, 'He was like a mess, exploding against the industry.'
'I was very angry with the whole system. His father had money so he could make films, and not me,' Kashyap added.
Johar then stepped in with the quip, 'Amir versus garib.'
Both filmmakers are buddies now and have even made movies together, Bombay Talkies and the catastrophic Bombay Velvet, in which Johar acted.
Ram Gopal Varma too criticises Johar regularly, but Johar has never asked Varma to leave the film industry.
Why?
Because Ram Gopal Varma and Anurag Kashyap are men? And Kangana has no such 'advantage'?
A few years ago, when India TV conducted an alleged sting operation on Shakti Kapoor, many in Bollywood came out in the actor's support.
Why? Because Bollywood clearly has different rules for women and for men?
Karan Johar can ask a powerhouse of talent like Kangana Ranaut to 'leave', but the men, hell, they can stay.