One of Fearless Nadia's most famous scenes had her fighting the bad guys on top of a speeding train!
How well do you know this legend of Hindi cinema who apparently Kangana Ranaut's character in Rangoon?
Kangana Ranaut's Julia in Rangoon is reportedly a page out of Fearless Nadia's character.
She looks like a riot in the film's trailer (watch it here!).
How well do you know the real Fearless Nadia, the legendary actress of the 1930s and 1940s?
Meet Fearless Nadia via this blog post, kind courtesy ©Greta Kaemmer/Memsaabstory.com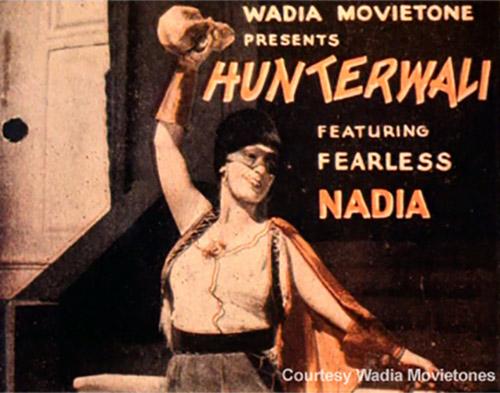 In India -- to my great excitement! -- I got to meet Vinci Wadia, the son of J B H Wadia and nephew of Homi Wadia.
J B H and Homi Wadia are the brothers who founded the Wadia Movietone studio in the 1930's, and launched the career of Fearless Nadia the stunt queen.
Homi Wadia also eventually married Nadia in 1961.
Vinci Wadia spent a couple of hours with me talking about films, life, and Nadia, and generally charming my socks off (as a boy he met Frank Capra on Capra's visit to Bombay!).
I have been a great fan of Nadia's since reading her biography by Dorothee Wenner (originally titled in German Zorro's Blonde Sister).
None of her films are available on DVD, but Vinci Wadia's son Riyad Vinci Wadia made a wonderful documentary about her in 1993, called Fearless: the Hunterwali Story.
Shown at film festivals around the world, it combines interviews with Nadia and Homi -- and other luminaries of Hindi cinema -- along with photographs and footage of her films to tell the story of Nadia's life and career.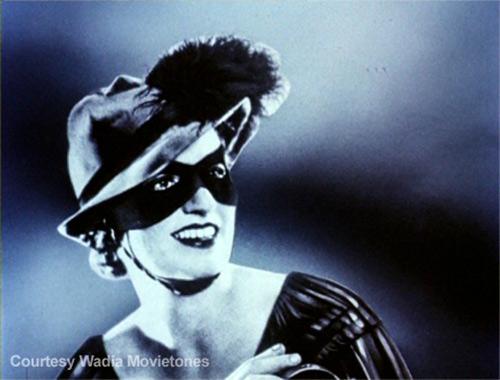 Fearless Nadia is one of the legends of Hindi cinema.
She was born Mary Evans in Australia to a British father and a Greek mother, who emigrated to Bombay with Nadia when she was very young (her father was a soldier in the British army).
She grew up near Peshawar where she learned to ride horses. After her father was killed in France during WWI, she and her mother moved back to Bombay.
As Mary tells it in the documentary, she trained in shorthand typing to get a good job, but at the same time "I got very fat so I decided to reduce."
In order to lose weight, she took up dancing at a school run by a Russian dance teacher named Madame Astrova.
Madame Astrova saw talent in Mary "because I was very supple and good despite being fat" and took her on as a member of her dance/theatre troupe which traveled around India.
Mary also changed her name to the more exotic "Nadia" on the advice of a fortune teller.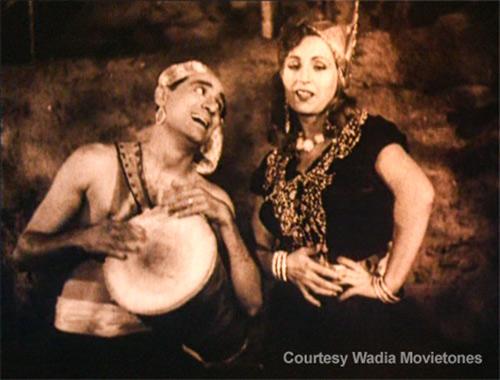 Nadia left the troupe to work in a Russian circus, but didn't care for circus life and returned to the stage, dancing and singing Hindi songs as part of her act.
A theatre manager introduced her to J B H and Homi Wadia, who asked her what skills she could bring to films.
She replied "I'll try anything once!"
To test her appeal with Indian audiences, J B H put her in his 1933 film Desh Deepak as a slave girl.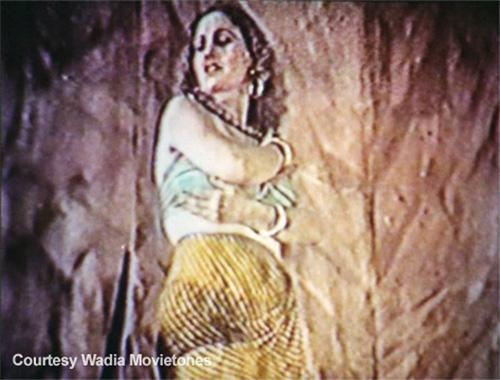 She had great screen presence and J B H cast her in his next film, 1935's Noor-e-Yaman as Princess Parizad.
He credited his Parsi upbringing with his dislike for the submissive characters Indian women invariably portrayed in films.
He really wanted to make movies that touted the strength and emancipation of women, and he saw great possibilities in the athletic Nadia.
Probably the fact that Nadia was white also helped Indian audiences accept her as a woman so different from the usual Hindi film heroines, and she seemed a perfect actress for his vision.
So in 1935, J B H wrote a screenplay especially for Nadia: Hunterwali (the nickname stuck to her for life).
She was an Amazonian figure, blond and blue-eyed: A mask-wearing, whip-cracking, sword-wielding, chandelier-swinging heroine who did all her own stunts.
Audiences loved her (how could they not??)! Hunterwali was a huge hit.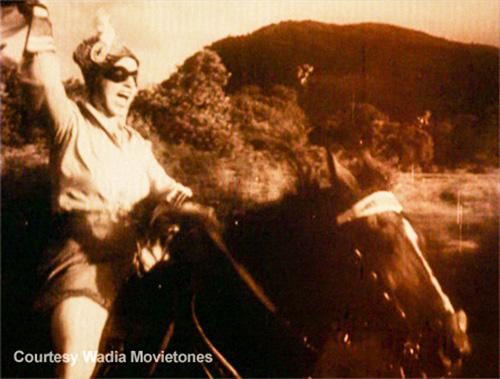 Throughout the 30s, 40s and even into the 50s, she starred in numerous action-adventure films with names like Miss Frontier Mail, Diamond Queen and Jungle Princess.
She usually portrayed a Robin Hood-like character, rescuing the poor and oppressed. She also tamed wild animals, and beat up men with ease.
One of her most famous scenes had her fighting the bad guys on top of a speeding train!
She was often showed working out in a gym, which apparently contributed to a fitness craze at the time as well.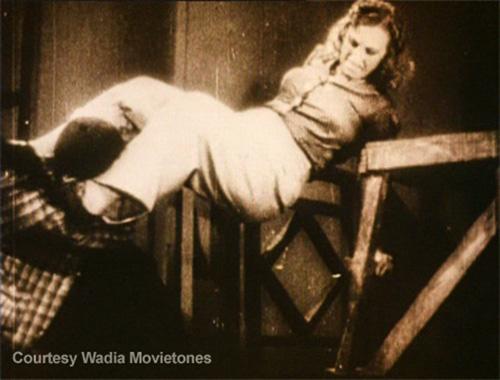 She and Homi had fallen in love by the 1940s, but didn't officially marry until 1961. She appeared in her last film (Khiladi) in 1968.
She spent her years in retirement happily raising thoroughbred horses, including an Indian Derby winner.
She died in 1995 at the age of 87.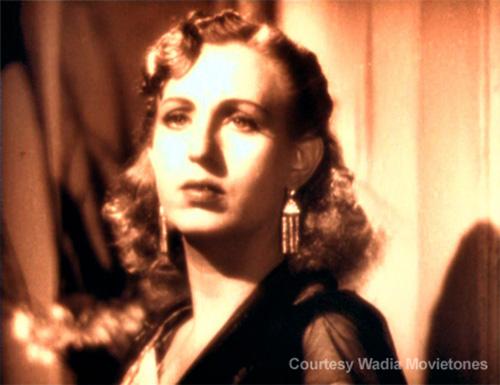 In recent years, both Shekhar Kapur and Vishal Bhardwaj have indicated interest in making a film about Fearless Nadia.
There was talk of Cate Blanchett starring in Kapur's film, and Uma Thurman or Franka Potente (Run Lola Run) in Bhardwaj's (I would personally love to see what Vishal Bhardwaj could do with her story!).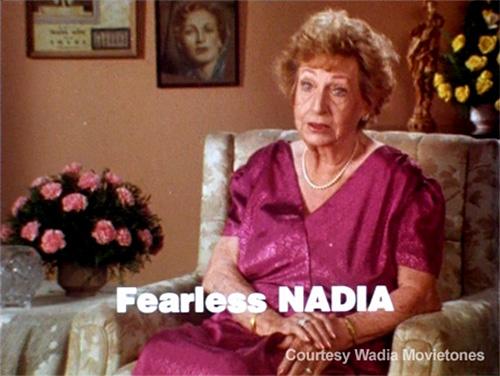 Sadly, Riyad Vinci Wadia passed away in 2003.
Vinci Wadia told me that although he himself never was part of the film industry, since his son's death he has taken on the task of preserving Wadia Movietone's legacy.
Riyad had created a wonderful Web site (well worth a visit) which Vinci would like to update, and he plans on releasing some of the Fearless Nadia films on DVD if and when a film on Nadia finally materialiSes.
Let's hope it happens, and soon!