Jagannath Jamma looks at the Rage Machines in the movies.
Anger is a primal emotion and an unfettered version of it usually puts off the person at the receiving end.
I watched a couple of movies recently that threw coruscating light on what if the person on the opposite end is a beloved/spouse who has no exit route but to deal with this visceral rage daily.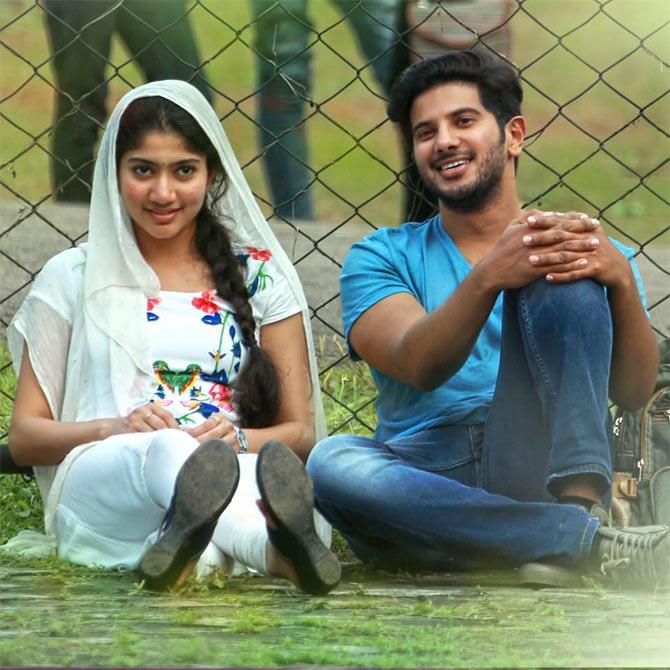 IMAGE: Sai Pallavi and Dulquer Salmaan in Kali.
Sameer Thahi's Malayalam movie Kali, which is in equal parts ponderous and hilarious, has Dulquer Salmaan as the eternal rage machine who unleashes his fury at the tiniest of purported provocations.
Sai Pallavi does a brilliant job of the wife who tries hard to keep her husband's anger on a tight leash.
One of the movie's transfixing moments is when Salmaan urges his reluctant wife to drive a four-wheeler on a busy road. She agrees only on the condition that he will not get agitated if she goes awry behind the steering wheel.
The near six-minute funny-as-hell scene shows the various forms of controlled agony on Salmaan's face. This very scene is Thahir's Chekhovian Gun that he playfully dangles when it manifests under the most trying circumstances in the second half.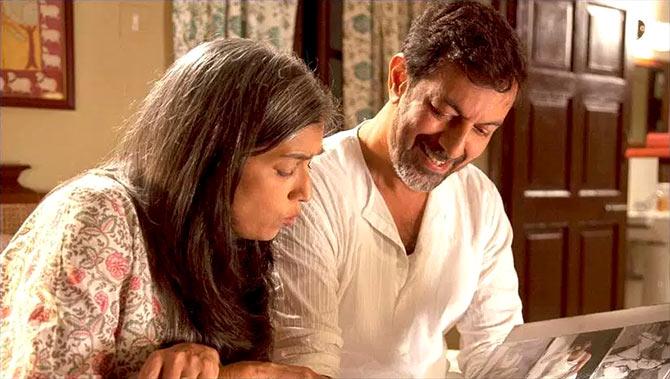 IMAGE: Ratna Pathak Shah and Rajat Kapoor in Kapoor & Sons.
The Shakun Batra-directed Kapoor & Sons too has an angry man but the twist in the tale is that his wife gets equally angry at him.
As an aging couple with two adult children, Ratna Pathak Shah and Rajat Kapoor still bicker a lot or maybe they started bickering ever since their kids (Sidharth Malhotra and Fawad Khan) flew off the coop.
In one of the movie's most astonishing scenes, the couple bay for each other's blood in front of a plumber who is totally nonplussed about the proceedings.
Kali and Kapoor & Sons offer a minor lesson on monogamy. While Pallavi's character never gets vexed with her husband's inadvertent spasms of rage, Kapoor's character looks for solace from someone else.
In the former case, the wife believes she can soothe her husband's frayed nerves with her remarkable sangfroid, while in the latter the husband has given up and is instead taking the easy way out.
Both movies can be held up as a parable on how optimism stems from the youth and pessimism gets onto your better side as you start growing old.
In one of the poignant moments in the movie, Shah's character asks her husband if they can press the reset button. The realistic husband says he's not sure, but hopes they can at least make a heartfelt last-ditch effort. And that's my biggest criticism of the movie.
Instead of concentrating on this multi-hued couple, Batra decided that the audience needed truckloads of saccharine, via Alia Bhatt's character. At least the director could have given me more of the marvellously dotty Rishi Kapoor, who is really amazing as the 98-year-old pater familias of the Kapoor family.
Both these movies are nowhere near perfect.
Neither of them has an engaging second half. Thahir shifts gears so abruptly in Kali that it can almost be spun off into a movie by itself. Most of the second half is set in Masinagudi (near Ooty) where the couple is at the mercy of a few goons. How they wriggle themselves out of the situation forms the crux of rest of the movie.
The latter half of Kapoor & Sons is equally befuddling.
Unlike the first half, no one in the second half talks in hushed tones. Everyone is hell-bent on raising the decibel level and the bloviating inanities that Shah spouts at her perfect son when she realises his 'dark secret' just completely put me off.
There are only two beautifully executed scenes in this otherwise crushingly dull second half: One has Rishi Kapoor's character smoking weed with his grandchildren and getting all goofy; in another, Fawad Khan's character, an author, goes through a writer's block and Batra shows that agonising phase extremely well.
Overall, neither of these movies is a dud.
They give us a decent insight into human condition.
Both of them are well endowed with amazing first halfs and that's the sad part of our current crop of cinema. If at least one half of the movie is good enough, we are getting our money's worth. High time we got really furious at this attitude of ours.