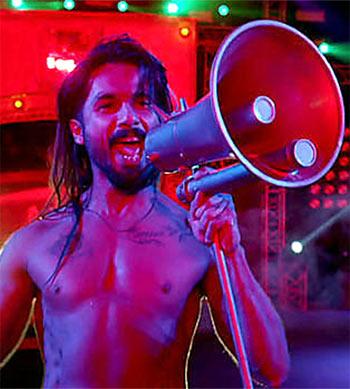 There is something about Anurag Kashyap -- whose Raman Raghav 2.0 releases June 24 -- that puts the cinema watchdogs on alert, says Veenu Sandhu.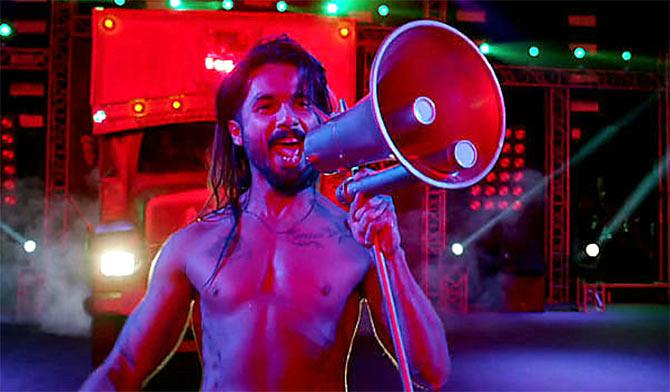 IMAGE: Shahid Kapoor in Udta Punjab.
Hours before Udta Punjab hit the theatres, its producer Anurag Kashyap, who won a passionate battle against the multiple cuts that the Central Board for Film Certification demanded of the film, made this appeal on Facebook:
The film had been leaked on the internet.
The Facebook post drew a lot of comments, one of which read: 'Don't bluff. We all hate piracy but did it at some point. Please don't pretend u never did it... U r a hypocrite!! (sic)'
To this, Kashyap replied: 'Well, I have the largest personal film library of original films in the country.'
At a time when he did not have the money to pay his bills, sometimes leading to his phone connection being snapped, Kashyap would still go out and buy movie DVDs, recalls journalist Sandeep Unnithan.
It was the early 2000s. Unnithan lived close to Kashyap's house in Mumbai, which was then like a mini Prithvi Theatre cafe; that struggling actors, scriptwriters, musicians and directors -- Imtiaz Ali, Abhay Deol and Nawazuddin Siddiqui -- walked in and out of.
Kashyap's struggles with the censor board date back to this time, to his beginnings as a director, right from the time of his debut film, Paanch, which was eventually never released. It depicted too much violence, drug abuse and bad language, the censor board felt.
His next film, Black Friday, too was thought to be so controversial that the censor board did not allow it to be released in India for three years.
And now, Udta Punjab.
There is something about Kashyap that puts the cinema watchdogs on alert. "He is always trying to tell the truth, no matter how uncomfortable or unpleasant it is," says Mrityunjay Devvrat, the director of Children of War, a film that put the spotlight on the 1971 Bangladesh genocide.
"His films hurt the audience somewhere and make them sit up and think."
Known for his guerrilla style of film making, where hidden cameras are employed to film the action, Kashyap is able to capture authentic expressions of people on the street who are often not aware that a movie is being shot around them.
"In Ugly, he would get into buses in Mumbai, filming all the way with a hand-held camera," recalls lyricist and screenplay writer Varun Grover who has worked with him in several movies, including Udta Punjab.
Grover remembers his first meeting with Kashyap. "It was as unusual as the man." Kashyap was documenting the making of No Smoking on a blog and Grover was one of its thousands of readers.
"One day, I wrote a comment on his blog post in the form of a poem." A few days later, he got a call from Kashyap. "I don't know how he had found my number. He said he wanted to use my poem as a song in the film." Grover was into standup comedy back then and had never worked for a film.
The poem eventually could not be used because of a contract with Gulzar that he alone would pen the lyrics of all the songs for No Smoking.
Kashyap promised Grover that there would be another opportunity. "Three years later, when he was making That Girl in Yellow Boots, he kept his word," recalls Grover. Kashyap invited him to view a cut of the film and when the dummy credits started rolling, to Grover's shock, he found his name already in them.
Grover would go on to write 11 songs for Kashyap's Gangs of Wasseypur. "He just handed us the script and told (music director) Sneha Khanwalkar and me to come up with songs wherever we deemed fit. He did not interfere at all," says Grover.
As the two took off to find new mediums and new sounds, a local music guru came to meet them in a hotel room in Gaya, Bihar. With him was a boy of about 13 with a harmonium. Khanwalkar asked him to sing Humni ke chhodi ke, pictured on a burqa-clad Richa Chadda going with her two children to see her husband with his second wife.
Khanwalkar recorded it on a dictaphone to give Kashyap a sense of the sound. And he decided to use it, as is -- the voice of an untrained singer, recorded in a hotel room on a basic voice recorder. Even Khanwalkar, a sworn experimentalist, was taken aback. The boy, Deepak Kumar, would later sing another song, Moora, in the film.
Kashyap's assistant directors sometimes complain that he does not tell them what he wants from a shot. He is very specific in his script and expects his creative team to interpret and execute it. Some find this scary, the others thrilling.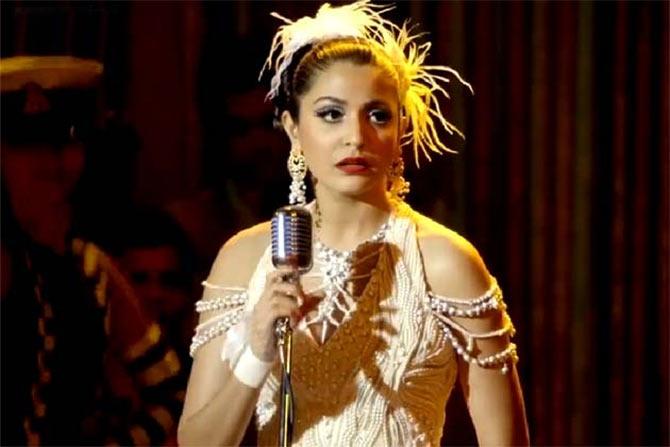 IMAGE: Anushka Sharma in Bombay Velvet.
For Kashyap, the devil lies in the details. There is a scene in Bombay Velvet where Anushka Sharma is coming from Goa to the big city. A thin line of moustache -- her unthreaded upper lip -- is evident on her. It disappears when she makes it big as the well-groomed jazz singer, Rosie.
Bombay Velvet, however, was a spectacular failure. "Kashyap is in his element when he is filming in the badlands of India, but the moment he comes to the glittering, make-believe world of Mumbai (as in Bombay Velvet), he loses his touch," says Unnithan, who has followed the filmmaker's chequered journey over several years.
Those who know him say he has a disturbing understanding of violence, probably from his roots in Gorakhpur in eastern Uttar Pradesh, and this is reflected in many of his movies. He can tell the sound of a country-made pistol from that of a sophisticated one.
"A child of the cowbelt," is how Unnithan describes him. "He likes to think his perspective is morbid, but he has a great empathy for the human condition, which few filmmakers have," says journalist Gayatri Jayaraman who interviewed Kashyap extensively over four months last year.
Unlike the Karan Johars, Abhishek Bachchans and Hrithik Roshans who are born into Bollywood, Kashyap has come up the hard way, sleeping under a water tank in his early days in Mumbai. That has also given him a firsthand understanding of life on the street.
Kashyap did not respond to interview requests for this article.
Over the years, as he went on to become a filmmaker with a global reach, he rubbed some people the wrong way. Among them is Ram Gopal Varma for whose Satya he wrote the screenplay. In 2014, on Koffee with Karan, when Johar asked Kashyap a question that began with, 'Ram Gopal Varma is...', Kashyap interrupted and said, 'Ram Gopal Varma was...'
'A self-publicist,' is how some describe him. Many believe that his statement last year just before the release of his period crime drama Bombay Velvet, that he would move out of India and relocate to Paris was just a publicity stunt.
Devvrat says even if his battle for Udta Punjab was for publicity, it was for the right cause.