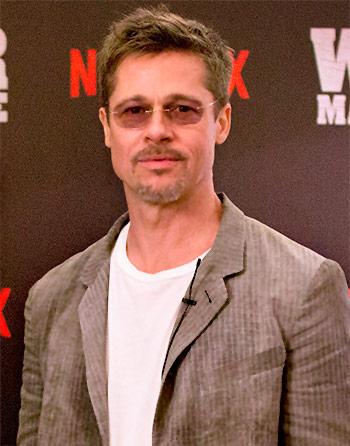 'I don't give a f****. I am old enough now.'
'You just have to white-knuckle it and ride through it.'
'But really, who cares?'
'At the end of the day, just get on, feel the pain, embrace the suck.'
Rumours are exciting little beasts. Ones you'd love to be true yet don't want to pin high hopes on lest they turn out to be just, well, rumours.
En route to PVR Phoenix in south Mumbai for the MAMI premiere of the Netflix satire, War Machine, there's some murmur about the film's leading man Brad Pitt being in town and dropping in for the Q & A session that follows the screening.
Now the invite already confirmed director David Michod and Plan B producers Dede Gardner and Jeremy Kleiner's presence for the same, but hold on, BRAD PITT?
Can you imagine one of the world's biggest stars casually popping in to chitchat with an unsuspecting audience? Bit of a stretch, no?
Except that is exactly how it happened.
No frills, no fanfare, just a famous, fuss-free guy happy to talk shop to a crowd equally happy to learn what goes inside the mind of the man behind Tyler Durden, Rusty Ryan, Jeffrey Goines, Billy Beane and now, General Glen McMahon.
Pitt plays a quirky, squinty-eyed commander of US and NATO armed forces in Afghanistan modelled after real-life General Stanley McChrystal endeavouring to implement counterinsurgency in a war-struck nation.
"We wanted to portray this kind of disconnect between the way he (McMahon) felt about himself on the inside and actually looked on the outside. We thought it was important to say something about the delusion of grandeur."
"If we took it from the micro to the macro, this absurd relationship of self-interest from the Pentagon to the White House to the 24-hour news cycle, how these decisions were getting made. As David (Michod) was saying, result of that, men and women are on the battlefield. They're the ones that have to carry out these orders."
It's a consciously mannered performance that draws its most obvious laughs in the way Pitt goes about his religious jogging routine in teeny shorts.
"Running down the streets of Paris in those shorts, very humbling," he quips to MAMI Director and host Anupama Chopra.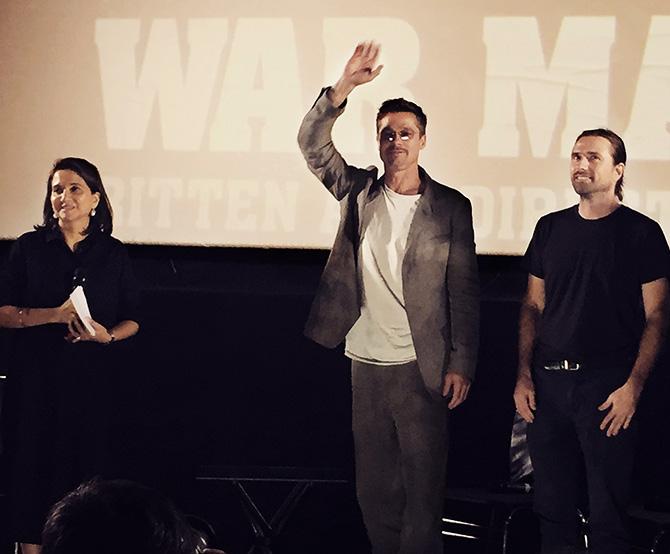 IMAGE: Anupama Chopra, Brad Pitt and director David Michod. Photograph: Sukanya Verma
Director David Michod, who previously received universal acclaim for his volatile crime drama Animal Kingdom, goes for Kubrick's Dr Strangelove-reminiscent approach to adapt the late American journalist Michael Hasting's work of non fiction -- The Operators: The Wild and Terrifying Inside Story of America's War in Afghanistan.
It was his blunt profile of 'The Runaway General' in Rolling Stone that led to McChrystal's ouster by then US President Barack Obama.
Between juggling satire and sympathy, Michod loses grip on the specifics he's noting in the absurd nature of bureaucracy alongside the emotional damage it adds up to in the long run.
The switch in its tragicomic tone is often jarring and compounded by the excessive voice-over.
But there's also plenty to appreciate and muse about War Machine and its pointed humour that's critical of the military apparatus yet paints a human picture of those engaged in it sans judgement.
Producer Kleiner calls it "an anti war" film.
"It's really funny, but it's (also) about some heavy things that probe deep questions of hubris and the syndrome of believing you can accomplish things that you can't."
He hopes the film starts a conversation on why such events take place in the world.
On the other hand, Michod who considers filmmaking an "emotionally volatile" experience is just glad it will be out on Netflix on Friday.
"I've been working on this movie for almost three years now and it kind of hurts to care about something so deeply."
Pitt is unfazed by the technology versus tradition debate that fuelled the Netflix controversy at Cannes this year.
"To me it's still a film."
"We make them precisely the same way. We approach them the same way. It takes the same gestation period. It takes the same development. It takes the same execution," the 53-year-old actor elaborates.
"The truth is we see most of our films now on a streaming service. You can't deny it. You can't fight it. I don't think it takes away from the communal experience and seeing on a big screen, which is very important."
"Through this debate, it made me realise I've never even seen Godfather 2 on the big screen -- the greatest film ever made. (*laughs*) My point is they both (can) coexist."
But in a business dictated by profit, can a sorted artist remain an inspiring producer as well? Dede Gardner sheds some light on this. (Hope you're reading this, Bollywood studio honchos.)
"I remember, many, many years ago Brad saying, 'No, no you have to believe in the shelf life of the movie. Think about it, where did you find Days of Heaven? Where did you find 2001: A Space Odyssey? Where did you find the All The President's Men?' Where I found them and where I found so many of our treasures are in the very quiet, private corners of our life long after those movies have first been put into the world."
"It was like the key to the kingdom that notion that Brad taught us."
Michod concurs. "Shelf life is an apt term. Most of the art that moves us is not discovered the day it was made or the day it was released into the world. And I think that's something that gets forgotten particularly in the film business."
IMAGE: Anupama Chopra, Brad Pitt, David Michod. Photograph: Sukanya Verma
The conversation then veers to Pitt's awesome life mantras.
When Chopra inquires how he feels about success, if he too like Marlon Brando looks at it a 'a pile of candy gathering thick layers of crust,' Pitt explains his point of view in detail.
"When I was a kid in a very small town (Shawnee), in the middle of America (Oklahoma), films to me brought a world that showed me different cultures and different ideas, different ideas and different ways to look at life or handle a situation."
"I feel a lot of value in it. I feel, even more so as a producer in the films we've been able to tell that I am not in. Maybe he became cynical about the success, the fame and the attention, which I understand. But I failed a lot more than Marlon Brando has and that keeps you grounded and searching for more."
Failing is imperative, he insists. "You have to fail, you have to fail, you have to fail, you succeed and then you going to fail again. It's OK. Just embrace it because that failure is the next step to the thing that teaches you till the next success."
"There isn't success without failure. I believe there's success after failure. So I say embrace it, embrace the suck as the military say."
The media circus that is Brad Pitt's personal life, previously married to Jennifer Aniston and Angelina Jolie, isn't directly broached upon, but he does address his general distaste for it.
"I like getting out, talking and meeting people. People I've met in the film business are very inquisitive, people questioning life and human folly, I find it a great community. The noise itself, I don't really (pay attention), I have my life at home, my interests, my family and that's enough."
For everything else, the Snatch star simply shrugs,
"I don't give a f****. I am old enough now. I've done it long enough. I expect a little panic. I am not really thrown by it."
"You just have to white-knuckle it and ride through it. But really, who cares? At the end of the day, just get on, feel the pain, embrace the suck."
His 'embrace the suck' phrase is a roaring hit with the crowd. As is the spontaneous appearance of an f-word or two -- "Can I say that?" he asks with a mischievous, boyish charm that made everyone sit up and notice him in Thelma & Louise.
Pitt's self-deprecating wit is a delightful departure from his cocksure superstar imagery.
As he recounts the time, not too long before his Thelma & Louise gig, he reveals a man whose appreciation for the earliest learned lessons of his life still hold him in good stead.
"When I first moved out to LA, about 2,020 miles away, I started doing extra work, you know the guys in the background in films, the waiters and things like that. I did that for about a year-and-a-half and I finally got an agent, which means I could go audition."
"This was the most amazing thing. And I called this agent afterwards, 'So how did I do?' And she goes, 'Have you ever thought about acting classes?'"
"Uhhh. I just sunked. My heart sunk. I had been in an acting class for a year. By the end of that night, after feeling shitty, low and worthless, I said f*** it, I am gonna go and learn whatever I have to learn."
"I am gonna learn. I am gonna figure it out. I think you have to have that resolve. You got to stick with it. It's a learning curve."
Atta Brad!