Home > India > Movies > Interviews


Discuss |
Email |
Print | Get latest news on your desktop

The Rediff Interview

'The very thought of acting with Aamir Khan scares me'

September 16, 2008


| | |
| --- | --- |
| Anaitha Nair | |
| | |
| | |
| | |
| | |
| | |
| | |
One year after she got her big break in
Chak De! India'
,
Anaitha Nair
is still on track, pursuing her dreams of becoming a movie star. The actress will be seen in Nagesh Kukunoor's
Aashayein,
with John Abraham [
Images
].
But Anaitha maintains that she is not in the industry to make money. "Bollywood is not the be-all and end-all for me. I am not over-awed by big stars and I am not working for money," she tells Swati R Chaudhary.
Read on to know what this actress has been up to so far.
How has life changed after the phenomenal success of Chak De! India?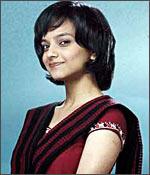 The new fame and adulation post
Chak De!
was thrilling and rewarding. The euphoria and attention that came along was quite something. I vividly remember the first four months after the film released. It was crazy. It is great to be loved and admired. Even now some people come up to me and exchange pleasantries. But there are also some, who don't react at all.
I come from a liberal background where I've always had exposure in terms of what I wanted to do. The only thing that was new to me was the amount of adulation that came post Chak De!...
Career wise, I had
shaved my head
a month before
Chak De!
released. I declined a lot of work because I was bald. Also, some of them were unheard banners. Some were good offers but I was hesitant of pulling off the 'bold' requirements of the characters. And some were irrelevant roles that didn't interest me. If I had accepted those offers, I would be doing similar roles for the rest of my life. I regret losing out on some great films but I am hopeful of getting better work after Nagesh Kukunoor's
Aashayein
releases.
Tell us about your fondest memories of working with Shah Rukh Khan [Images].


We were together with Shah Rukh Khan for six months, so the feeling of awe and his larger-than-life persona subsided over a period of time. He is a great orator. You just need to ask him something and he can talk nineteen to the dozen. He is a very intelligent man. It was wonderful meeting someone of his stature, who is so knowledgeable.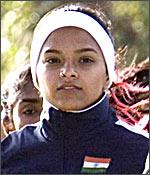 Tell us about Nagesh Kukunoor's Aashayein.
Sudeep Chatterjee (cinematographer, Chak De! India) has worked with Nagesh in Iqbal, Dor and Bombay to Bangkok and he suggested that I audition for Aashayein. That's how I got it.
I play a cancer patient, who is obnoxious, bitter and who loves pulling people down. But she also has a nice side to her.
John Abraham plays a compulsive gambler, who ends up meeting terminally ill people. The film is about how they learn from each other and help each other with their respective lives.
Your favourite scene in Aashaeyin?
There's a scene where John and I have an argument one night and the next minute he comes to cheer me up. It has been captured very well emotionally. It is a dialogue-less scene so you probably won't even notice it but I enjoyed doing that scene because I liked the feel of it.
Weren't you apprehensive about sporting a bald pate in your very second film?

Getting my head tonsured for Aashayein was not an easy decision. I took a lot of time before I finally agreed. I have great respect for Nagesh and his idea of filmmaking. I asked him if we could do with a bald cap but he thought it would look artificial. Moreover, there had to be a reason for a sensible filmmaker like Nagesh to ask me to shave off my head. So after a couple of months of mulling over it, I finally said yes. 

How was working with John?
John is extremely generous as a costar. All my scenes with him are emotionally charged. So in order to bring out the best in an actor, you need to be receptive and supportive and John is brilliant at that. An accommodating costar contributes a lot to the scene. Your work becomes so much simpler.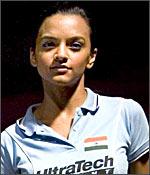 As a person, he is insane -- he is truly half Parsi. It was fun bantering with him on sets and he has an amazing sense of humour. We share similar backgrounds -- both our mothers are Parsi and fathers are Malayali. So we had lots of stories to relate to. I think he has outdone himself in
Aashayein
.
How was it being directed by Nagesh Kukunoor?
Honestly, there a lot of Hindi films that I cannot relate to because of my sensibilities. I can't break away from what I believe in but Nagesh Kukunoor's cinema is a far cry from the stereotypical masala Bollywood entertainers.


It was fantastic working with him. I could connect to his sensibilities. He is an intelligent man and his stories always have a social message.
Any specific actors on your wish-list?
I am not someone who is over-awed by Bollywood films, actors and glamour. Bollywood is not the be-all and end-all of for me. But I would be lying if I said I don't enjoy the attention. The only person I am truly in awe of is Aamir Khan [
Images
]. I think he is a phenomenal actor. The very thought of working with him scares me out of my wits.
What are you looking forward to?
I am just waiting for Aashayein to release to see where I stand. I haven't signed any other film. I did the British Television show Mumbai Calling with Sanjeev Bhaskar. I regret turning down a couple of reality shows.
Email |
Print | Get latest news on your desktop