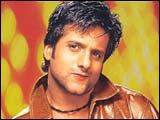 Gautam Menon's dark, realistic film Kaaka Kaaka will now be remade in Hindi with Fardeen Khan and Preity Zinta.
Menon says filmmaker-actor Feroz Khan has told the director he wants to remake the film in Hindi with his son Fardeen playing the lead role of the encounter specialist.
Menon had earlier told rediff.com in an interview that the story of Kaaka Kaaka was ideal for a Hindi film as police encounters take place more in Mumbai than in Chennai. He hopes the dark, realistic look of Kaaka Kaaka will work in Hindi.
| | |
| --- | --- |
| | More on rediff.com! |
| | |
Menon said the film, which stars Surya and Jyothika, was stark because it depicted the life of a police officer, an encounter specialist. He was inspired to make the film following a news story that appeared in the weekly magazine The Week.

Kaaka Kaaka is Menon's second outing on celluloid. His first, Minnale, starring Madhavan and Reema Sen, was also remade in Hindi as Rehnaa Hai Terre Dil Mein, with Madhavan and Dia Mirza. He admits he had to compromise while remaking Minnale in Hindi.

This time, he says, "Feroz Khan told me he wanted the Hindi version to be exactly like the Tamil [film]," he explains. "So the question of changing the screenplay does not arise. I will make a couple of changes because the story happens in Mumbai."

He adds, "They [the Khans] are very commercial people and make commercial films. He [Feroz Khan] did not tell me anything about changing the look. He told me it is brilliant and wants the same look for the Hindi version. He also wanted the same technicians to work in the Hindi version. If the Hindi audience is ready to accept a film like [Ram Gopal Varma's] Bhoot, I am sure they will like Kaaka Kaaka too. Let's see."

Earlier, he had told rediff.com that he would love to remake his film in Hindi with Ajay Devgan as the police officer. Now, it will be Fardeen Khan. He says, "It is true he [Fardeen] has a soft look. I have told him about the kind of look I need for my film; I have asked him to sport a tough look. He is getting ready for it."

The role of the school teacher in love with Surya was played by Jyothika in Kaaka Kaaka. The authentic look that Menon gave Jyothika -- she wore starched cotton saris and salwar-kameezes -- was much appreciated in Tamil Nadu. The Hindi version will star Preity Zinta.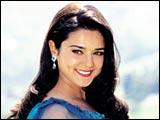 Jeevan, who played the ruthless Pandya in Tamil, will play the villain in Hindi too. His curly locks in Kaaka Kaaka have become a fashion statement among youngsters in Tamil Nadu. The actor recently had his hair cut for fear of being typecast. "I have asked him to grow his hair because I want him to look the same in the Hindi version too," says Menon.
Jeevan has trained at the Stella Addler Academy in the US.
Menon is happy. "It [the Hindi remake] is a good opportunity for me to pay my technicians who have not been paid for the Tamil version. That is why I agreed without a second thought. Now that it is really happening, I want to give it my best shot. I can pay all my technicians. I can also make the film on a grand scale, which was not possible in Tamil due to a constrained budget."
Click here for More Features